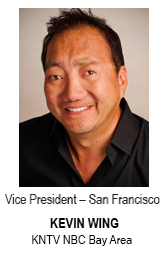 Governors' Service Medallion  2013
Vice President San Francisco;  2012-2016, 2020-2022, 2022-2024
Archive & Museum Committee, Chair 2021-2023
Secretary:  2010-2012
Alternate Trustee:  2015-2017
Editor, "Off Camera":  2012-2019
Governor:  2017-19, 2020-21(resign-VP)
Senior Correspondent, "Off Camera": 2019-present
Co-Host, Emmy Awards Gala's Red Carpet Show: 2014-present
It is no wonder that San Francisco Bay Area native Kevin Wing grew up to become a television journalist. By the time he was 10 years old, he knew he wanted to be a TV reporter someday. And so, Feb. 4, 1974, was not only a day in which Kevin's mom kept him home from school because he was sick. It also turned out to be a fateful day for him. It was the day that newspaper heiress Patty Hearst was kidnapped. That was very big news in the Bay Area, and the Fremont fifth-grader, having stayed home from school that day, watched the story unfold on the local news with wall-to-wall coverage, glued to the TV while being inspired by the likes of anchorman Van Amburg on KGO-TV. Little did Kevin realize at the time, but it was a glimpse at his future.
For 30 years, Kevin has been working in Bay Area and northern California television news as a reporter, producer, special projects producer, field producer, writer, assignment editor and news anchor. Since 2006, he has been serving as a San Francisco-based producer for ABC News, covering Bay Area and northern California stories for "Good Morning America" and "World News Tonight". He also owns a television and video production company, Kevin Wing Media Communications, which creates and produces videos and documentaries for the public sector and corporate community. His clients are located in the Bay Area and throughout northern and central California.
From 2012 to 2016, Kevin served two terms as vice president, San Francisco, on the Board of Governors of the San Francisco/Northern California Chapter of The National Academy of Television Arts and Sciences. From 2010 to 2012, he was Chapter secretary. And, from 2012 to 2019, he served the Chapter as editor of "Off Camera", its monthly, award-winning publication. As senior correspondent of "Off Camera" beginning in 2019, Kevin's work will continue to be featured. Nearly every month since 2007, Kevin has been writing the "Gold & Silver Circle Profiles" for the newsletter, featuring full-length feature profiles of the Chapter's distinguished inductees. More than 125 inductees have been featured thus far. He also serves on the Emmy Gala Committee and Archives/Museum Committee. Every year since 2014, he has co-hosted the Red Carpet Show during the Chapter's Emmy Awards Gala, held annually in San Francisco.
Throughout his career, Kevin has received several honors for his work, including two regional Emmy awards for best breaking news story and best daytime newscast at KTVU Channel 2 in Oakland, as well as honors from the Radio Television News Directors Association, Associated Press Television Radio Association, San Francisco Peninsula Press Club, Joey Awards, Communicator Awards, Telly Awards and the San Francisco Bay Area Publicity Club.
In 2013, recognizing Kevin for his more than 25 years of contributions to the Bay Area and northern California television industry, the Chapter inducted him into the distinguished Silver Circle. Earlier that year, the Chapter honored Kevin with the Governors' Service Medallion for his service and dedication to the Chapter community.
While still in college, Kevin began his television career in 1986, as a news intern and writer at KICU-TV in San Jose. The following year, he joined KTVU as weekend assignment editor. In 1988, he accepted his first full-time TV job when he moved to San Diego to join KFMB-TV there as an assignment editor. Several months later, he moved to northern California to become an anchor and reporter at KIEM-TV in Eureka. There, he anchored the weekend newscasts and the weekday morning cut-ins during the "Today" show and reported for the evening broadcasts. After two months on the air, Kevin became the No. 1-rated anchor in the North Coast region.
He returned to the Bay Area, and to KTVU, with the debut of the station's then-new morning newscast, "Mornings On 2", in late 1990. Beginning as the broadcast's original assignment editor, Kevin soon expanded his duties to include reporting for the morning show and for "The 10 o'clock News" – a dream come true for him, made possible by KTVU's legendary news director, Fred Zehnder. At a time when KTVU and KNTV in San Jose were not considered direct competitors, Kevin also worked as a freelance reporter at KNTV, from 1994 to 1998.
Kevin remained with KTVU until 2000, when he became South Bay Bureau assignment manager for KGO-TV ABC7 in San Francisco. He remained with the station four years. In later years, he was a writer and producer at KRON 4 in San Francisco and KNTV NBC Bay Area in San Jose.
Born in Oakland and raised in Fremont, Kevin graduated from Ohlone College and San Jose State University. He is a seventh-generation Californian. His family arrived in the Golden State in 1854, post-Gold Rush era, four years after California became a state. He was also inspired to aim for a television career by his parents, Helene and Lawrence Wing. His mother was a model in the late 1950s and early 1960s. During the same period, his father appeared in movies and on television, and was featured in Bay Area TV commercials of that time.
Kevin's interests include anything outdoors, running, working out at the gym, tennis, cycling, photography, writing, traveling to places near and far, going to the beach, wine tasting and reading a good book. Kevin also enjoys spending time with family and friends and volunteering at his church. He is also involved in the community. In his hometown of Fremont, he has been the emcee of the city's annual Fourth of July Parade since 1997.
To reach Kevin, please write him at kevin@emmysf.com