By Joyce Mitchell
Chapter Governor, Sacramento
NATAS welcomes contributions to the REGIONAL ROUNDUP from all Chapter markets.
To be included, please contact Joyce Mitchell at joycem2@surewest.net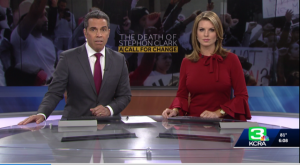 Sacramento – NBC Affiliate KCRA 3 dealt head-on with turmoil and outrage in a televised town hall meeting following the shooting death of 22-year-old Stephon Clark. The fatal police-involved shooting on March 18, 2018 of the unarmed black man resulted in days of protests in Sacramento. The March 29, 2018 special, The Death of Stephon Clark – A Call for Change, interviewed guests including Sacramento's mayor and police chief. "The police shooting death of Stephon Clark sparked an explosive reaction in Sacramento," said KCRA News Director Lori Waldon. "We wanted to go past the press conferences and the protests and drill down to understand how our leaders will move Sacramento forward. We produced an hour-long special to tackle the unanswered questions and the complicated issues, heightened by intense anger. This is a critical time and the city is at a crossroads."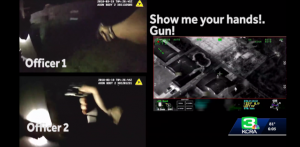 ---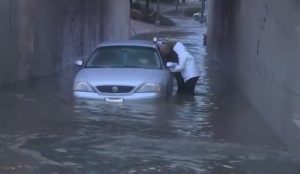 Fresno – Fox26 News Reporter Tayhana Garcia, along with Photographer Chris Costello, were on the job, covering an area under a bridge known for flooding. While on the air, a man walked up to Tayhana while she was live on the air and she pulled off her lav mic to interview him. Then, the reporting changed and human instinct kicked in. "I thought I needed to help this man," said Garcia. "It was urgent."  She walked down into the thigh-high water to help push the car out of the flooded water. As it turns out, an elderly man was trapped inside the vehicle. Other people nearby joined in to help get the car out of the flooded water. The rescue started live on TV unfolding on the morning show "Great Day". It continued to unfold live on Facebook for more than half-an-hour.  "It was amazing to see the power of the community when people need help," said Garcia.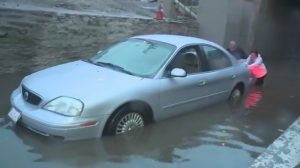 ---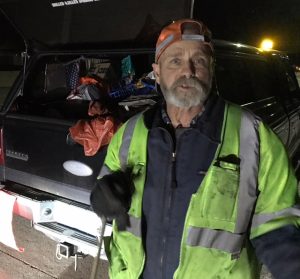 Reno – CBS KTVN 2 News Reporter/Anchor Landon Miller recently noticed a pick-up truck parked on the freeway while driving home from the station. It was close to midnight and the man was toiling in the dirt alongside I-80. "What the hell is wrong with this guy," said Miller to himself. Days later, Miller spots the same truck along another stretch of highway doing the same thing, again late at night. And yes, Miller decides to stop and inquire. Turns out the 65-year-old man, a Vietnam veteran, was sick of seeing trash alongside the freeways and was picking it up. "I get tired of all the trash on the side of the road and no one picking it up," said Kevin Tennant. So Tennant has been doing something about it – for ten years now!  When told the story in the KTVN newsroom, Anchor/Reporter Kristen Remington remarked, "It's  nice to hear people still do good things out here." 
---
Eureka – NBC Affiliate KIEM-TV continues to wrangle with a blackout to viewers because of Charter/Spectrum negotiations that have affected 450,000 Spectrum customers in seven states. Most recently, KIEM is asking Spectrum customers who are upset they lost KIEM-TV to take their complaint to the FCC. The FCC has opened the matter for public comment. It's been nine weeks since Spectrum took KIEM off its lineup after refusing to negotiate with station owners, Northwest Broadcasting. Northwest owns eleven stations in seven states.
---
Guam – NBC Affiliate KUAM News is highlighting culture on the remote island. By the way, Guam history dates back nearly four-thousand years. Guam was used by some of the first seafarers to navigate the Pacific. In the last 400-years, Guam's Chamorro culture has been influenced by colonizers, specifically Spain. In 1940, Japanese forces occupied the island until it was recaptured by the U.S. at the end of World War II. Now modernized and westernized, Guam's culture is unique because of all the different influences. KUAM News Producer Lacee Martinez selects interesting people reclaiming and promoting their culture and profiles them in segments called Culture Club. It's an ongoing series of segments dedicated to educating viewers about island history. Here's a link to a compelling story about Maria Hernandez, a Chamorro land rights activist.
---
San Francisco – Also celebrating culture is Carnaval SF. It has a long and rich history in the city by the Bay. Emmy® Awards and Gold and Silver Circle inductions Photographer Ken Newberry has been covering the event for at least 24 years now. "It's a visual feast for photographers and the sound of high energy percussive beats performed by the various Latin and Caribbean groups can be felt in your bones," said Newberry.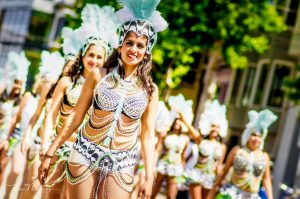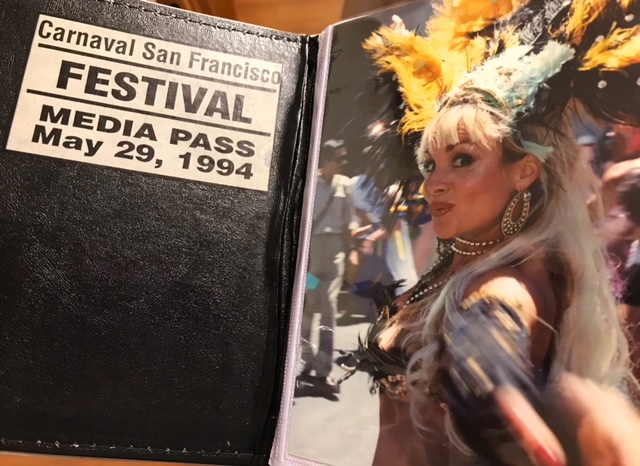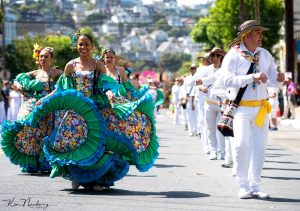 ---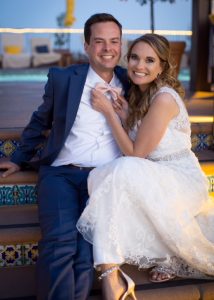 Fresno – Speaking of celebrations, ABC30 News Anchor/Reporter Brian Johnson just tied the knot. Johnson went to the Fresno market after working in Chico. And that's where the work-life took hold – along with a little bit of bliss. "My wife Megan and I met in Chico in March of 2014," said Johnson. "I proposed to her in San Francisco about a year ago and we just got married in Santa Barbara." A toast to a long and happy union! 
NATAS welcomes contributions to the REGIONAL ROUNDUP from all Chapter markets.
To be included, please contact Joyce Mitchell at joycem2@surewest.net