Bay Area TV Stations Answer the Call

By Dan Ashley
News Anchor, KGO-TV ABC7, San Francisco
Special to Off Camera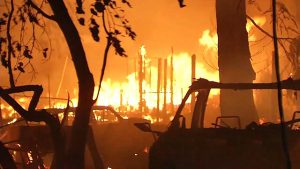 Within an hour or two of wildfire breaking out in the North Bay on Sunday night, Oct. 8, it was clear that it could become a serious problem. Conditions were perfect for disaster– low humidity, high winds and plenty of dry grass to burn. As the flames began to spread, every Bay Area television station responded with increasing intensity, sending in more reporters and more cameras to cover the story.  In the days ahead, the scope and scale of the destruction was hard to fully grasp, let alone capture it in our coverage. In the many days ahead, anchors, reporters, and photographers worked tirelessly through very long days to provide the most comprehensive and accurate coverage that they possibly could.  Every station extended their coverage for hours on end without commercial interruption to stay on top of a fast-changing story.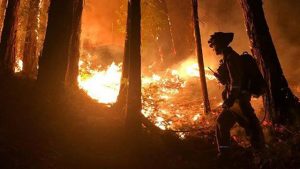 I was very proud of what all of us did as a media community.  We rose to the challenge and answered the call to serve our community. In a rapidly changing industry, it is sometimes easy to feel as though we are less relevant in the daily lives of our viewers. Perhaps that is true in many respects. But, when something of this magnitude happens in our community, viewers turn to television in large numbers. We have seen it time and time again from the day President John F. Kennedy was shot, to the day man landed on the moon, to the Challenger disaster, to the Loma Prieta earthquake, the Oakland hills firestorm, to the Sept. 11 terrorist attacks, and many others. And now the North Bay wildfires.
When news matters, as they say, it matters where you get your news. In this case, from trained, experienced, and dedicated journalists who gave everything they had by working day and night in smoky, uncomfortable and dangerous conditions to tell this tragic story.
We all got into this profession to serve the truth and to serve the public, especially when they need us most.
The North Bay wildfires gave us a chance to do exactly that and we can all feel very proud about it.
(Dan Ashley anchors the weeknight newscasts for KGO-TV ABC7 in San Francisco, where he has been since 1996. Inducted into the Silver Circle of the San Francisco/Northern California Chapter of The National Academy of Television Arts & Sciences in 2015, the multiple Emmy Award-honored journalist is a former Governor of the Chapter's Board of Governors.)
Back to "Off Camera" Index Page…