by Joyce Mitchell
Chapter Governor, Sacramento
For twenty-one years, Frank Casanova has owned and operated The Studio Center in Sacramento. And now, he's rolling up the red carpet.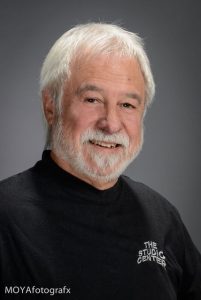 The Studio Center has been a popular place for corporate green screen productions, TV commercials, and documentaries. It's seen and done it all.  In recent years, it's been "the go-to place" for production companies and public relations firms.
While Casanova is closing the doors of studio center, he said that he's not retiring or getting out of the business. He just will be streamlining the work.
The Studio Center has seen the likes of Olivia Newton John, Arnold Schwarzenegger, and a myriad of other well-known people. "Yes, I'm moving on," said Casanova. "I'm in talks with a number of other producers who don't want the studio to go away so they are trying to see if we can find another location to start a more efficient operation. The big old, crumbling behemoth I've had has had more repair problems than anything else."
In the meantime, Casanova said that he is pressing forward with a YouTube comedy show called "Sacra*tomato." "It's episodes of topical and regional comedy akin to 'Laugh-In' (added single quote) or whatever characters come to ' (why single quote / apostrophe? -delete it) Frank's' mind," said Casanova.
He's returning the building to the landlord and another longtime TV commercial videographer is taking it over, calling it Media Center. John Christensen is in the process of rehabbing the place but does not have an opening date yet.
"Stay tuned, Frank is not out of the business, yet," said Casanova. "I didn't make an announcement of closing the studio because I don't want to give the impression I'm retiring. I just had to get rid of this cash eating monster that was on my back."
Casanova said he's searching for a new, more efficient location that will still provide people with green screens, lights, cameras, and action. "We're keeping the technical stuff, just getting rid of lots of desks and chairs," said Casanova.
Before the big wrap, Casanova donated space in his facility one Saturday recently to NATAS SF/NorCal for a "Headshot Day". Members are offered the opportunity to get free professional photographs taken, one of many membership perks.
That day, Casanova was invited to join the Academy. "I'm honored to become a member," he said. "I didn't know I could." To clarify, anyone involved in the industry in the chapter area is eligible to join.
NATAS welcomes Casanova while thanking him for his generous donation of time and space.