By Kevin Wing
Editor, Off Camera
Never on the day seven-year-old Lawrence Karnow sat wide-eyed staring out the window of his childhood home at a lightning storm did he ever realize that one day he would become a big-time television weatherman in San Francisco.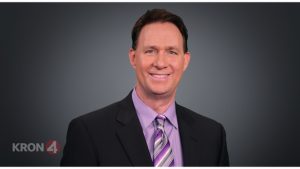 Back in the 1970s, those early years of his life growing up on the Monterey Peninsula, Karnow became fascinated with the weather. It's a moment in time that the KRON 4 chief meteorologist has never forgotten about.
"I fell in love with the weather," Karnow said, in this exclusive profile for Off Camera. "It was the middle of August, on a summer day, and I'll never forget that day. It changed my life. We were moving from Pacific Grove to Salinas, and we were lifting boxes, you're putting them in the van, and you're so tired. And, I just remember looking up at the sky and thinking how cool the clouds looked. the clouds. But, of course, I didn't know anything about clouds back then. Throughout the day, the clouds started getting bigger. That night, I'll never forget it. All of a sudden, we started to have lightning and that rumble of thunder. It was shaking the windows, I was just in awe. It was the biggest thunderstorm I'd ever seen, and probably the biggest one I've ever seen to this day."
Karnow's parents realized how excited he was about the weather that they bought him a weather set, complete with a temperature gauge, an anemometer to measure the wind, and a barometer. It was his first "weather station", and he set it all up, even climbing up on the roof of his house (his mother wasn't happy once she learned how he was measuring the wind speed) to install the anemometer on the chimney. Karnow was soon a big fan of an early morning weather program on local television, aptly called "A.M. Weather". So much of a fan that he was of this show before he went off to school every morning, he wrote in to ask for a weather chart. After the show producers sent it to him, he was able to understand what certain types of clouds were called, among other things.
"Weather has been a lifelong love of mine," Karnow added.
Today, he is the chief meteorologist at KRON, a position he began in January after two years of forecasting the weekend weather there. Prior to joining KRON, Karnow spent 18 years at KPIX 5, where he was weekend weather anchor. Eventually, he would move to weekday mornings at the CBS station.
His career got started in Salinas, in 1986, when he was hired by KSBW. After graduating from UCLA, Karnow realized it was taking awhile to get into the TV business. He ended up interning at KSBW, eventually parlaying that into an on-air position.
"The first time I was on TV, I was horrible," he remembered. "I was so nervous. I was also practicing in front of the mirror, or practicing at home or in front of the chromakey at the studio.
While at KSBW, Karnow would meet the love of his life: his future wife, reporter Sharon Chin. While they would contnue to work together there, they would also end up working at the same station, in San Francisco.
So, after several years at KSBW, the next stop for Karnow would be the Bay Area, when KPIX hired him, in the mid-1990s. Chin was already working there.
Karnow practically did it all at KPIX, covering every type of major storm and preparing his forecasts with the latest technology in weather-gathering instruments, computers and radar.
It was after those 18 years at KPIX that Karnow would wind up being laid off from the station. That is when his life began to spiral out of control.
"When I was laid off, I was very sick," he said. "I lost 25 or 30 pounds. I went to the doctor, did a whole battery of tests. The doctor found a mass on my pancreas. And, pancreatic cancer is one of the worst cancers you can get."
Karnow began worrying about his wife and their young daughter.
"Here I have a beautiful little girl, and one day, I was looking at her, dancing and spinning around while I was going through all of these dark thoughts in my head, and I was trying to think of something I could do that would help her in life if I wasn't there anymore," he said.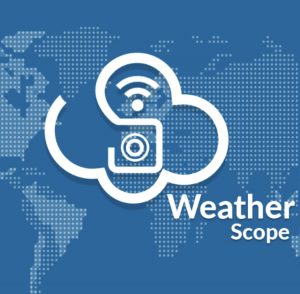 That was three years ago, and that is when Karnow came up with the idea for WeatherScope, the first live-streaming weather app in the world.
First, the good news. The mass that was growing on Karnow's pancreas turned out to be benign. But, it certainly put him through a lot of worry and concern.
And, in the meantime — between the time Karnow was laid off and later picked up by KRON — he was developing WeatherScope.
"We broadcast in 4K, which is super HD for all of you techies out there," Karnow said. "I spent countless hours working on WeatherScope, to put it all together, and to do the programming for it."
Users can broadcast in 4K from anywhere in the world with the use of a smartphone and any device that's for Android or Apple. Users can stream live, and those watching can access all of the weather information from the location of a user's live stream.
Even though Karnow is now the chief meteorologist at KRON, WeatherScope is still his baby.
"It's gotten to the point now where it's going to need someone who can market it and put extra money into it," he said. "We need to take it to the next level, and that's what I'm looking forward to next."
Karnow portrays WeatherScope as like "opening a window to a different part of the world. They (app users) get to show me their world, and I love that."
While being laid off from KPIX was most certainly a low point for Karnow, his health scare didn't make matters any easier. And, while he was rebuilding his career at a new station — KRON — it was only part-time for the first couple of years. And then, last year, the Karnows' Pacifica home was flooded out when, unbeknownst to them, a water pipe had broken beneath their house. It literally wiped out everything in the house.
"The whole house was destroyed. Everything was destroyed," Karnow said, looking back. "We had to live in a hotel for six months."
Finally, they were able to move back into the house late last year. It was around that time, too, that KRON was about to put Karnow into full-time mode as its new chief meteorologist.
But first, Karnow would be put through one more test of his endurance.
During his first week as KRON's chief meteorologist, he became very sick.
"All of the joints in my body felt like they were on fire, and I could barely move," he explained. "I could hardly lift my arm to point in front of the chromakey. By the time I got home that night, my hands and feet were so swollen and my body hurt so much that I couldn't take off my clothes. I ended up in the emergency room that night."
As it would turn out, Karnow had contracted Lyme disease, during a hike just before Christmas. Fortunately for him, doctors caught it just in time and treated it with antibiotics.
"It was easily the most painful experience in my life," he added. "But, that's how life is. It's going to knock you down. The question is, 'are you going to lay there or get back up?'".
To say that those three years in Karnow's life were a challenge would be a total understatement.
"If you don't believe in God, this would make you believe in God," he said. "That was three years that were really difficult for us."
But, things turned for the better.
"You know the good Lord's hand is in that somewhere," Karnow added.
Karnow was humbled by life's challenge.
"You question everything," he said. "Your faith, your manhood, your work, you question everything. But, it helps you look inward, and that's how you get better, outward. All of us are going to live through that are difficult, and you don't know what everyone is experiencing. You need to find the respect for those people who are living through difficult time to try and give them a helping hand, because you never know what people are going through in their lives."
This is one man who is grateful for where he is now, after so much heartache and struggle during the last three years. Karnow loves his work, and, of course, he still loves forecasting the weather.
"I am humbled by the weather every day," Karnow said. "Every day, it's something different, or something I'm not expecting. When I'm at work, it's a nice challenge for me to figure out what the weather is up to."