Allen Hugh Waterous "The Voice of San Jose"  (Oct. 25, 1943 – May 10, 2015)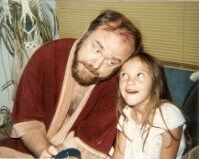 Allen was born in Kingston, New York to Allen Sr. and Ann Waterous, the youngest of three sons.   In high school he was president of the band and a member of the choir and orchestra. But it's no surprise that he reveled in music from an early age, it was in his blood.  His grandfather was the world renowned Metropolitan Opera Basso, Herbert Waterous. His father was a baritone who appeared on Broadway in many Gilbert and Sullivan plays. His mother studied to be a concert pianist.
Allen graduated from Kingston High School in 1962 and Tampa Technical College in 1963. He studied music theory and voice for three years before beginning his broadcast career in 1965 at WBAZ radio in Kingston. He became Program Director of WKNY radio in 1966. Allen married the former Ann Marie Luna. They became proud parents of a daughter Amy.
He later worked as a disc jockey for WOLF radio where he became a local celebrity known as "Big John Allen." Ann Marie and Allen parted ways in the middle of the decade and in 1978 Waterous moved to California where he began working for KLOK as an operations manager and on-air talent. He was given the nickname of "Johnny Walker." Allen met and fell in love with Jeanette Bartimioli, and they were married in 1980.  Eventually two daughters were welcomed into the family, Sarah and Rebekah.
After KLOK became a Spanish language station in 1988, Allen moved to KICU 36 in San Jose where he became the station announcer and a commercial producer. Allen loved creating jingles and commercials, writing, directing, editing, and doing voiceovers for TV and radio. For many years he was referred to as "The Voice of San Jose," winning numerous awards for his creativity among his peers.
In the late '90's Allen also became an accomplished AVID editor. He easily moved from tape-based to digital recording both at work and at his home studio. He was the rare person who possessed both creativity and technical knowhow.
Former KICU Creative Director Steve Dini was a close friend and co-worker. "In the nearly 40 years I knew Allen, I can honestly say I never saw him get angry or upset or ever be anything but kind, compassionate and friendly. I had some pretty crazy ideas over the years and he greeted each one of them with that familiar smile and warm laugh. Then, he would take that crazy Dini idea, add his unique Allen creativity and produce one gem after another."
Former KICU Creative Director Brian Adams recalled, "I met Allen initially as a colleague, and that working relationship quickly became a friendship.  His creative talents were obvious, but perhaps less apparent to those who didn't know him well were his deep faith, optimism, and philosophy on life that I take comfort in knowing have come to fullness."
"I remember directing dozens of commercials at KICU that Allen wrote and voiced," said former KICU Producer/Editor Keith Sanders. "He could greatly enhance any commercial or theme week promo with his own original music, and at times would even bring in his talented wife Jeanette to sing."
Allen was as dedicated to the people he worked with as he was his work. Many of his co-workers over the years became close family friends. His best friends from KICU formed the "Rat Pack" (pictured), and would take trips together or just hang out.
When he wasn't at work he was often found writing and playing music in his studio at home, with friends, and also at his churches throughout the years including Peninsula Christian Center, Church of the Valley and Abundant Life Foursquare church. For many years he also volunteered as a home group leader for his first church and was in several church theatre productions in addition to playing saxophone on Sundays. Some of his favorite memories were made with his church family.
In 2000 Cox Communications bought KICU and Allen began managing their commercial productions at the station and their other west coast property, KTVU Channel 2. He retired from broadcasting in 2009 and then moved to Englewood, Florida.
Allen was a talented musician and loved to sing and play music. Over time he taught himself to play guitar, piano, bass, and saxophone among others. Music was a huge part of his life and often friends would bring their instruments over to "jam" in the living room after sharing a meal. On family road trips he would join in singing and teaching his children four-part harmonics to pass the time on the way to their destinations, leaving them with enduring memories. He heard perfect pitch and time.
He is survived by his three daughters Amy Doty, Sarah Scheidler, and Rebekah Hunt; seven grandchildren; his brother Herbert, several nephews and nieces, and his two ex-wives, Ann Marie Luna and Jeanette Bartimioli.
"From his amazing voice to his charm to his incredible faith in the Lord and His saving grace, Allen will always be one of the finest gentleman I encountered in my 65 plus years of broadcasting, theater and traveling this earth," Dini declared. "I miss Allen, but I am looking forward to the day I walk those streets of Heaven and hear Allen's booming voice welcoming me home."
"He was, for years, the 'voice of the Bay Area,' Adams affirmed, "But for me he was always the voice of reason.  I miss him more than I can convey."
Allen Waterous was generous with his time, talent and treasure. He was kind hearted and loving. He could strike up a conversation and find common ground with anyone; a great storyteller, comedian, father, brother and friend. He will be dearly missed and forever remembered by the many hearts he touched.