Monthly Tidbits From Our Chapter's Markets 
by Joyce Mitchell, Chapter Governor, Sacramento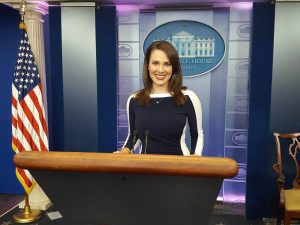 Reno, Nevada – CBS station KTVN Channel 2 Anchor/Reporter Arianna Bennett recently returned from Washington D.C. She was one of five local market broadcasters invited to the White House to participate in interviews with cabinet members and senior staff. Bennett was the only reporter from the western region and while at the White House – breaking news. The Senate took a surprise vote on a procedural measure to move forward on healthcare reform. "I was in the Rose Garden waiting for President Donald Trump and the Lebanese Prime Minister when the news broke," said Bennett. "The two heads of state came out and the conversation mostly focused on the healthcare vote, so we covered that with a focus on how it could affect Nevadans." She said that it was lucky timing.
Sacramento – Sacramento Bee Photo-Journalist and 2017 Emmy@ nominee Sue Morrow is going on sabbatical. She'll be teaching journalism at Ohio University (OU) in Athens, Ohio while also finishing a documentary entitled Born to Die. It's about a secret practice in equine breeding. "Every year during breeding season, hours-old non-pedigreed foals are taken from their mothers, whose job is to be a nurse mare to a pedigree foal," according to Murrow's website. "The foals with championship potential are nourished by nurse mare's milk critical to the health and survival of the baby horse. But what happens to the non-pedigreed and discarded foals? Many are left to die." Murrow's documentary is being shot at the Last Chance Corral in Athens. The founder is committed to saving the lives of the unwanted foals.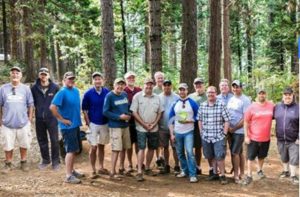 Sacramento's Men of News10 took to Stumpy Meadows near Georgetown for their 10th annual campout. Former Sports Anchor Bryan May brought his Cajun cooking skills to the campfire. "We've all worked together for years," said former Reporter Dave Marquis. "We forged friendships that will last a lifetime." People travelled from as far away as Detroit and L.A. to attend. "We get together, swap tales, unwind for four days and reconnect," said Marquis. Campers included former Reporters George Warren, Mark Hedlund, former News Anchor/Reporter Dale Schornack. and Photo Journalists Dave Novick, John Larimore and Bill Carragher. Some have retired, have other jobs, or still work news.
Guam's KUAM General Manager Joseph Calvo said that his company is breaking new ground in integrating social media content into broadcasting. "We're seamlessly merging all platforms into a single real time experience that people use and rely on constantly," said Calvo. Recently, KUAM received the prestigious Regional Edward R. Murrow Award for "Excellence in Social Media." The award recognized the best electronic journalism by the Regional Television Digital News Association (RTNDA). "Those who want proof of the important role journalists play in our society need only look at the work we highlight with the Edward R. Murrow Awards," said RTNDA Executive Director Mike Cavender. "This is where real news happens."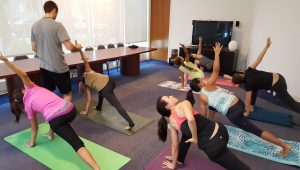 Honolulu KHON2 believes in the overall well-being of its employees and is doing it! Offering employees regular yoga classes is one example of the station's commitment to wellness. "Healthy employees are better employees," said KHON2 Finance Director Trung Quach. "It benefits us all when we're in a good place physically and mentally." The Wellness Program also arranges for on-site flu vaccinations and CPR training for all employees.
Monterey, Salinas, Santa Cruz – NBC KSBW Meteorologist Lee Solomon explained a sight for sore eyes. What people described as a "fognado" ripped through Santa Cruz August 4, 2017 lasting all of about three-minutes. But it was a wild three-minutes. "It was a huge wall of wind, everything was blowing away from umbrellas to Palm trees," said vacationing Jenny Woods. "I held onto my kids like there was no tomorrow. It was really shocking." Solomon said that the so-called fognado is technically a roll cloud and is rare. It rolls like a wave or a barrel. "We are still doing research on it," said Solomon.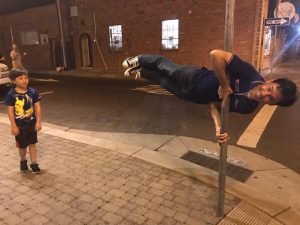 San Francisco Bay Area – Ken Newberry is a man of many talents. He's one of the official photographers for the annual NATAS/SF Emmy Gala and Gold and Silver Circle. In his career, he's a Quality Control Specialist for Bayer Healthcare. Newberry lives in Pleasanton and is passing along to his son a tradition passed along to him by his dad forty-years ago. It's the "flagpole trick." But in reality, it's no trick at all. It's all technique and strength," said Newberry. Newberry elevates and braces himself on stop signs at a ninety-degree angle – and then holds the position. "When I was a kid, my dad showed me and I was amazed," said Newberry. "I think it's the smile on my face that makes it look easy," said Newberry.
NATAS welcomes contributions to the Regional Roundup from all markets.
To be included, please contact Joyce Mitchell at joycem2@surewest.net