By Mike Moya
Chapter Membership Chairperson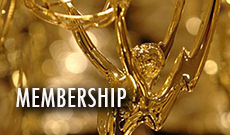 As 2018 is coming to an end and 2019 is just over the horizon, you can count on a big break on Membership! Tell a friend to become a member now, and get September, October, November and December free with the full 2019 membership! You can also renew your 2019 NATAS membership now and get ahead of the game. Our local NATAS chapter is one of the largest in the nation and we offer membership benefits exclusive to you.
MEMBERSHIP BENEFITS
    ▪    Free or Discounted Admission to networking events, seminars, workshops, product demonstrations, luncheons, and other Academy activities. Events
    ▪    Discount on Emmy® Award entry fees and Gala. Awards
    ▪    CINEMA CLUB – Special preview and first-run movies, FREE for you and a guest. E-blasts announcing details about attending each film are sent to Members who join the Cinema Club – details here.
    ▪    OFF CAMERA Newsletter – News and information from the San Francisco / Northern California, Reno, and Hawaii area television communities – new issue announcement emailed to you directly every month.
    ▪    JOB BANK – A free service from The National Academy of Television Arts & Sciences. Job Bank
    ▪    SPECIAL BENEFITS – Change from time to time and are offered on a limited time basis; one example is free "Member Professional Headshot" Photo Sessions!
JOIN OR RENEW ON THE MEMBERSHIP PAGE!
https://emmysf.tv/membership-2/
We had a great year starting with the Worlds Fair NANO admissions discount being hosted in San Francisco. Also in 2019 NATAS members will receive another discount to the Worlds Fair NANO coming up in January 2019.
"NATAS members received a 25% discount on tickets to the World's Fair Nano event in January," said Keith Sanders, our Chapter's Education Chairperson. This San Francisco event was an international showcase of the future, featuring the world's most amazing technology, art, lectures and demonstrations. Next year's event will take place in March. More details to follow."
In February, our NATAS chapter received another discount perk to the Cinequest Film Festival, which was hosted in San Francisco and San Jose.
2018 the NATAS Northern California chapter will be offering another Professional HEADSHOT DAY to be announced in September.  Hosted at Laney College in Oakland, California, we always have a great response and our members are pampered with makeup performed by the Laney Cosmetology Department and photography by the Laney Photography Department.  We photographed our last Headshot Day September 23 in Sacramento, California at The Studio Center. Frank Casanova owner of The Studio Center, graciously offered his studio for our photography shoot.
Don't forget our Cinema Club hosted by Don Sanchez. NATAS members enjoyed complimentary featured movie releases.
Our annual 47th Northern California Area Emmy Awards Gala hosted at the San Francisco Jazz Center June 3, had another great turnout featuring bay area personalities. A total of 1002 entries were received, 784 English and 218 Spanish in 62 English Categories and 42 Spanish Categories. Everyone was dressed to impress and honor our awardees with the 2017 Emmy statuette.
Oct. 20 will be our next gala event to honor our Gold & Silver Circle inductees for their lifetime achievements in the television industry. James Gabbert was inducted into the 2017 Gold Circle presented by Don Sanchez.
The Gold & Silver Circle are honor societies that recognize those who have been actively engaged in television for at least 25 or 50 years (at least half of that time in this NATAS chapter area), distinguished themselves in their careers and have made significant contribution to the TV industry and to the community. Including today's inductees, there are 258 members of the Gold & Silver Circles combined.
Looking to 2019, there will be another series of benefits available for NATAS members. Our student Mentorship program will be offered again early in the spring of 2019. This program will be a great opportunity for student members to mentor with professionals in the working industry. Stay updated through the year with events and opportunities listed in your monthly Off Camera newsletter.
Remember as a member and ambassador of NATAS, you can help build our local San Francisco/Northern California Chapter by sharing these benefits.
JOIN OR RENEW ON THE MEMBERSHIP PAGE!