Por Joyce Mitchell,
Chapter Governor, Sacramento

Reportera / presentadora de fin de semana en KCRA Leticia Ordaz está lanzando un nuevo e importante proyecto muy cercano a su corazón. Ordaz, madre de dos niños, cree que es importante preservar el idioma español en su familia. "No quiero que mis hijos pierdan u olviden esta parte de su cultura / identidad," dijo Ordaz. Por lo que emprendió un gran proyecto, al crear una compañía editorial y escribir un libro bilingüe para niños.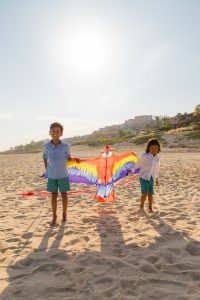 Ordaz  realizó su primer obra infantil en el año 2018. En la cual narro una historia sobre sus dos hijos.
Inicialmente, estaba buscando una editorial importante. Sin embargo después decidió publicarlo ella misma y creó una pequeña editorial llamada Cielito Lindo Books, LLC. Quería asegurarse de que el libro ilustrado fuera bilingüe y que los personajes se mantuvieran fieles a su visión.
"Si más niños se parecen a ellos en los libros, ellos y otros niños estarán orgullosos de su cultura y querrán aprender español," dijo Ordaz. "Honestamente es un desafío hacer que los niños sigan hablando español cuando muchos de sus amigos no lo hablan." Incluso los niños que no son latinos deberían estar expuestos a este hermoso idioma. " Su libro ilustrado bilingüe se llama The Adventures of Mr. Macaw y Ordaz espera que esté disponible para su compra en la primavera del 2020. Es una historia para niños de cuatro a ocho años dónde enfatiza un vínculo entre dos hermanos y su cometa mágica, el Sr. Macaw.
Ordaz explicó que el libro muestra muchas conexiones universales que resonarán entre los niños y aquellos que lo leen  con ellos. "Representa el amor de la familia," dijo Ordaz. "Ilustra cómo estamos unidos a través de cómo nos sucede la vida. Sobre todo, es un viaje donde vemos que importa cómo respondemos a lo que nos sucede."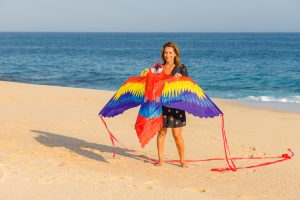 Esta madre latina de dos niños bilingües dijo que ve la importancia de tener más libros bilingües. Ella se convirtió en madre hace siete años y ha sido periodista televisiva durante dos décadas, creció en Sacramento y se convirtió en autora después de saber que solo el siete por ciento de los libros para niños están escritos por personas de color.