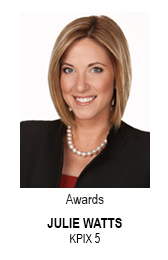 Governors' Service Medallion  2014
Governor:  2009-2013, 2016-2018
Awards Chair:  2014-2016
Emmy® Event Chair:  2012-2014
ON AIR – Julie's is the Consumer-Investigative Reporter and an Anchor at KPIX. Her reporting has prompted FDA recalls, federal investigations, and new legislation intended to protect consumers. In addition to KPIX in San Francisco, Julie's reports air on KCAL/KCBS in LA and on CBS affiliate stations nationwide. Her work has accumulated more than a dozen Emmy®, AP & Edward R. Murrow awards. She is also a meteorologist and multimedia journalist.
OFF AIR – Julie is the Emmy® Award's Chair for the NorCal NATAS chapter. In addition to managing the local competition, Julie produced the black-tie Emmy® gala and award show for several years. She also developed and implemented the current Emmy® gala sponsorship program which increased the non-profit's sponsorship income by 1600% year to year.
ONLINE – Julie is the founder of NewsMom.com, a resource for parents to access trustworthy news and information that is relevant to them. NewsMom is also an outlet for journalists to share their relevant research and reports with an audience of parents that they wouldn't otherwise reach.