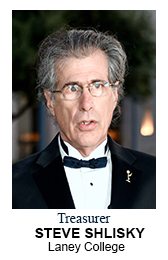 Governors' Service Medallion  2013
Treasurer 2022-2024
Activities/Programs Chair 2020-2023
Past President – 2020-2022
President:  2016-2018, 2018-2020
National Trustee:  2015-2017,2017-2019
Alternate Trustee:  2013-2015
Education Chair:  2011-2016
Steve Shlisky is a 39 year veteran of Bay Area television production (KTVU, KICU, and KNTV). A major chunk of that time spent editing local programming from short form PSAs, promotion, and commercial spots to longer form news features, sales presentations, and full length entertainment and documentary programs (½ hour to 2 hours in length). Many of these long form programs, Steve has helped to produce, direct and write.
Among his many honors Steve has received fourteen local Emmy® Awards (based on sixty nominations), thirteen Telly awards and six RTNDA awards.
Since 1999 Steve has lectured at San Francisco State University (in their BECA program) and Laney College where, since 2011, he co-chairs the Media Communication department. Past subjects have included: Video Production, Audio Aesthetics with Pro Tools; Advanced Editing; Work Experience; and Media Literacy. Currently he teaches one of the few semester-length DSLR workflow classes in the Bay Area.
Steve presently serves as the local Chapter president and one of The Chapter's four National Trustees. He formerly chaired the Education Committee from 2010 – 2016, overseeing the judging and awarding of $16,000 of College Scholarships Awards and promoting high school broadcast excellence awards.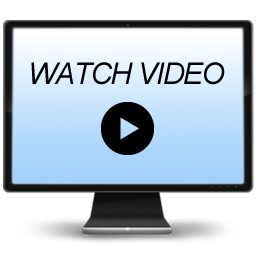 President Steve Shlisky ends term (1 minute)
click to view video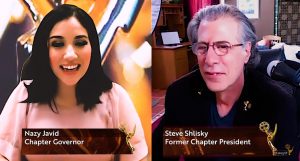 Governor Nazy Javid interviews Past President Steve Shlisky reflecting on his four years as president of our chapter (30 minutes)
click to view video