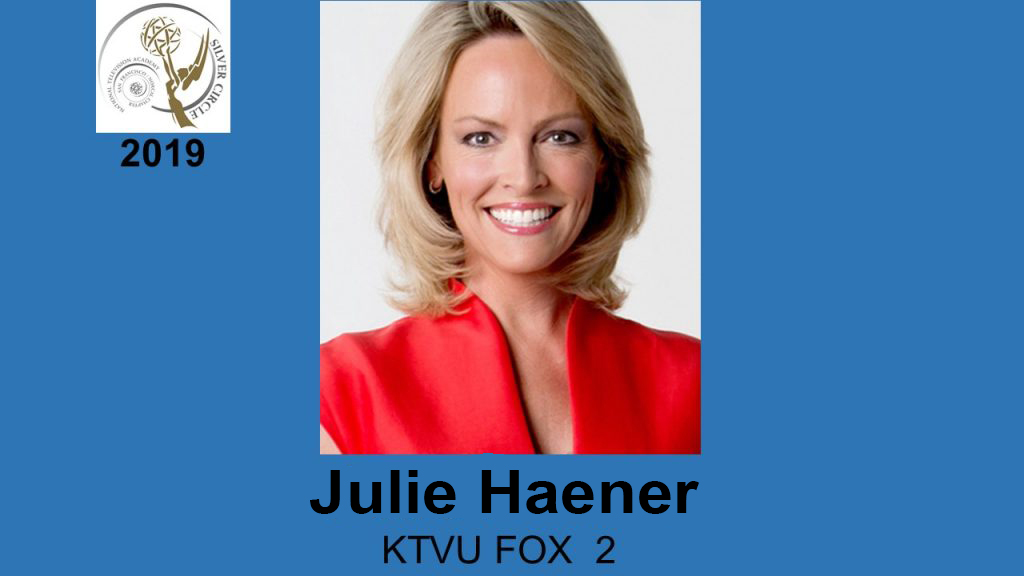 The Pacific Northwest was home to Julie Haener where she graduated from the University of Washington with a degree in Broadcast Journalism. She launched her career in 1990 in Yakima, Washington, actually living in a tiny apartment right above the TV station. Putting in 12-hour days as a reporter, anchor, producer, editor, writer and
photographer, she then moved on to Fresno station KJEO-TV as weeknight anchor and health reporter. After that came a job at KIRO in Seattle. She anchored mornings, requiring her to be at work by 3 AM every day. In 1997, Haener was hired by Bay Area station KTVU. Haener started at the station as a freelance reporter and within a couple of months was hired full time. She was promoted to weekend anchor in 1998 and in 2000 joined Dennis Richmond on the newly launched KTVU Channel Two News at 6. By 2006, she was named co-anchor of The Ten O'clock News, eventually expanding her anchoring duties to include the News at 5. During her time at KTVU, Haener has been recognized with seven Emmy® Awards, including one in 2004 for Best On-Camera News Anchor. That same year, American Women in Radio and Television
named her Best TV On-Air Reporter. Haener grew up in Tacoma but said that she quickly fell in love with the Bay Area. She continues to enjoy taking candid photos whenever possible. She said that she has nearly 40,000 pictures on her computer waiting to be organized.