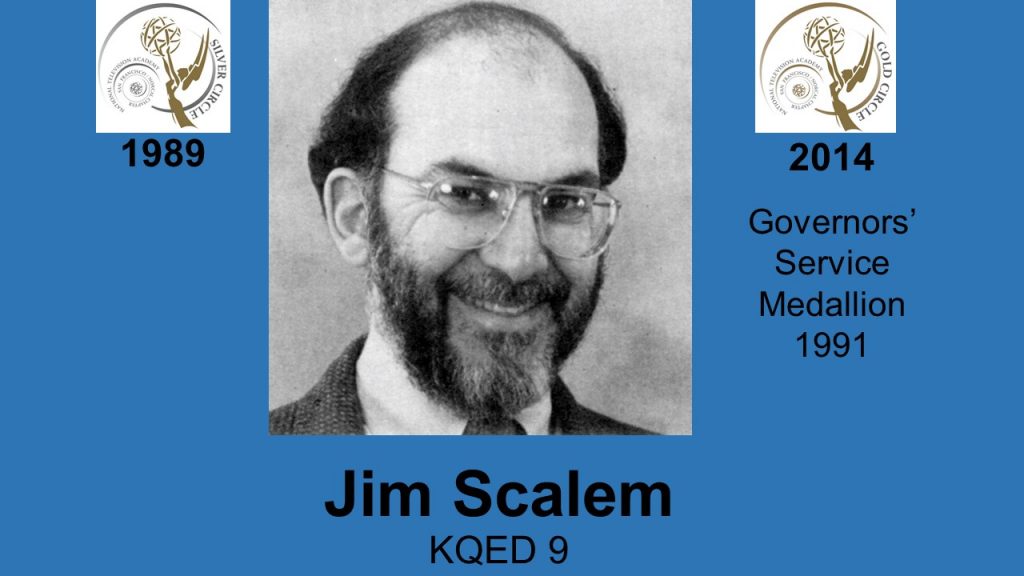 A native New Yorker and graduate of San Francisco's Galileo HS and San Francisco State  College, Jim Scalem first came to KQED in 1958 as a volunteer apprentice Floor Director and, at the age of 16, started his long career in public television.
After doing such other ladder-climbing  jobs as KQED Auction Warehouse  Supervisor, Assistant  Bookeeper , and night switchboard operator, where he answered viewer calls-mostly complaints!!, Jim then rose thru the usual lower-level production jobs to be a full-time Producer-Director by 1973.  He was already the station's On-Air Fundraising  and Promotion Producer, and began directing national series such as World Press and David Littlejohn-Critic at Large.
One of Jim's most memorable Production Assistant and AD jobs was working on KQED's pioneering nitely one hour local news program NEWSROOM.
During KQED's March fundraising drive in 1974, Bay Area resident Joan Baez asked if she could be a volunteer Pledge Nite host.   Joan joined Newsroom reporter Bill Schechner and SANG her appeals for contributions from viewers.This lead to Joan agreeing to tape a one-hour studio concert that was used by KQED for…..what else???–fundraising!!!
Jim co-produced and directed AN HOUR WITH JOAN BAEZ  with his KQED colleague Leslie Miner and they were thrilled and proud to win a local Bay Area Emmy for it.  231words
In the 1970's, Jim and Leslie again teamed to create and produce a series of about 150 one-minute biographies of famous people. These SPACES BETWEEN PROGRAMS were presented on the Birthdays of the people profiled, and again won Leslie and Jim a Bay Area local Emmy®
Jim became Executive  Producer of KQED Local  & National Cultural Programming in the late 1970's.  With Roi Peers,Jim produced the yearly live telecasts of the San Francisco Conservatory of Music's Sing It Yourself Messiah, as well as the San Francisco Opera in the Park concerts.
In the early 1980's, Jim took over as KQED's Third Program Manager in the station's 30-year history, following in the footsteps of Nat Katzman and The Legendary co-Founder of KQED–Jonathan Rice.  During Jim's tenure KQED consistently had one of the largest viewerships of any public television station in the country. KQED's local on-air fund raising drives averaged well-over one million dollars a drive.
Jim also found time in the late seventies and early eighties to produce some 50 national PTV telecasts of first class tennis tournaments in this country and in Italy, Germany, and even Dubai. These telecasts came as a result of Jim and KQED  locally televising the San Francisco stop on the ATP Grand Prix tour, with the late Barry MacKay as Tournament Director.
Deciding to leave KQED in 1990 after 32 years,  Jim and his wife Linda Cohen moved to Washington, DC where for  8 years he headed the Fundraising Programming Department at PBS. During that period, he was responsible for creating, funding, managing, and acquiring more than 350 national "pledge" programs for affiliates like KQED to program their  on-air fundraising drives.These programs included: the Three Tenors Concerts from Los Angeles and Riverdance, Les Miserables in Concert, two Peter, Paul and Mary specials, three Victor Borge Then and Now shows, The Eagles Reunion Concert, Yanni at the Acropolis, Andre Rieu–the Vienna I Love, various classic commercial television specials with Frank Sinatra and Dean Martin, Perry Como's Irish Christmas, and five Lawrence Welk specials. Jim also pioneered the highly successful "self-help" genre of fundraising programming by commissioning and acquiring programs; featuring, John Bradshaw,mmenopause expert Dr. Judith Reichman and many others.
In 1998 Jim went independent, co-producing with the talented JoAnn Young national public television fund-raising specials ranging from Bobby Darin–Beyond the Song to Robert Mirabal-Music from a Painted Cave -a Native American concert/dance performance show – from a performance-driven tribute to The Legendary Liberace, to music-filled biographical tributes to The Mamas and  the Papas, and The Kingston Trio.  In addition, he produced an Ice Skating Special for NBC SPORTS entitled Divas on Ice, starring Katerina Witt.
Now at the age of 72, Jim is teaming with his old KQED Newsroom colleague Henry Kroll to produce an Indy documentary on 93-year old Bert Steinberg, a lifetime New York and San Francisco baseball fan who this year attended ALL 81 road games of the NL Champion San Francisco Giants, who named Bert and his wife Le Anne their Fans of The Year.
A GIANTS FAN himself for 65 years, jim,still attends most all of their home games and celebrates their Three National League Pennants in the last five years!!!