By Nazy Javid
Governor/Officer, Eureka
Are you one of the thousands of multimedia journalists in the U.S. who have had to get creative in tough pandemic times? Well, you're not alone. The year 2020 brought with it both challenge – and innovation.
Now, as we leap into spring of 2021, the NATAS San Francisco Chapter has rounded up two of the best big market MMJs in the Bay Area to share their wealth of knowledge with all of you. Because they've seen it all – and they know 'what works.'
Join KPIX's Da Lin and Devin Fehely for a FREE LIVE Zoom Webinar and Q&A at noon on April 17, where they will share their dos, don'ts, tricks and tips – plus you'll get the chance to ask them in real time about 'what works' (and what doesn't)!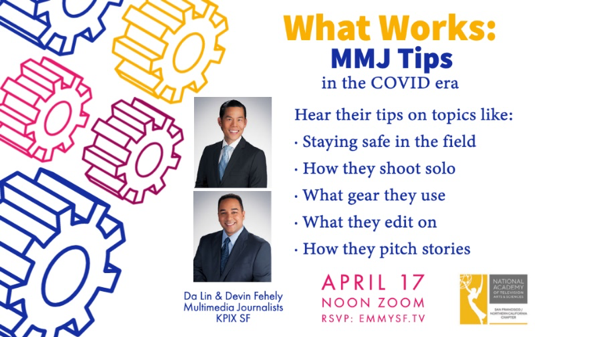 PRESENTED BY TV MARKETS IN EUREKA | CHICO-REDDING | MONTEREY-SALINAS
WHAT? FREE LIVE Webinar and Q&A
WHEN? April 17 at noon PT
WHERE? Virtually on Zoom
WHO? NATAS Members and Non-members
Everyone is welcome, regardless of location and level of expertise. Hope to see you there!