By Steve Shlisky
Chapter President
A breezeless and perfectly warm morning greeted revelers to the momentous 90th birthday of San Francisco State University (SFSU) professor emeritus Herb Zettl, PhD. They traveled from near and from far to the Corinthian Yacht Club in Tiburon. The "near" – one of his kids strolling just a couple of blocks and the "far" – a former student flying 6000 miles for the occasion.
Zettl's daughter Reneé Child organized this event after a family brunch on Easter this year: "We were planning on having this party at the Spinnaker Restaurant, but he fell in love with this spot."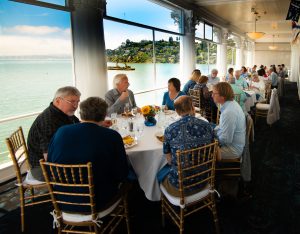 Herb's wife of 66 years, a beaming Erika declares: "There are four generations of family here. And it is a miracle." Peripatetic grand-kids and great grand-kids run about while Zettl's son and daughter Alex and Reneé bring order to the Sunday brunch buffet. After delivering a nine candled birthday cake (one for each Herb decade), Alex grabbed the microphone and boomed: "The best thing about giving a speech about a 90-year-old is you can say what you want and the guest of honor will probably not hear any of it."
Zettl heard all, though, with his characteristic easy grace and humor only needing light encouragement to take the microphone and describe what it is like entering a new decade: "I feel great, just the same as I felt a year younger just a day earlier."
Zettl spent 40 years at SFSU. He was instrumental in evolving the department into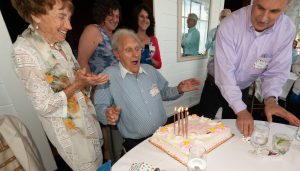 world renown during his tenure. In his time at the university the department was rechristened as The Broadcast and Electronic Communication Arts Department or BECA for short. He continually updates the his widely used texts: Sight Sound Motion: Applied Media Aesthetics; Television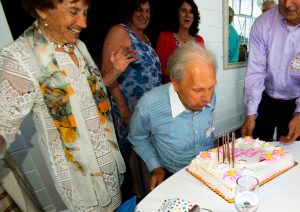 Production Handbook; Video Basics; and the interactive DVD, Zettl's Video Lab. While at SFSU, he headed the Institute of International Media Communication, and was a frequent lecturer at universities and television centers in various countries.
Former exchange student Veit Haug, now working as a director in Stuttgart Germany, made the trip specifically to honor Zettl: "I am overwhelmed, I couldn't be happier, the setting is beautiful." In 1994 Zettl arranged Haug's year-long student exchange from Black Forest, a college in Furtwangen, Germany. Haug still profits from what he learned from Zettl, "He opened up the live programming world for me, I had to learn to always be prepared."
Aldous Huxley once wrote: "The secret of genius is to carry the spirit of the child into old age, which means never losing our enthusiasm."  Zettl now spends his post academic career painting in a detached studio space at his Forest Knolls home in northern Marin County. Fellow BECA professor Hamid Khani once asked Zettl about how to bring social consciousness to his broadcast work. Zettl told him to learn technique first then use your social consciousness. Khani adds: "I can see traces of his social consciousness in his work."
Former BECA chair Phil Kipper says: "Herb encouraged me to pursue my advanced degrees." Kipper eventually earned his PHD and came to teach the BECA department: "I learned a lot about art from Herb. He talked about Caravaggio's use of light and the Camera Obscura and it wasn't until much later in life, when visiting the original work in Rome, that I understood what he was talking about. He had a deep understanding of the medium I did not appreciate at the time."
Our Chapter has honored Zettl's achievements many times. He was inducted into the Silver Circle in 1998 and Gold Circle in 2012. At its 2016 Emmy® Gala the Board of Governors presented him with the Governors' Award, the highest award a chapter can bestow.
Paintings by Heb Zettl   (https://herbzettl.com/).