By Joyce Mitchell
Chapter Vice President, Sacramento

The Royal Chicano Air Force (RCAF) is a historical and political art movement started in the 60s and 70s, and through the power of television, is still impacting people today. The struggle for the Chicano community was real and with art, Jose Montoya raised awareness, launching a social movement in the agriculturally rich Sacramento valley, promoting equality to protect the rights of farmworkers.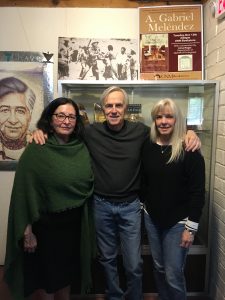 The RCAF story is preserved in a half-hour television documentary produced more than two decades ago by Steve LaRosa for Sacramento PBS station KVIE Channel 6. At first named The Rebel Chicano Art Front (RCAF), someone asked if RCAF meant the "Royal Canadian Air Force." With humor, an artist responded, "No, it means the Royal Chicano Air Force." The name stuck and from that point on, artists often used an "Air Force" motif in their artwork.
Montoya  founded the RCAF and is recognized as one of the most influential leaders in California Latino culture. The son of farm laborers, Montoya worked in the fields as a child and was the first in his family to graduate from high school, eventually earning a Masters of Fine Arts (MFA) from Sacramento State University.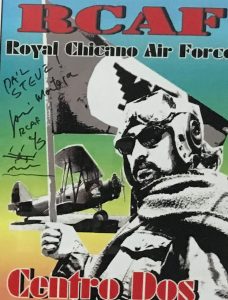 An artist himself, Montoya organized other Chicano artists to establish a silk screen operation to create images representing cultural activities and political events. The group staged protests, painted murals throughout Sacramento and distributed thousands of silk screen posters as they fought for equality and justice.
LaRosa heard about this rebel Chicano art movement during his college years at Sac State in the 70s. Then, 20-years later, LaRosa was hired by KVIE to produce a documentary about the Royal Chicano Air Force.
Montoya died in 2013 but his story lives on. The RCAF documentary is being shown in college classrooms across the country including at Cornell, UC Davis and the University of New Mexico.
Recently, LaRosa was invited to attend a screening in Taos facilitated by Professor Patricia Covarrubias, a former reporter for KCRA TV in Sacramento who is now a professor of Chicano Studies at University of New Mexico.
"It only takes a generation to forget," said LaRosa. "And the documentary is a primer on the Chicano movement and the plight of the farmworkers that is eye opening to a younger generation."
The Royal Chicano Air Force garnered a following of support from students, artists, politicians and activists.  "They worked with neighborhood centers and supported community programs," said La Rosa. "I called them the Robin Hoods of the Sacramento Chicano community."
Professor Covarrubias first met LaRosa at Sacramento's NBC affiliate KCRA many years ago. Both were reporters at the station. Today, both are experiencing the power of TV as they see it live on. Making a difference.