MEMBER BENEFIT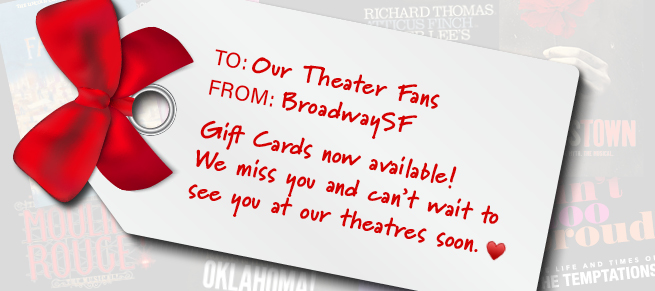 Broadway SF, our membership partner, is offering NATAS members special deals in lieu of theatre performance discounts before COVID-19 restrictions shut down theatres.
Individual shows will be back on sale again in early 2021, with a hopeful reopening in summer 2021. But gift cards are available now for holiday giving.
"To continue with the discount perks that our partnership promises," said Brett Baker, VP of Client Relations, "each gift card purchased will include a special discount code that will get you up to 25% off on ticket purchase! Family and friends will cherish the gift of a Broadway show to look forward to when we re-open our doors."
Once Broadway SF productions go on public sale, you can redeem your gift card for the show of your choice.

For a complete lineup of current Broadway shows and one-of-a-kind live events visit www.broadwaysf.com
In November of 2019, our NATAS chapter had "Hamilton Night" for Members – an elegant reception, including a Q&A with the Company Manager, before attending a performance of the mega-hit musical together. Here's an account of that gathering: Members Night at 'Hamilton'
Brett adds: "It's only intermission! We can't wait to welcome you back to the Orpheum and Golden Gate Theatres."
SPECIAL OFFER
Purchase a gift card now through December 31, 2020, and receive an exclusive promo code that will save you up to 25%* on your single ticket purchase.
Online: www.broadwaysf.com/online/article/holiday-gift-cards
Phone: 888-746-1799
*Promo code is valid for a one-time redemption on ticket purchases. (Promo code is not valid for 2021–2022 Season Memberships.) Tickets subject to availability. Savings amount varies by production, performance date and seating section. Savings may not be available on all performances. Promo code is non-transferable. No refunds, exchanges or cancellations on tickets or Gift Card purchases.