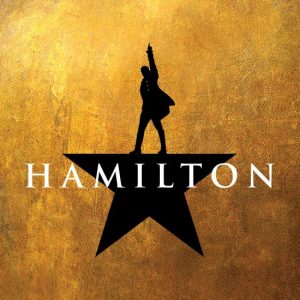 Dozens of NATAS members and their guests had in mind one of the famous "Hamilton" lyrics: "I am not throwing away my shot." That "shot" was a chance for a special evening of mingling and witnessing the hot musical "Hamilton" – which has received 11 Tony Awards (including Best Musical) and the Pulitzer Prize for Drama in 2016.
So, on the warm fall evening of October 24th, at the 93-year-old Orpheum Theatre in San Francisco, Chapter President Steve Shlisky welcomed the 84 attendees to a night of American history sung mostly in rap stylings. "It was great seeing so many members enjoying themselves!" said National Trustee Alison Gibson. Former Chapter Governor Terry Adams added: "I had such a wonderful time seeing members of the NATAS family, both new and old at a Night of Hamilton. What a mind-blowing experience Hamilton is! If all my history classes were as musically triumphant and captivatingly told as Hamilton is, I'd be an historian today!"
NATAS Night at Hamilton was developed by Chapter Membership Chair Patty Zubov. "I wanted to see it. The Orpheum Theatre offered an exclusive reception for us in the Blue Room. I polled the Board – the enthusiasm was overwhelming – a Member Benefit was born!" Zubov worked closely with the Vice President of Client Relations for the theatre, Brett Baker, to secure this unique experience. Chapter Executive Director Darryl Compton helped to organize the reception and coordinated the ticket sales.
"Shoutouts to Patty, a lot of people were thrilled to have this opportunity," said Chapter Vice President of San Francisco Don Sanchez who attended with his daughter Dawn. "Also nice to see so many fellow broadcasters and to spend some time with them before the show." Sanchez added: "It was a dynamic evening of theatre, a show worth all of the praise and accolades it has received."
For 90 minutes before the start of the performance, members and their guests enjoyed catered food from BiRite – the same caterer used at the last couple of Emmy® Galas.
Attendees were treated to backstage stories, background, and a Q&A by Hamilton Company Manager Roeya Banuazizi. She explained there are seven versions currently running around the world – our version was dubbed the "AND PEGGY" Tour (and that the reference will be appreciated when we hear it in the show…). This run originated in January in Puerto Rico, the birthplace of creator Lin-Manuel Miranda – with benefits to help residents after Hurricane Maria. And it has since had more than 300 performances. 
"The event was spectacular, so many familiar faces from Sacramento participating in membership benefits," said Chapter Sacramento Vice President Joyce Mitchell. "The party in the Blue Room was fun. I enjoyed learning from Hamilton personnel about production of the play. As for Hamilton, it was everything I imagined – and then some. It was an emotional experience."  Along with Gibson, Mitchell is also a national NATAS Trustee.
Every NATAS member attending was given a raffle ticket to the early December opening night of the show "SUMMER: The Donna Summer Musical" at the Golden Gate Theatre. At the end of the reception and moments before the start of the play, Shlisky drew the winning ticket: retired KTVU Channel 2 10 O'Clock News Managing Editor Jim Branson.
"What an amazing experience!" said Chapter Governor Manjula Varghese about Hamilton. "It's an epic story with entertaining music and performance. The cast did an fantastic job of bringing this story to life! If you can, go see it. You must! It absolutely lives up to the hype it has been receiving."
Former Chapter President Lynn Friedman said: "The best ever, amazing NATAS perk. What a wonderful evening."
The run of "Hamilton" was expected to end in January, but the Orpheum Theatre just announced that it has been extended through May 2020! And, that NATAS Members can book discounted tickets. Keep a lookout for an e-blast providing the NATAS discount link, or email Darryl@emmysf.tv.
Photos by Susan Bradley – these and more photos are available for purchase – See Them All