SUBMIT YOUR ARTICLE – MEET THE BOARD 
By Steve LaRosa
Steve LaRosa Productions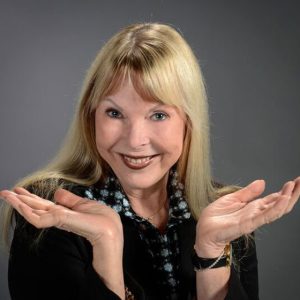 To only talk about the broadcast career of Joyce Mitchell, an NATAS board member since 2015, would be leaving a lot of her story on the table.
Perhaps her impressive career achievements were inspired by, or in spite of, being told by her grandfather that she couldn't become a journalist, due to his view that it was "an all-male profession."
And so, was born a theme. We defer to songwriter Kenny Loggins.
Said it was the wrong thing
For me to do
I said it's just a boys' game
But girls play too

–Lyrics from Playing with the Boys
What follows is evidence that Mitchell gave short shrift to Grandpa's advice.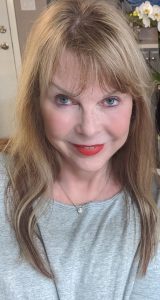 Hopping into the Wayback Machine, perhaps Mitchell's experience working on the school paper at Kit Carson Junior High paved the way for her tenure as the second woman to hold the position of editor-in-chief at her college newspaper.
It was just the embryonic stage of a successful career in a male-dominated profession, fraught with headwinds she met head-on with passion, determination, perseverance, and for any who know her, great humor, an under-valued survival skill.
"Because I'm sensitive, I counter with humor, and I laugh, because if I don't laugh, I might cry. Humor saves my life," said Mitchell.
There was also the stint as the youngest member of the Capitol Press Corp in Sacramento, one of two women. Starting to sense a pattern yet?
Next stop on the Joyce Juggernaut was a newsroom internship at KCRA TV in Sacramento, which she parlayed into a copywriter job, transitioned to weekend news producer and graduated to producer of the 11pm show, a position she held for 13 years. Two of those years, Mitchell's show was number one in the country in that time slot. Did we neglect to mention that she was only the second woman to produce a news broadcast in the Sacramento market?  Girl power.
But there's more.
Post-KCRA, Mitchell enhanced her resume with a job across town as a special-projects producer and subsequently E.P. of the news department at KOVR.
But there's much more.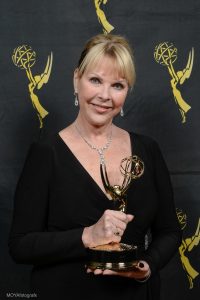 A decade later, Mitchell took the opportunity to stretch her creative muscles, accepting a job at the public television station in Sacramento, producing a successful string of Emmy®-winning and nominated programs encompassing social cause topics ranging from teen addiction to breast cancer, as well as a cause near and dear to her, the struggle of young people living with HIV/AIDS.
"There's a reason my work focuses on social causes, because I've seen injustice and feel a responsibility to do something about it," said Mitchell.
However, just reporting about HIV/AIDS, though valuable in itself, wasn't enough to satisfy Mitchell's concern for the issue.  In 1995, with partner Ted Ross, she co-founded Capital City AIDS Fund, which to date has raised more than 3 million dollars for services in the Sacramento area.
And, you guessed it, there's more.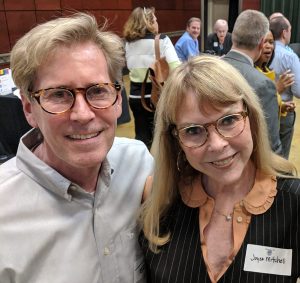 In 2002, CCAF created the Helen-Veress Mitchell Scholarship. Named after Joyce's mother, the fund offers monetary awards to college students with HIV/AIDS. Since 2002, they have raised and distributed more than $400,000 to help these young people, many of whom, including some on the PhD track, still refer to her as Mom.
And closing, as not to leave anything on the table, we would be remiss to not mention that Mitchell has taught college broadcast courses, written and published a book of poetry, is a mostly self-taught artist (successfully selling her paintings with proceeds regularly going to her favorite charities), and recently at work on mastering the guitar.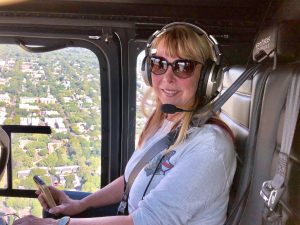 "I believe in having fun," said Mitchell, "It makes life worth living. And the humor holds me up to tackle the tough topics whether it be in TV production, my volunteer life, or personal/professional world. I also don't believe in giving up. What's the point in starting something you can't finish? I vowed long ago not to let people hold me back. You say 'no' – I say 'go.' "
Want to make a safe bet? Bet the house on…there's more to come.

---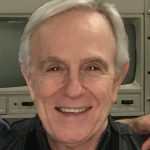 Steve LaRosa
Steve LaRosa Productions
Steve LaRosa is a long-time media personality in Sacramento, CA. He started out his career at KCRA Channel 3 where he worked as a feature reporter. Presently he has his own company, Steve LaRosa productions, producing video for the corporate market as well as handling marketing and advertising for clients in the private sector.
As part of his submission package, LaRosa wrote: "After witnessing how much attention Joyce has given to others as well as observing how much she has accomplished in her professional life…, and also how versatile her talents are and her unwavering contributions to charities and social causes, I thought it would be nice to shine a light on her. Thank you for considering this piece for your publication."
---
Members are encouraged to submit articles, news items and photographs by the 20th of each month to be published in the award-winning Off Camera chapter newsletter. The following article was submitted by Steve LaRosa on November 15, 2021.
Contact Off Camera Editor Larena Hernandez at larena@emmysf.tv to submit your articles.