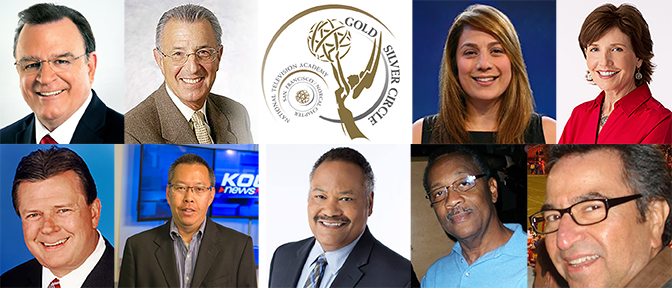 By Joyce Mitchell
National Trustee & Vice President, Sacramento
Complete with a "before" and "after" party, the 2021 Gold & Silver Circles induction ceremony is behind us now. Because it's a big family reunion of sorts for television veterans, it often runs long. But this year, it came in right on time – at one hour-forty minutes – and without a glitch. It was simply – smooth as silk.
Though held November 13th from six thirty to nine thirty, the smiles and warm feelings generated during the evening remain fresh. The Circles are the honor societies within each chapter of NATAS.
Silver acknowledges people who've worked in some aspect of media for at least 25 years, half of the time in our chapter. Gold Circle candidates must have been employed at least 50 years in the industry.
In all, nine people were inducted via a virtual YouTube event this year. The competition was sparkling and included two television veterans who were inducted into Gold Circle. Seven new names were added to the list of Silver Circle recipients. Among them, Stephanie Adrouny. "For every journalist on this panel and to those who continue to pursue the truth with gusto, know you are doing a noble job," said Adrouny. "I hope everyone here is inspired to do more. I know I am. Thank you again for this award, I'm beyond honored to receive it."
The event was hosted by KTVU Reporter Tom Vacar (SC 03) who kept the party moving and ultimately, on time. People freely chuckle that Silver Circle often runs overtime. But the minutes and hours are infused with so many heartwarming, humorous stories, no one minds. Add to that, it's fun. This year was no exception even though it was virtual. It enveloped all the wonderful moments of being together because people were able to connect in the before and after parties.
Technology did not detract from the warmth and overall positive feeling usually generated during Silver Circle. Smiles and gratitude filled-up computer screens across our chapter. In Sacramento, 92-year-old Virgina Woodfork managed to sit-up tall enough to see her computer and witness the induction of her son, former KCRA Photographer and TV Host Adrian Woodfork, into the Silver Circle. "This is truly an honor to be inducted with such an illustrious group of broadcasters," said Adrian Woodfork. "It's ironic that I'm receiving this award today because it's my grandmother's birthday. And she was the lady who let me know that I was somebody, even though we were living in the segregated south."
Some memories were tender, others were hard-hitting. And everyone had a story. The 2021 Gold Circle class of inductees are Barry Tompkins and Joe Moore. "Fifty-two years on television, in Hawaii, I'll tell you, it's a tough and dirty job but somebody had to do it," said Moore. "It's been my privilege over the years to work with many of Hawaii's top professionals. With heartfelt thanks, I gratefully accept induction into the Gold Circle."
The list of Silver Circle inductees are Stephanie Adrouny, Laura Anthony, Michael Finney, Stanton Tang, Eric Thomas, Frank Zamacona and Adrian Woodfork. Something of a hall of fame, the show was nearly perfect in production value. That's in large part because of Past President Steve Shlisky who produced the show and edited many of the packages. He took care of logistics and communication with participants, while Governor Santiago Machuca handled the StreamYard directing chores.
Chapter President and Trustee Randy Forsman, director, KCRA 3, welcomed inductees, presenters, and attendees watching the party. Graciousness was abundant. Education Chair Toby Momtaz showed highlights from the November 6th Scholarship Presentation and congratulated our scholarship recipients.
Reno KOLO News Director Stanton Tang summed up the evening well: "Thanks to the Academy for this honor and to the members of the Silver Circle and to all my friends and colleagues with whom I have shared this journey that hopefully will continue for a long time to come."
Click to view the Induction Ceremony
Click to view or download the printable program
Click to view individual Gold & Silver Circle member Headshots, Bios, and videos