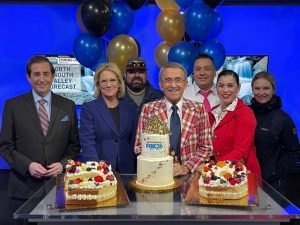 On Monday, October 11, Fresno Police shut down a portion of McKinley Avenue in front of the FOX26 TV station. The morning news team joined the Washington Union High School Marching Band in filling the street to play music and wave flags. That's how the FOX26 5-hour morning show, "Great Day," ended its broadcast on that day, celebrating the 50th anniversary of the TV station.
"Honoring this milestone was very important to us," said FOX26 General Manager Matt Morse. "This station, like many of its viewers, was born and bred in the Valley. We are their station. That's why we've been taking this trip down memory lane. We wanted to celebrate with the community. Without the community there is no FOX26."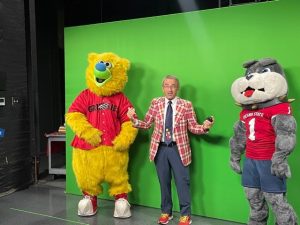 For 50 days, and 5 hours leading up to that moment in the street, the station shared old pictures and videos of the station, past stories, and employee memories, and SkyFOX26 drone shots from the TV station's original location in Visalia about 40 miles south of Fresno.
Twice an hour, Great Day shared 1971 trivia, shoutouts from local dignitaries, current and former anchors and reporters, as well as stars from FOX primetime programming.
There was a proclamation on the floor of the House of Representatives by 16th District Congressman Jim Costa. There was a proclamation by the Fresno County Board of Supervisors, the city council and mayor of Fresno.
Parker, the Grizzlies minor league baseball team mascot joined TimeOut, the Fresno State mascot, in helping Kopi Sotiropulos do his weather forecast.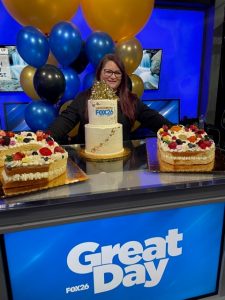 Chef Soupy from Club One casino did cooking segments with Kopi and his co-host Kim Stephens (past NATAS governor, Silver Circle Inductee 2014) in their "Great Day" kitchen and then fed the whole staff filet mignon sliders.
The CEO of Project Survival's Cat Haven brought a clouded leopard on set to help in the celebration.
There were balloons and a cake made by the "Great Day" editor, Heather Nelson, who's also a pastry chef.
KMPH-TV was named for the founders of the station – brothers Mike, Pete and Harry Pappas.
It was an independent TV station for many years. In an interview with Kim and Kopi, Harry Pappas reminisced how the FOX affiliation came about.
"Over the years I'd come to know people in the industry in Hollywood. I went to meet with Barry Diller and Rupert Murdoch at 20th Century Fox studio and told them that a critical mass of independent TV stations were owned by them in America and I believe they could launch a fourth network," said Harry Pappas. "And in addition I believed we could launch our own children's network and cut out the middle men. Well, they thought about it, and undertook to launch the FOX network. We were, of course, part of that first group of affiliates and the network started off with a number of programs that, let's say, were mediocre, but a good one was called 'Married With Children.' And the Children's Network was launched."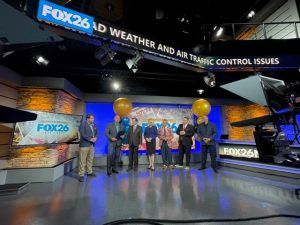 Kopi thanked Mr. Pappas for hiring him right out of college from San Francisco State, to which Mr. Pappas responded: "Well, Kopi, being that you were there from the beginning, you know very well how often I would say to our people in our stations, you don't work for me, you work for the audiences you serve. And I must say two of the greatest additions to our talented teams are you, Kim and Kopi. I am so glad you are both together, still. You both brought refreshing, wonderful personalities that the public responded to since the time you both went on the air together 18 years ago."
The next big project the station has been working toward is the St. Jude Dream Home giveaway on November 21, 2021. The goal was to exceed last year's donations of a million dollars. Yes, that was during a pandemic year. This Central Valley is an amazing place.