By Joyce Mitchell
Chapter Governor, Sacramento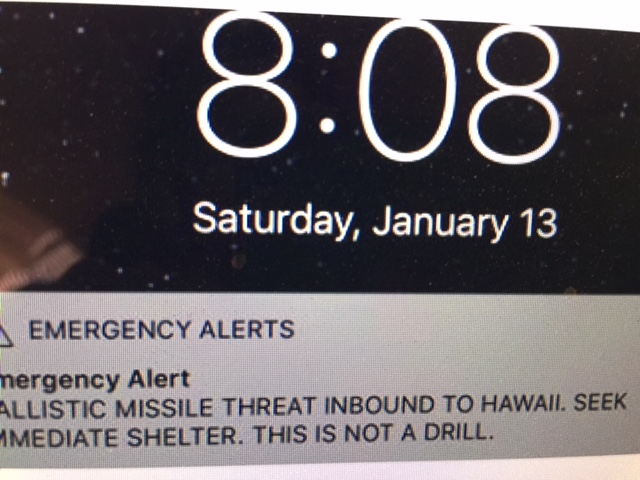 Hawaii – A tense few minutes to the start of the NATAS Board Meeting Saturday, January 13, 2018. Roll is called at 10 AM (PT) and then with urgency, Hawaii Vice President Pamela Young of KHON 2 announced she had an alert and needed to immediately leave the call. She was responding to the Hawaii emergency missile alert. See Young's first-person news perspective of what happened in the full article here in Off Camera.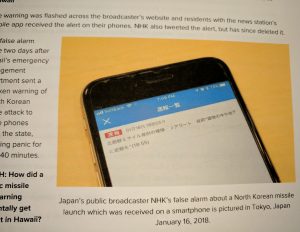 Guam – Guam airwaves carry the message that the territory refuses to cower. In August, North Korea launched what it called a successful missile that flew over Japan, an apparent threat to Guam. A civil danger warning was mistakenly sent to Guam residents via radio months ago amid missile strike fears. Since the incident in Hawaii, KUAM News reports that Guam officials are confident that what happened in Hawaii will not occur again in Guam. And two days after the false missile alert in Hawaii, Japan's public broadcaster NHK issued an alert that, "It appears North Korea launched a missile." Viewers were notified within five minutes that the alert was a mistake. NHK apologized without further explanation.

Reno – KOLO 8 – The ABC affiliate is without a microwave truck and a news car after a 37-year-old man initially rear-ended the three-month-old Jeep Cherokee recently purchased by the station. Then, he plowed into the live truck, totaling it. Photographer Ray Kinney and Reporter Chloe Ortega were packing up after a Good Morning Reno live shot November 29, 2017, when they heard the car heading toward them. Kinney hit record on his camera. As you'll see in the link, after hitting the news car, the man got out of his vehicle, jumped back-in, backed-up and slammed into the microwave truck. The suspect was a "no-show" at his court hearing January 16, 2018. A warrant is out for his arrest.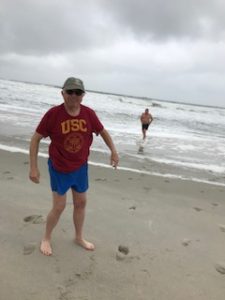 San Francisco – Former KGO Anchor/Reporter Don Sanchez had a cool time ringing-in 2018. Sanchez brought-in the New Year at Ponte Vedra Beach near Jacksonville, Florida, by doing the annual Polar Bear Plunge. It was 41 degrees outside but that didn't stop the determined Sanchez from heading into the Atlantic Ocean, getting whooshed over by a wave, as you'll see in the attached link – and then quickly running back to shore. "I think the polar plunge either signifies a new beginning, washing away the bad vibes of the past year, or it is a rude awakening to the New Year after excessive celebration the night before," said Sanchez.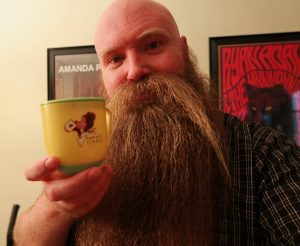 Sacramento – Don't let the beard fool you. There's something to KCRA 3 Newscast Director Randy Forsman that keeps him a kid at heart. It's Tommee Tippee. His Grandpa Gus Forsman and uncles founded Westland Plastics in Los Angeles in 1947. Then, in 1951, they bought a patent and released the Tommee Tippee cup. The "spill-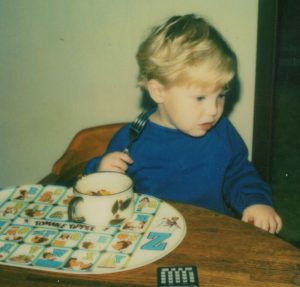 proof cup" became a big hit and the brand eventually included all sorts of other baby products that are still available around-the-world. Grandpa Gus gave Forsman an old Tommee Tippee cup way back when. Forsman's grandfather recently died and now, the mission has begun. Forsman has become a collector. His goal is to accumulate enough Tommee Tippee products to make a shrine to his Grandpa Gus.
---
NATAS welcomes contributions to the Regional Roundup from all Chapter markets.
To be included, please contact Joyce Mitchell at joycem2@surewest.net
Back to "Off Camera" Index page…