By Kevin Wing
Editor, Off Camera
Former San Francisco television newscaster Sylvia Chase, who made a big splash on Bay Area television screens 34 years ago when she came to San Francisco's KRON-TV after being hired away from ABC News and a distinguished and illustrious career there, died on Jan. 3 in Marin County. She had been battling brain cancer.
Chase would have celebrated her 81st birthday on Feb. 23.
An award-winning television journalist, Chase joined KRON-TV in 1985, spending five years as a news anchor at the Bay Area's then-NBC affiliate before leaving in late 1990 to return to ABC News.
Throughout Chase's years at KRON, she anchored the 6 and 11 p.m. newscasts with Bob Jimenez.
"I have missed Sylvia Chase everyday since our professional parting," Jimenez said from his home in Los Angeles. "How I recoil at the burden mortality has placed on her.
Sylvia's life was made up of marble and mud—style and elegance, grit and dust. She was as uncompromising with injustice, as she was harsh with truth. In her reporting she would never equivocate, retreat a single inch or refuse to be heard. That is what made people, who worked with her, fight for her respect, hoping to learn her heart and passion. It made us all a slave to her company."
When KRON-TV hired Chase away from ABC News in 1985, she was an established, respected and award-winning television journalist.
Born in Northfield, Minnesota, on Feb. 23, 1938, Chase moved to California to attend UCLA, majoring in English. She worked in politics and state government before landing a job as a reporter at KNX radio in Los Angeles. Two years later, she moved to New York to join CBS News. A few years later, she was hired by ABC News. During her years with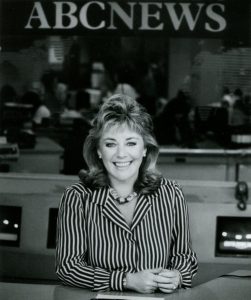 ABC, she received an armload of awards and honors, finally being labeled "the most trusted woman on TV" by TV Guide. 20/20 premiered on ABC in 1978, and during Chase's years on the prime-time newsmagazine, a TV Guide survey voted her the top investigative reporter of any of the national TV newsmagazines, even beating out Mike Wallace and the CBS News team at 60 Minutes.
And so, it was television industry news in itself when Chase decided to leave ABC News to join KRON-TV, and likely because the move to San Francisco came two months after ABC News dropped her investigative piece on the connection between Marilyn Monroe and President John F. Kennedy. Chase later wrote that the network's decision to drop her story was a factor in her departure.
During her five years at KRON-TV, Chase was, without a doubt, among the Bay Area's most recognizable television news personalities. She not only sat behind the anchor desk, she hosted several prime-time news documentaries each year. Besides being one of the Bay Area's most visible television journalists, Chase also became one of the most celebrated. Among her honors, she received a George Foster Peabody Award for her hour-long documentary on the plight of homeless children. One of her pieces included a journey to Russia to investigate environmental conditions there and explore infant mortality.
Joe Fragola, former executive producer of the now-defunct BayTV regional cable channel based at KRON-TV, met Chase in the early 1970s when he was a production assistant for the CBS Evening News broadcast with the legendary Walter Cronkite.
"I worked with her first at CBS News," Fragola said of Chase. It was 1972. Chase had joined CBS News as a correspondent the year before.
"I found her to be gracious and sharing with her knowledge and experience to a young PA," Fragola said. "Years later, we reconnected at KRON. I was now a producer. With all the recognition she had received over the years, she remained her true self, gracious but a tough reporter."
While Chase admitted it was difficult to leave the Bay Area, she left KRON in late 1990 to return to New York and ABC News. She remained with the network until 2001, retired, and returned to the Bay Area to live, purchasing a home in Belvedere.
"If anything can be said of Sylvia's journey through television news, it is this," Jimenez added. "She was never afraid of risk. Mainly because she knew instinctively when she should obey her doubt and when she should resist it."
Per Chase's request, no memorial service will be held. A Sylvia Chase Scholarship Fund is being established at De Marillac Academy, 175 Golden Gate Ave., San Francisco, CA 94102.