By Joyce Mitchell
Chapter Governor, Sacramento
Sparkling with excitement, Sacramento KCRA news anchor Kellie DeMarco is leaving news to follow her dreams. She made the announcement in early December. DeMarco said that it was a difficult decision but that she is thrilled to be kicking off 2020 by starting her own business, Kellie DeMarco Communications.
DeMarco is a three-time Emmy® Award recipient and has been working in the Sacramento market since 2011. She has tremendously enjoyed the television industry but said that it's now time to turn the corner and pursue the one thing she's always dreamed about. And that is – opening a full service marketing firm. DeMarco said she'll forever be grateful to friends, colleagues and loyal viewers.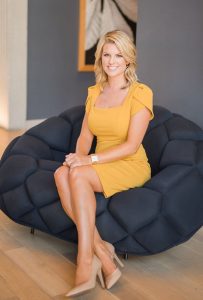 "I've decided to do something I've always dreamed of doing," said DeMarco. "Since I've already jumped out of an airplane, rappelled down a skyscraper and swam with sharks in my early days of TV, I'm doing the next big thing. I'm thrilled to be starting my own business in the new year."
Twenty-years-ago, DeMarco launched her TV career in Colorado. She was a morning news anchor at stations KRDO in Colorado Springs and KJCT in Grand Junction. Then in 2007, she went to Denver's KWGN to anchor the evening newscast.
A few years later, she was hired to anchor and report at Sacramento NBC affiliate KCRA. DeMarco has a Bachelor of Science degree in Journalism/Mass Communications and Business Admistration.
DeMarco has a little girl and wants the sky to be the limit in terms of her daughter's future. Hence, she's reported a great deal on equality, focusing on women's issues. DeMarco has received multiple American Women in Radio & Television awards for her women's coverage and also received two Edward R. Murrow Awards.
DeMarco's mother is a breast cancer survivor and that has thrust her into an active role raising awareness about the disease, advocating for prevention and finding a cure. In addition, she's passionate and involved with a Sacramento organization that supports children during cancer treatment.
While DeMarco has received several awards for her TV work, she maintains that helping others is what makes her most satisfied. "I am most proud of giving my voice to the charities and those less fortunate to make a difference in our community," said DeMarco.
As she pursues her next big dream, she will continue serving the non-profit community while actively putting that college business degree to work. "I'm thrilled to be starting my own business in the new year," said DeMarco.
As for television, it's been a wonderful foundation for the mission ahead. "I can't believe what a fun and fulfilling career it has been," said DeMarco. I'm beyond grateful and blessed for all of the opportunities I've been given to cover some amazing stories, interview thousands of newsmakers and meet some truly inspiring people along the way."