By Riley Carroll
The year 2020 was full of surprises, including an unexpected pandemic proposal at North Coast News TV.
Eureka Police Sgt. Eddie Wilson proposed to News Director and Anchor Nazy Javid after a couple years of dating. Javid is an officer and governor with The National Academy of Television Arts & Sciences in the San Francisco/Northern California chapter.
"I still can't believe I was lucky enough to win her heart, and that she said, 'yes,' Wilson said. "I will never feel deserving of this life she has given me, but I will be forever grateful."
"I am so in love with her," Wilson added. "I still can't believe I get to love and be loved by her."
Wilson asked the journalist for her hand in marriage in a socially-distanced pandemic proposal at the KAEF-TV studio on May 15, 2020.
The couple took to Facebook the evening after the proposal to share the news with their fans during their weekly "Shelter-in-Place with Nazy and Ed" digital discussion.
They had originally started planning a large wedding ceremony and reception, but due to the evolving pandemic and uncertain COVID-19 restrictions, they decided to opt for an elopement ceremony out of an abundance of caution.
Instead of a gathering, Javid announced that she will wed Wilson in a forum she is well known for: Facebook LIVE. The bride and groom will be the only ones present, with the exception of Barbie, the couple's dog and ring bearer.
The bride and groom are known for their community involvement, and since they cannot have an in-person wedding at this time, the couple decided to go with a simple, intimate elopement ceremony, which will be aired LIVE on Jan. 21, 2021. The ceremony will be livestreamed online here, as well as on Javid's professional Facebook page @nazyjavid.
"We thought it would be fun and memorable to bring people together in these trying times, to start the year off with something good," Javid said. "And since I love sharing good things on social media, it's the perfect way to make sure all our family, friends and fans can take part in our special day, while still staying safe."
The North Coast News team surprised Javid with a socially-distanced pandemic bridal celebration at the end of the 6 p.m. show on New Year's Eve 2020, airing the couple's Virtual Vows Save-the-Date video announcement.
"One of the many things I love about Naz is her sense of humor," Wilson said. "She always looks for the positive in any given situation. Like the pandemic, even though we couldn't have a big wedding, she still found ways to make it fun."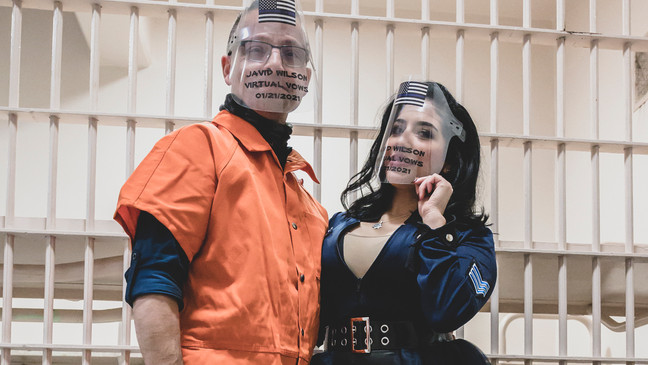 As part of their Save-the-Date announcement, the couple staged a jailhouse photoshoot, where Javid was the police sergeant and Wilson was clothed in inmate attire, locked away in a jail cell.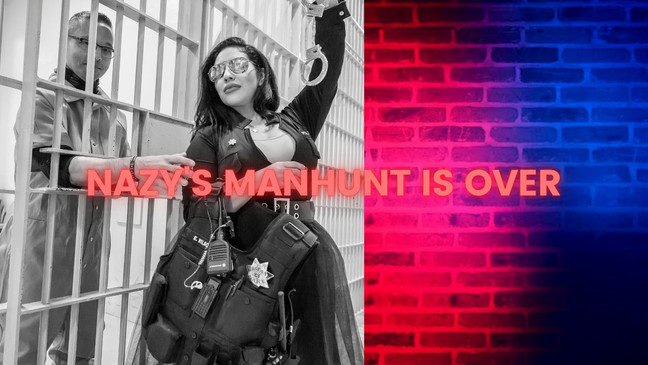 "It represents that my manhunt is over. I have him locked down now," Javid laughed. "Plus it's symbolic of the fact that we're all on lockdown in the pandemic together. We're human; we can relate," Javid said. "And we're going through it too. So I wanted to bring our community some levity in these truly challenging times. So, so long 2020! Edward Wilson is being sentenced to life on 1.21.21 everybody, get ready! No parole for Eddie!"
When asked why they selected January as their month to be married, the couple said they preferred to be out of the year 2020 before embarking on their next chapter together.
"It's been an emotional year for everyone, so we're just going with the flow and embracing whatever comes our way," Javid said. "Of course we would prefer to have our loved ones present at our ceremony, but even though this isn't the big wedding we wanted, we're focused on what matters most – and that's each other. We couldn't be happier. Everything just feels right. This is now part of our story."
Please join the rest of the Board of Governors in congratulating the soon-to-be Wilsons!
Click here for their wedding website with more information.
Click here to RSVP to the Virtual Vows ceremony.
Click here to sign their virtual guest book.