By Randy Forsman
NATAS Chapter President


With over fifty years of combined experience, Faith Sidlow and Kim Stephens new textbook aims to mentor and teach the next generation of aspiring broadcast professionals. In addition to sharing their wealth of knowledge, Broadcast News in the Digital Age: A Guide to Storytelling, Producing and Performing Online and on TV features advice, encouragement and anecdotes from many members of our chapter, including many past and present board members.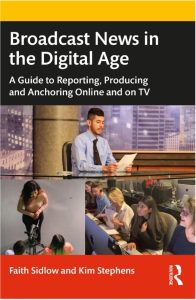 The five sections of the book cover many integral parts of broadcast journalism: building a foundation, storytelling and writing, producing, live performance, and ethics and career progression as well as advice on how to multitask without compromising one's journalistic ethics.
One of the book's exciting features are the many "Mentor Moments" which include real-world advice and perspectives to help students succeed. Sidlow and Stephens interviewed a wide cross section of professionals covering nearly every aspect of broadcasting both online and on TV. Among the the talented individuals who lent their expertise to the book are former and current board members Da Lin, Luis Godinez, Wayne Freedman, myself, and countless others.
"We are excited to be able to offer journalism students a step-by-step guide to reporting, producing and anchoring online and on TV," Sidlow says, "Our book provides advice and mentoring from dozens of media professionals we've respected and admired over the past five decades."
Faith Sidlow is an associate professor of broadcast journalism at California State University, Fresno teaching broadcast and multimedia journalism. Beginning her television career in 1984 as a research intern for CBS Television News in London, she is best known for working as a reporter, anchor, and producer at KSEE 24, the Fresno-based NBC affiliate. Sidlow is also a former NATAS governor as well as chair of the education committee. She is also a member of the Silver Circle Class of 2012.
Kim Stephens is an adjunct professor teaching broadcast news writing, on-air performance and broadcast reporting and production at California State University, Fresno. She is also the co-host of Great Day, the popular morning show on KMPH Fox 26 in Fresno. No stranger to NATAS, Stephens has served as governor as well as vice president of Fresno. She is a member of the Silver Circle Class of 2014, received the Governors' Service Medallion in 2017, and the Governors' Citation in 2018.
Broadcast News in the Digital Age: A Guide to Storytelling, Producing and Performing Online and on TV will be released January 27, 2022 and is available for preorder here.
I personally am honored and humbled to be included among the many talented individuals included in this book and am excited to be a part of mentoring the next generation of broadcast professional. Please join me in congratulating Kim and Faith on their momentous accomplishment!