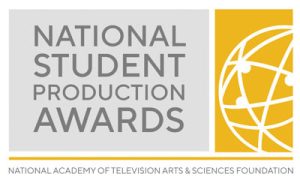 The NATAS National Student Production Awards announced its 6th Annual Awards on November 23, 2021. Our Chapter scored honors in four categories awarding: 3 high schools, 3 advisors, and 7 students.
SF / NorCal NATAS will produce the webcast "Meet The Winners" on Saturday, January 8, 2022 at 2PM  (Pacific Time) on the Emmy SF TV YouTube channel. The program will showcase the winners and advisors along with their winning entries.: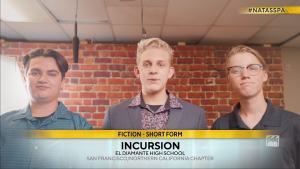 Fiction – Short Form:
Incursion
El Diamante High School – Visalia, CA
Students: Noah Lillywhite, Sam Zurek, and Kai Willey
Advisor: Ellie Hebert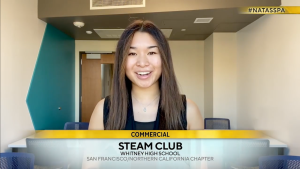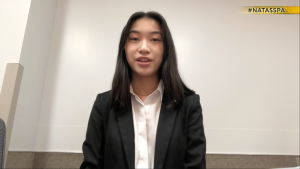 Commercial:
Steam Club
Whitney High School – Rocklin, CA
Students: Alicia Chiang and Michaela Oh
Advisor: Ben Barnholdt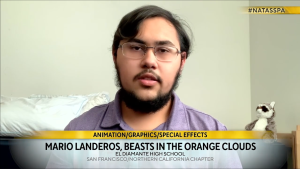 Animation/Graphics/Special Effects:
Beasts in the Orange clouds
El Diamante High School – Visalia, CA
Student: Mario Landeros
Advisor: Ellie Hebert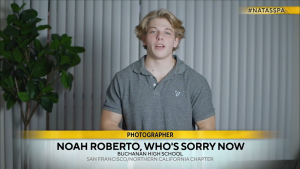 Photographer:
Who's Sorry Now
Buchanan High School – Clovis, CA
Student: Noah Roberto
Advisor: Daniel Pearce

The panel of guests will also include Danielle Mannion (NATAS National Education Chair), Doug Mummert (NATAS Foundation President & Chairman), Randy Forsman (NATAS SF / NorCal Chapter President), and Toby Momtaz (NATAS SF / NorCal Chapter Education Committee Chair). The live webcast will be produced by Steve Shlisky (NATAS SF / NorCal Chapter Activities / Programs Committee Chair) and directed by Randy Forsman.
Join us and meet the winners live on Saturday, January 8, 2022 at 2PM (Pacific Time) on the Emmy SF TV YouTube channel.    click direct link to YouTube