By Joyce Mitchell
Chapter Governor, Sacramento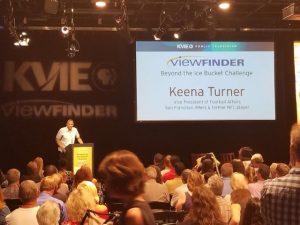 Sacramento/KVIE Channel 6:
Keena Turner, good friend and former teammate of San Francisco 49er icon Dwight Clark, who died from ALS June 4, spoke to a packed house at the KVIE studios June 12 for the premiere of Beyond the Ice Bucket Challenge – Battling ALS.
Turner is vice president of the 49ers and talked about the devastating toll ALS is having on football. The documentary included Clark, who is the second 49er teammate of four-time Super Bowl Champs Turner and Ronnie Lott to die from ALS. The program profiled a variety of courageous people willing to share their stories.
"The event was emotional and powerful," said Michael Sanford, KVIE Associate General Manager for Production. "Having Keena Turner and Shonta Scoggins on hand added an extra dimension to the experience." Shonta is widow of Eric Scoggins, the other former 49ers teammate of Turner and Lott who died of ALS several years ago. Both Turner and Lott were interviewed for the half-hour program. After the death of her husband, Shonta Scoggins, who's also in the documentary, started Eric's Vision, an annual fundraising run/walk held at Lott's Tracy car dealership.  She's fighting for a cure. The documentary aired on KVIE June 20. Here's a link to the Beyond the Ice Bucket Challenge – Battling ALS documentary.
---
Guam/KUAM TV:
Investigative Reporter Chris Barnett is shaking it up in Guam. He's uncovered alleged illegal land dealings at Guam's Chamorro Land Trust Commission (CLTC). Chamorro refers to the indigenous people of Guam. Barnett's report revealed alleged misuse of power by the CLTC's director. In fact, the investigative story turned up instances of prime land leases reportedly being awarded to the director's very own family. Instead, those government land leases should have gone to native people who had applied for them as long as twenty-five years ago.
"Since we broke this story, I've been bombarded with phone calls, social media messages, and anonymous emails – some relevant to our reporting, others totally out of left field," said Barnett. "One message was from someone asking us to investigate an employee of the land trust who 'faked his high school diploma' – it's overwhelming."  Barnett said that watching the story unfold has been, "quite an experience." To see Barnett's report, click this link: https://www.youtube.com/watch?v=7DwxlINsT5U
---
San Francisco/Emmy® Gala:
Randy Forsman was busy directing the annual Emmy® Gala June 2 at the SFJAZZ Center in San Francisco when his name was announced for receiving an Emmy® Award. It was for his work as a director at Sacramento NBC Affiliate KCRA. Because he couldn't leave the directing booth, Forsman's Emmy was delivered to him as he continued to direct the gala. Meanwhile, Forsman also received a Distinguished Service Award that night. And he's collecting awards elsewhere as well. But not for directing. Instead, he's raking in other awards at beard contests.  Most recently, Forsman placed second in Full Beard Style Moustache at the 9th Annual Southeastern Beard and Moustache Championships in Charleston, South Carolina. Next on the agenda, Portland and Modesto in July, Los Angeles and Salt Lake City in August, then cities in Oregon and Virginia in September. For Forsman, the beard passion caught on because his wife – Manda Forsman – likes beards.
---
Reno/KTVN 2:
It's all bright lights and smiling faces at the CBS affiliate in The Biggest Little City in the World. Channel 2 News at 5 p.m. received an Emmy® Award for Best Newscast-Smaller Market. And they're still celebrating!  "We're very proud to receive this honor for our news team," said Jasco Pasco, KTVN News Director. "While the Emmy® is specifically for one newscast on one day, it represents the good work our entire team does on a daily basis throughout the year."
---
Oakland/ABC News: And speaking of celebrating, ABC News Photographer Ken Day is on top of the world. While covering the Golden State Warriors big championship win, he had the honor of meeting his hero. Day, who is based out of Sacramento, is a huge fan of music legend Carlos Santana.  Before Game 2 of the NBA Finals, Santana rocked the National Anthem at the Oracle Arena. And Day got lucky. Someone at Oracle remembered him from last year when he was working the Warriors games for ABC News. They recalled he had mentioned being a HUGE Santana fan. With that memory, Day was invited to meet the rock legend. Day and his audio engineer, Austin Blank, were escorted to Santana's trailer parked at the Arena in Oakland. It was a priceless moment for Day.
---
Eureka/Beyond Geek:
Joe Gillis is executive producer and creator at Beyond Geek, a national PBS series. Gillis spent his Memorial Day weekend on wheels – bicycle wheels – in Eureka this year. He and his team were participating in the 2018 Humboldt Kinetic Grand Championship. By the way, Beyond Geek explores strange ideas that push the limits of science and technology. So, it's just perfect that Gillis teamed up with KVIE Editor Odin Abbott – who, on the side, creates swords, helmets, and all sorts of odd stuff for his other business called Odin Makes – to take on the Humboldt challenge. Together, they pedaled an all-terrain human-powered art vehicle engineered to race over road, water, mud, and sand. During the three-day weekend, these unusual bicycle-based creations go on a marathon ride spanning 40-plus miles. As Abbott described the experience, "It was pretty outlandish." And yes, they're doing it again next year.
---