By Chapter President Steve Shlisky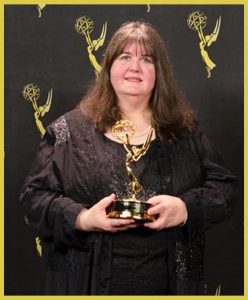 This is a sad difficult time. Linda Giannecchini, my friend, mentor, colleague has passed. Our chapter is much diminished by this news. Linda was found deceased in her home on June 11th after missing a doctor's appointment. She was battling a longtime illness.
She guided virtually every step of my journey through our local chapter. Her invaluable expert advice guided me first through the Awards Committee, as Education Chair, and in my present position as Chapter President. All positions Linda previously held. As I went on to serve two terms as a National Trustee, Linda sat next to me at the meetings and kept counsel. As president I depended on Linda's advice, tutored from decades of her service. At the National meetings, Linda was one of its most respected and knowledgeable members. She was the heart and very soul of this Chapter.
The loss of someone so devoted, essential, and vital to our Chapter is tragic, of course, her loss is heartfelt across every NATAS chapter as well as the National Office. Two Chapters have already honored her at their Galas. More chapters promise to do the same.
Linda was the Senior Vice President for Franklin Mieuli & Associates (a consulting company specializing in sports remotes), and Assistant Director for KQED Public Media.
As an independent producer her productions ran the gamut from cooking shows to sporting events and from concerts to public affairs programs. She also worked telethons, conventions, award shows, and corporate productions in the capacity of Producer, Director, Line Producer, Assistant Director, Production Coordinator, Electronic Graphics, Closed Captioner, or Event Planner.
Longtime San Francisco Chapter member and National Trustee, Alison Gibson says: "I have known and worked with Linda on the NATAS board for over 30 years. Never has any volunteer put so much time, energy and smarts into our awards organization as she had done.  It was her passion." Gibson adds: "Very few, since NATAS' founding president John Cannon, had the institutional knowledge that she carried.  She was respected by all.  We are deeply saddened, and I personally will feel this loss for the rest of my life."
Linda was a Life Member of the Chapter. She first became a NATAS Governor in 1983. After two terms, she held many other Chapter positions including eight years as the Education Chair, five years as Awards Chair and nearly two decades as the Archive & Museum Chair. She also served two terms as President of the local Board of Governors. She has received major Chapter awards: The Governors' Service Medallion (1990); Silver Circle Class of 1997; The Governors' Award in 2011; and honored with two regional Emmy® Awards based on numerous nominations.
Linda would orient every new Governor at every annual retreat. She would explain NATAS history and Chapter functions incoming board members. She displayed her passion, dedication and knowledge to every corner of our Chapter.
National Trustee Joyce Mitchell says: "Linda was a wealth of knowledge, guidance,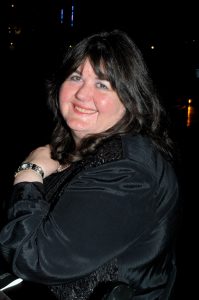 and direction. Her internalized experience with NATAS provided others with great insight." Mitchell adds: "She generously shared her expertise – but most importantly, Linda was a kind and lovely person. She is dearly missed."
Linda's dedication to NATAS included service to the national organization as well. She served fifteen years as a trustee, the National Vice Chairman, and Secretary. She was the National Awards Chair until her death.
Chairman of The National Academy of Television Arts & Sciences Terry O'Reilly says: "Linda brought a personal passion to every day and to every project; our Academy is better for her service, and we are all blessed to have known her."
She held memberships in RTNDA, Broadcast Legends, and AMIA. Linda received a B.A. in Broadcast Communication Arts and completed post-graduate studies from San Francisco State University. She has taught television production courses there and at College of San Mateo.
Last year, The Chapter honored Linda with a Scholarship in her name. This $2,000 professional development award is presented to a television professional working in one of our chapters markets and seeking a BA or MA degree. The Chapter will continue this award.
On a recent scheduled conference call among Chapter Presidents, many of the other 18 NATAS chapters offered donations to the Scholarship in Linda's name. I am moved and indebted by the gesture and encourage others planning a tribute to follow suit.
For all things NATAS, be they national or local chapter, Linda was the wisest authority.
---
If you wish to make a donation in Linda's name please send checks to:
TV Academy Fund
4317 Camden Avenue
San Mateo, CA  94403
Note: Linda Giannecchini Memorial Professional Development Scholarship
For Credit Cards, please call the Academy Office (415) 518-2421