Compiled by Chapter President Steve Shlisky
Linda Giannecchini was much respected throughout our local chapter, across the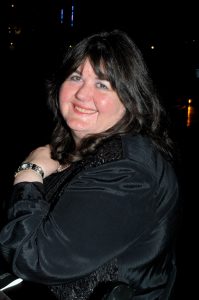 National Academy, and in broadcast television. The outpouring of sentiment has been overwhelming. You can see a sample of the love reserved for someone so very special:
Ø  Linda was the only person I ever knew who became a mentor to the entire NATAS organization. both national and local. I'm proud to call her one of my mentors since 2000 as I became a governor, an officer and then chapter president. She was always a friendly voice of reason.  Keith Sanders – Local Chapter Education Chair and Former Local Chapter President
Ø  This is a huge loss for the television industry and NATAS.  Linda was my mentor and one of my best friends.  She was extraordinarily committed to making sure NATAS had the best and most fair award contests.  Her shoes will be impossible to fill.  All my love goes out to her. Cynthia Zeiden – Former National Trustee and Former Local Chapter President
Ø  I'm really sorry to hear about Linda.  She was a very nice lady to work with during my short time on the board years ago. Bob Redell – Former Local Board Member
 Ø  She was a source of tremendous institutional knowledge and all rules governing the awards process. This leaves an enormous void in our organization. She had been an invaluable resource to me over my years as both NY Chapter Awards Committee Co-Chair and President. She instilled in me the need to be vigilant, maintain the integrity of the awards process, and be a champion of following the rules. She was always helpful to me, Denise Rover – New York Chapter President
 Ø  Oh, this is so sad.  I did not know Linda was ill.  She will definitely be missed.  What a wonderful person she was.  I really enjoyed getting to know her during my years on the NATAS Board.  She was always so helpful and encouraging.  My deepest sympathy to her family, friends and all in NATAS who loved and admired her. Barbara Rodgers  – Former KPIX CBS 5 Eyewitness News Anchor
Ø  I am sending you a hug through this email. I'm so very sorry to read about the loss of Linda, a guiding light, powerful force and friend to you and all of us on the board!
May she be unchained by all burdens, now… dancing with the angels and, knowing her, advising a few on how they can do things more efficiently. Kim Stephens – Local Board Member and News Anchor FOX26 News
Ø  I am very sorry to hear of the loss of Linda. The Heartland Chapter sends its regards. On behalf of our Board and Trustees, we would love to offer our condolences and we would like to have ideas about how our Chapter can show its gratitude for Linda's decades of service to our fine organization. Blaine Howerton – Heartland Chapter President

Ø  It's very difficult to learn of Linda's passing.  My condolences to you and all who greatly benefited from Linda's amazing friendship, skills, passionate commitment, and valued mentorship. To me, Linda exuded that it factor, and always made me think, I want to be like her when I grow up. She was always so kind and gentle yet so very humbly powerful an effective in everything she did. I am saddened by this great loss. Terry Adams – Local Chapter Board Member
Ø  She was my friend and I loved her. She will always be missed for who and what she was. Darryl Cohen – Former Chapter President Southeast Chapter
Ø  Linda brought a personal passion to every day and to every project; our Academy is better for her service, and we are all blessed to have known her. Terry O'Reilly – National NATAS Chairman
Ø I was fortunate to work closely with Linda in the years I was at NATAS National. She was an incredible person and her passing is a loss for everyone.  It must be especially hard for her friends at the San Francisco chapter. My condolences to you and all those at the chapter missing Linda and grieving at this sad time. Carolyn Grippi – Former COO/CFO NATAS National
Ø  She encouraged me to join the Board. And we could count on her to maintain the proper representation of the Emmy® statuette in all of our marketing materials! I will miss you Linda. Patty Zubov – Local Chapter Board Member and Owner Platonic TV
Ø  As regional Vice President in Fresno, I am saddened to hear about Linda's passing. Since the first day I started on this Board, I learned that Linda's passion for our Chapter was her highest priority. She was a wealth of knowledge when it came to NATAS rules and our Chapter's history. I will forever miss Linda's insight and kindness. Richard Harmelink – Local Chapter Vice President, Fresno Region.
Ø  Linda was one of a kind. I'm glad I had the chance to work closely with her at KQED. She will be missed. DeAnne Michele Hamilton
Ø  Sending hugs to all who loved her. I have a whole in my heart. Sue Ann Staake-Wayne – Former Director CBS News ("Face The Nation")
Ø  She was always the voice of reason, a true friend. Pamela Young – Local Chapter Vice President Hawaii Region
Ø  She was a wonderful Mentor to so many! Rest In Peace dear friend!.  Jack LiVolsi –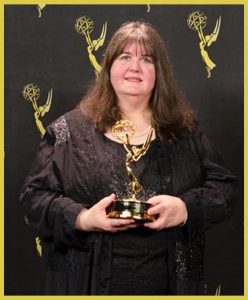 Former Local Board Member and CEO Jackson Street Productions
Ø  I can't believe she's gone. When I was on the NorCal Board, I always recall her as a wise sage who offered important insight to help guide the rest of us, Very sad. Jim Parker – Former Local Board Member
Ø  We had the pleasure of knowing and working with Linda. What a terrible loss of a friend and colleague. Janice Selinger – Freelance Producer
Ø It was a pleasure working with Linda and having her guidance and support as I became a governor. Her commitment to NATAS is admired by all who knew her and she is greatly missed. Larena Hernandez – Marketing Chair  
Note: DEADLINE EXTENDED TO JULY 31, 2019 for Applications for the $2,000 Linda Giannecchini Professional Development Scholarship, designed for those who already work in the TV industry and are in pursuit of a formal undergraduate or graduate degree. More information here.
Linda was our most renowned local and national NATAS leader.  She most recently served as Co-Chair of the Media Museum of Northern California Consortium, and the Archives/Museum Committee.  She had also served as National Vice Chairman, Vice President, Secretary and Trustee. Locally, Linda had been a past President and chaired the Awards, Scholarship and Speakers' Bureau Committees. She was an Emmy® award recipient, member of the Silver Circle, class of 1997, recipient of the 2011 Governor's Award and 1990 Governors' Service Medallion.
In this edition, please also read Linda's obituary, plus comments about her life from national and local NATAS board members