By Kevin Wing
Senior Correspondent, Off Camera
Customers inside the Hayward ACE Hardware store on "B" Street in the city's historic downtown neighborhood ask the casually dressed man strolling through the aisles about anything and everything under the sun.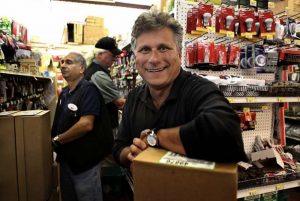 Or, in this case, anything and everything underneath the roof of this store, which has been voted by customers as one of the best in the East Bay.
They ask that man about the kind of piping they need to fix their bathroom sink, or which aisle is it for where they can find fertilizer. Or, they need a screwdriver, but a certain brand, so where are the tools?
That man is Jim Wieder, the owner of the store. He has all the answers to all of his customers' questions. But, it wasn't always that way. Once upon a time, in a television career that spanned 30 years, it was Wieder, as a reporter, who asked all the questions.
But, back in 2008, and after three decades as a television journalist, Wieder decided to call it a career and switch to becoming a businessman. And, a successful businessman Wieder has become.
Broadcasting was definitely in Wieder's future. He started in radio at age 19 in his native Florida. Then, it was onto TV, which, for him, goes all the way back to 1978, when he became a weather anchor at WJCB-TV in Gainesville, Florida. That job led him to California in 1985, where he was hired by KMST (now KION) in Monterey to anchor its newscasts. In 1988, he left to be a reporter at KOLD in Tucson, Arizona. But, Wieder was back in the Golden State the following year, and just in time to cover the Loma Prieta earthquake, as an anchor and reporter at Sacramento's KOVR where he remained until 1995. That is when he moved to the Bay Area to be an anchor and reporter at San Francisco's KGO-TV, a job he held for 10 years. Capping his illustrious career, Wieder finished it off with two years as a West Coast-based network correspondent for ABC News.
By then, he already had one foot in the door as a businessman. He was splitting time between the network gig and the Hayward hardware store he had just purchased.
"I have nothing but fond memories of my time at KGO", Wieder says. "We had great reporters, great photographers. It was a good time for me." And, at KGO, Wieder didn't just travel around the Bay Area for stories. He traveled across the country, and he traveled around the world, wherever the story was.
"I was a history major, and I loved big events," Wieder says. "Whenever there was a big event, I wanted to cover it."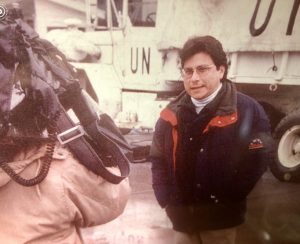 But, the terrorist attacks on Sept. 11, 2001, sealed Wieder's fate.
"When the planes hit the building, I knew why I was in the business, and I also knew that my time was up," Wieder says. "I knew that after the next couple of years, I achieved what I wanted to do, and I knew that my time was up as a journalist. It was time to do something else. By 2003, I had already started thinking about wanting to get into small business."
"It was a great honor to be associated with great broadcast properties," he says.
Wieder has enjoyed his success as a businessman in Hayward. The longtime East Bay resident (he and his wife, Rhonda, live in Walnut Creek). After 15 years, however, he admits he is ready for a new challenge.
"I'm going to miss it, but it's time to do something else," Wieder says.
In fact, much like how he had already dipped his toe in small business while still working as a television journalist, Wieder has done so again lately, trying out the world of podcasts. He has plans to build a home studio where he can produce his podcasts.
So, stay tuned. but as we say in television, Wieder will be right back.