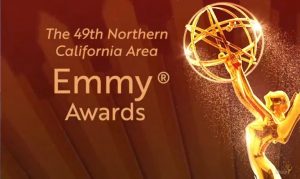 The 49th Annual Northern California Area Emmy® Awards were presented Saturday evening, June 6th for the first time via livestream only. The Emmy® Award is presented for outstanding achievement in television by The National Academy of Television Arts & Sciences (NATAS).
San Francisco/Northern California is one of the nineteen chapters awarding regional Emmy® statuettes. Northern California is composed of media companies and individuals from Visalia to the Oregon border and includes Hawaii and Reno, Nevada. Entries aired during the 2019 calendar year.
A total of 882 entries were received, 706 English and 176 Spanish in 63 English Categories and 38 Spanish Categories. Nominations were announced on May 6th with 178 English and 59 Spanish. Electronic ballots were submitted by a minimum of seven peer judges from other NATAS chapters and were sent directly to our accountant. The Spanish and English awards are judged and scored separately and then presented at the ceremony.
329 Emmy® statues were handed out to 224 individuals. Top recipients were all from KDTV Univision 14, San Francisco: Eduardo Mancera, Photographer/Editor, with eight, and Reporters: Tayhana Lashelle García, Miguel Gómez and María Antonieta Mejía with five each. The high number in the English contest was four, awarded to: Pedro García, Cinematograher, KXTV 10; Michael Horn, Videographer, KNTV NBC Bay Area; and Warriors: Karina Anglada, Cinematographer; Paul Hawkins, Executive Producer; Kassidy Iwashita, Coordinating Producer/Editor; and Blake Wilberding, Director of Production.
The Emmy® statuette is awarded to individuals but there is a lot of interest in the station counts: KNTV NBC Bay Area took home 17 for the English contest and KDTV Univision 14 with 14 for the Spanish contest. The overall Excellence Emmy® awards went to KGO ABC 7, English and KSTS Telemundo 48, Spanish.
The prestigious Governors' Award, the highest honor a regional chapter can award was presented to Elliott Troshinsky, President and General Manager of KCRA 3 and KQCA My58 in Sacramento. The Governors' Service Medallion was awarded to Governor Michael Moya, for his service on the board and photographer for our member headshots, Emmy® Gala and Gold & Silver Circle ceremonies.
The livestream ceremony was produced by Julie Watts, Investigative Reporter, KOVR CBS 13, she also chaired the Emmy® Gala Committee. Julie was also one of the evening's hosts announcing the recipients along with NATAS Board members: Luz Peña, KGO ABC 7, Don Sanchez, KGO ABC 7 retired, and Kevin Wing, KNTV NBC Bay Area. President Steve Shlisky, Laney College and Awards Chair, Wayne Freedman, KGO ABC 7 were part of the festivities.
You can access the entire livestream of the Awards and Zoom Party on the chapter's website AWARDS Page.
Read the behind-the-scenes story in this issue by Wayne Freedman, Awards Chair:
"Shelter-in-Place Triggers Chapter's First Ever Emmy® Virtual Gala"