By Linda Yee
Special to Off Camera
It was in the words of many that night – an epic, historic reunion!
Nearly 170 former and current KRON-TV colleagues met on May 12 to hug, talk, take selfies and reacquaint after 20, 30 or 40 years apart.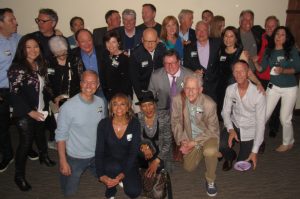 Former KRON producer Jim Gaughran said it best in a Facebook post soon after the party. "Well, the KRON reunion was just a little overwhelming.  Because there's Pam and there's Emerald and it's Fragola and Karl and Jan Wahl and Suzanne Bergerac and OH MY GOD IT'S PAYMAR!," Gaughran said.
"And there's Maureen and Jason and Manny and Geoff and John and I just stood in one place and the room was swirling with real, live memories and it's Karyne and Ysabel and then almost beyond reason it's Jeannine."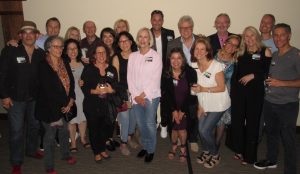 The exKRONvicts, a name coined by the late, great KRON photographer Rick Greenwell, were back together…some came by plane from as far away as New York and Denver and another drove through the night from out of state for this reunion at E & O Kitchen and Bar in San Francisco.
The idea was hatched during a lunch at this same restaurant earlier this year.  Old friends Emerald Yeh, Pam Moore, Linda Yee, Sandy Lee and Karyne Holmes meet yearly to stay in touch. This time, former KRON anchor Susan Blake joined in … and the reunion plans went into overdrive. Emerald had bumped into new KNTV NBC Bay Area General Manager Stacy Owen (of course, an exKRONvict) at the DuPont Awards in New York  in January and wanted to have a welcome back to the Bay Area party for Stacy.  But Stacy didn't want the attention. She insisted on having a KRON reunion instead.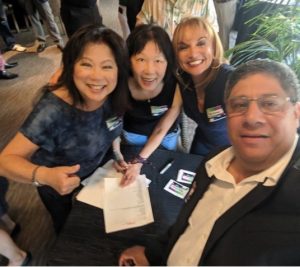 Emerald, Pam, Linda, Sandy and Susan sent out the Evites – coming up with as many names as they could remember – and tapping old KRON colleagues to furnish even more names and emails. Evites eventually went out to more than 250 people.   No one was left out intentionally, but unfortunately, not everyone could be found.
Organizers thought if 50 people were interested enough to show up – that would be a success!
Chief party decorator and former KRON reporter Sue Kwon was so excited she came up with special KRON4 bug mic cupcakes for everyone to take home – printed out old photos and produced a slide show of those oh-so-good-old days of KRON.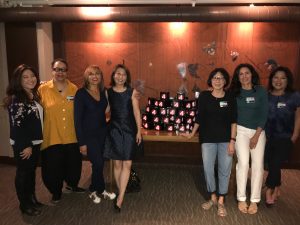 "What a hoot!  The delirious KRON Alumni rapture, a hundred half-finished conversations, trying to catch up, impossible to catch it all," said Craig Franklin, retired producer and photographer.
Former producer Joe Fragola put it in TV news terms:  everyone was reduced to :45 vo/sots if they wanted to work the entire room."
No one wanted the evening to end.
Former KRON Programming Chief Jim Swanson said "This was a great idea. I would have paid more and stayed longer…the "Maybes" and "No-shows" (referring to the Evites) missed a great time."
The sheer number of how many people attended is testament to a very special time at KRON decades ago, a time when KRON was nationally recognized for its journalistic values and award-winning investigations. It was always a "team" effort and though everyone eventually left and continued their careers elsewhere, there is something that will always keep this group of talented people connected.
That was proven in a blessedly chaotic reunion as described by Gaughran: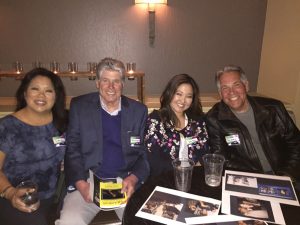 "Someone grabbed my arm and someone else hugged me so hard I couldn't catch my breath and there's Sharon T and Jan Rasmussen and I just started touching people on the arm and they would turn around and we'd grab each other and tumble into this 35- year well of warmth and laughter."
"This was SO much fun!" said former producer Janette Gitler. "We are all very lucky to have shared such a special time together in local broadcast history."
"What a lovefest!  It was truly an honor and a pleasure to work with so many warm and talented people during my many tours of duty at KRON, and it was great to see a lot of them last night, " said producer Michael Rosenthal.
"Now it's 24 hours later and strangely, I don't feel very nostalgic," Gaughran said. "I just feel so incredibly lucky. I have had a magical career and there I was, surrounded by the wizards who gave it to me,"
For more than three hours that Saturday night, it truly was magical.
Linda Yee is a former longtime reporter of KRON-TV.