By Joyce Mitchell
Chapter Governor, Sacramento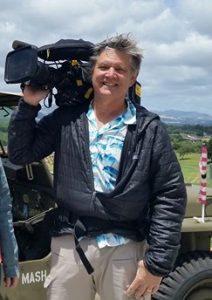 Sacramento – ABC's 20/20 aired a one-hour special about Sacramento's East Area Rapist on May 4. Sacramento Freelance News and Documentary Photographer Ken Day worked tirelessly shooting for the program. In addition, Day also covered the arrest of 72-year-old Joseph James DeAngelo for ABC's World News Tonight and Good Morning America. Local stations had extensive coverage as well. Day worked for years at Sacramento station KOVR CBS 13 before going independent. "I started my career covering the Unabomber, the kidnapping of Jaycee Dugard, and the East Area Rapist," said Day. "It's a beautiful thing to now see all these baffling, seemingly unsolvable cases, one-by-one solved and those responsible brought to justice."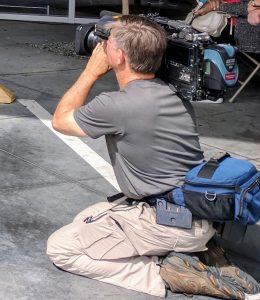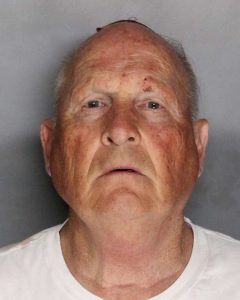 The East Area Rapist, also known as the Golden State Killer and Original Night Stalker, is a grandfather and former police officer. He was nabbed at his Sacramento area home April 24, 2018. The reign of terror included twelve murders, more than fifty rapes, and 150 burglaries throughout California from 1976 to 1986. "After 40 years, it's nice to see detectives finally got their man," said Day.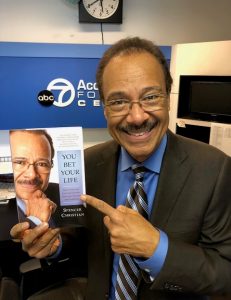 San Francisco – ABC KGO-TV's Chief Weather Anchor Spencer Christian returned to Good Morning America in New York City, only this time as a guest. Christian co-anchored GMA from 1986 to 1998. On May 21, he appeared on the program to promote his new book, You Bet Your Life – How I Survived Jim Crow Racism, Hurricane Chasing, and Gambling. "I had two primary reasons for writing the book," said Christian. "First, making this public confession was a cleansing experience which relieved me of the guilt I felt for so many years of wasteful, self-destructive behavior," said Christian. "Second, I want to serve as an example for others that even when you think you've hit rock bottom, you can rebound, rebuild, and recover." KGO's Dan Ashley interviews Christian about the book.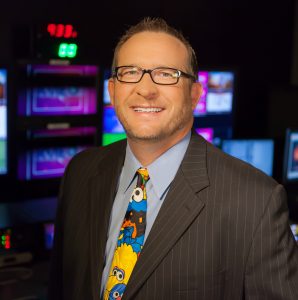 Sacramento – PBS Station KVIE Channel 6 is taking public service to a new level. President and General Manager David Lowe has received the 2018 Pillar of Public Service Award from America's Public Television Stations (APTS). "Television isn't what we do, it's just how we do it," said Lowe. Under Lowe's leadership, the station partnered with the Office of Emergency Services to pilot use of datacasting. The goal is to detect and deliver early earthquake warnings faster than ever before. Through field trials, it was shown that the public television system is capable of delivering earthquake alerts in less than three seconds. That's the first time that has ever been achieved. "Part of our service can come through the airwaves in the form of the most noble of all services – saving lives," said Lowe.  For more information on the earthquake alert system, click here.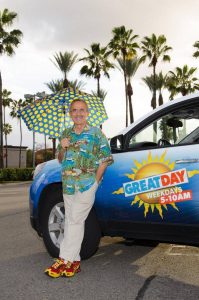 Fresno – KMPH Fox TV26 has a winner! Morning News Anchor Kopi Sotiropulos gets the 2018 People's Choice Awards in Fresno. Sotiropulos has been with the station since 2003. His normal workday consists of getting up at 2 a.m., going to the station before dawn and co-hosting the Great Day morning program weekdays from 5 to 10 a.m.
"I'm fortunate to have a job that I really enjoy," said Sotiropulos. Known for his high energy personality, Hawaiian shirts and bright ties, he's considered one of the most recognizable media personalities in Fresno. Sotiropulos said that his key to success is not letting all the recognition go to his head. "What you see is what you get," said Sotiropulos.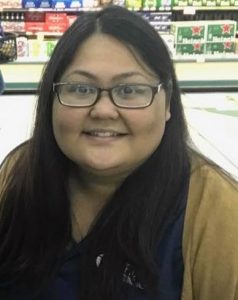 Guam – KUAM News Producer Lacee Martinez is putting station power behind a feature profiling a young athlete and coach diagnosed with a brain tumor less than a year ago. The segment about Paige Surber is part of a new Athlete Profile Series by KUAM in anticipation of the annual Relay For Life. "It's possibly the single biggest fundraising event of the year for the island," said Martinez. "Thousands come together to honor cancer warriors, caretakers, and people who have died." A link to the story about Surber and her battle to survive – and – thrive is attached. https://www.youtube.com/watch?v=J0-ksGfjVe8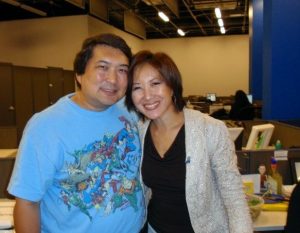 Honolulu – KHNL-TV is grieving the loss of one of their own. Employees bid a final farewell to beloved technician Mark Shiraishi. He recently died of cancer. Before merging with the CBS affiliate KGMB, KHNL was like a second home to Shiraishi from 1995 until 2009. He's pictured here with ABC affiliate KITV4 weekend Anchor/Reporter Diane Ako. Shiraishi's contributions to the industry are included in a new book called Honolulu TV. It recaps 65 years of TV in Hawaii. And Shiraishi was a major player. He recently died after a long battle with cancer and was fondly remembered during a memorial service April 6.