By Keith Sanders
Chapter Education Chair
College scholarship entrants just caught a break! The deadline to apply for $19,000 in scholarships has been extended one week to Friday, June 7th.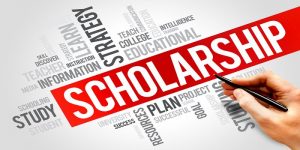 Take advantage of this extra time by submitting your entry now. To those who've already entered, now there's more time to enter additional categories. There are four $2,000 scholarships, two $3,000 scholarships and one $5,000 grand-prize scholarship.
Download Scholarship Application
You have to be attending college in a formal degree program, but you don't have to be a NATAS member.
To be considered for a scholarship you must be actively engaged in a collegiate-level curriculum in one or more areas of the television industry and be attending a college in Northern California (Visalia to the Oregon border), Hawaii, or Reno, Nevada.
You must have completed at least one undergraduate academic year of television studies, or be enrolled in a television graduate program.
You must have at least one remaining year of undergraduate or graduate study.
A $2,000 professional development grant is also available for non-student media professionals.
College students may apply for the following scholarships:
LOUISE JORJORIAN MEMORIAL SCHOLARSHIP
to the outstanding overall student ($5,000)
Beloved broadcaster Louise Jorjorian established her life and career in San Francisco in radio and television, landing her first job as Publicity Manager for KGO radio, and then became Promotion Director for KSFO Radio, where she worked for 25 years.
JERRY JENSEN MEMORIAL SCHOLARSHIP
to the outstanding graduate student ($3,000)
Jerry Jensen anchored News Scene 7 on KGO with Van Amburg for more than ten years until his death on March 26, 1984. Jerry died of pancreatic cancer at the age of 49. Jensen joined KGO-TV in 1969 as the weekend anchor. Prior to channel 7, he anchored at KBHK and KRON. Jerry was awarded the NATAS Governors' Citation in 1968.
STEVE DAVIS MEMORIAL SCHOLARSHIP
to the outstanding undergraduate student ($3,000)
Steve Davis was an anchor/reporter for KGO-TV news for more than 20 years in the '70's and '80s. He covered major events from Patty Hearst to Jim Jones and anchored the 5 p.m. News. Davis was let go in 1989 but won an age discrimination suit against ABC in 1992. Davis died of cancer on March 18, 2005.
PETER J. MARINO, JR. MEMORIAL PRODUCTION SCHOLARSHIP
to the outstanding undergraduate production student ($2,000)
Peter Marino was a stalwart member of the Chapter and co-founder of the Scholarship Program. He was well known for his public relation exploits as a music and video producer. Marino was a principle in a Bay Area recording studio and represented several recording companies. This scholarship covers a variety of production job disciplines.
RIGO CHACON REPORTING SCHOLARSHIP
to the outstanding undergraduate student in reporting ($2,000)
Multiple Emmy® award-winning television reporter Rigo Chacon worked at KGO-ABC7 for 29 years as a general assignment reporter and opened the first Santa Clara County bureau of a San Francisco-based TV station. Among his many honors, Chacon is a member of the Television Academy's prestigious Silver Circle.
SHELDON "SHELLY" FAY MEMORIAL VIDEOGRAPHY SCHOLARSHIP
to the outstanding undergraduate student in videography ($2,000)
The family and friends of Shelly Fay started a scholarship to an outstanding videographer. Shelly was a multi-talented television professional who worked in the San Francisco Bay Area as a producer, photographer, director and editor for more than 25 years, mostly at KPIX-CBS5.
"MISS NANCY" BESST GRADUATE MEMORIAL SCHOLARSHIP
to the outstanding graduate student ($2,000)
 "Miss Nancy" Besst, one of the founding members of the NATAS Northern California Chapter, started her career in Baltimore, MD as a staff teacher for Romper Room. Moving to San Francisco she became "Miss Nancy" on Romper Room from 1958-1969. She hosted many programs on KQED, KGO, KRON and KBHK. Nancy is a member of the Silver Circle, 1988, and has received the Governors' Service Medallion, 1994; Governors' Citation, 1996, and the Governors' Award, 1998.
Our Chapter of the National Television Academy of Arts & Sciences awards these scholarships to encourage students who demonstrate leadership and talent in advancing the artistic, cultural, educational, and technical qualities of television. Scholarships are designed for formal education only, not training or seminars.  Read about eligibility requirements and application procedures at this link:  https://emmysf.tv/students-2/college-scholarships/.
Scholarships are funded through donations to the TV Academy Fund, Inc., the chapter's 501(c)(3) foundation.
If you're already a working media professional, you can apply for a $2,000  grant:
LINDA GIANNECCHINI PROFESSIONAL DEVELOPMENT SCHOLARSHIP
$2,000 towards a formal degree in the pursuit of professional development
Linda Giannecchini is our most renowned local and national NATAS leader.  She has previously served as National Vice Chairman, Vice President, Secretary and Trustee. Locally, Linda is a past President and chaired the Awards, Scholarship and Speakers' Bureau Committees. Linda currently serves as Co-Chair of the Media Museum of Northern California Consortium, and the Archives/Museum Committee. She's an Emmy® award recipient and a member of the Silver Circle.
Remember, you must apply by Friday June 7th, 2019 to be considered for any of these awards!
Download Scholarship Application
Winning Entries from 2018:
Peter Marino Memorial Production Scholarship – Jia Yi Lim – De Anza College
Sheldon "Shelly: Fay Memorial Videography Scholarship – Teyler Wallace – Laney College
"Miss Nancy" Besst Memorial Graduate Scholarship – Ila Bo Krovitz – University of California, Berkeley
 Linda Giannecchini Professional Development Scholarship – George Garnica – California State University, Fresno