By Wayne Freedman


Awards Committee 
If you're reading this, then you're nominated, or know a nominee, or plan to attend the June 8 Gala because you just cannot help yourself.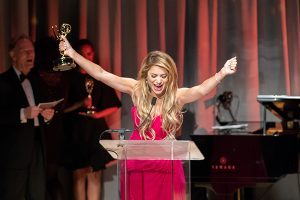 Congratulations! Here's what you need to know:
There is no such concept as being fashionably late to Emmy® Awards Night.
The doors at SFJazz Center will open at 5pm for a reception.
Theater doors open at 6pm.
Have you purchased your reserved seats?
Your hosts, this year, will be taking celebration laps after their inductions to our Silver Circle Class of 2018. With Jessica Aguirre, from KNTV NBC Bay Area, Ken Bastida from KPIX5, and Edie Lambert from KCRA in Sacramento, you will be in able hands. This esteemed group will present your Emmy® Awards in rotating shifts.

In anticipation of your receiving an Emmy® Award, have you designated who will make the speech? Please do so, along with your seat location, to emmy@emmysf.tv.  If you will not be attending, we need to know that, as well, at the same address.
That designated recipient speaker will have 30 seconds for remarks. We're serious about the time limit. If you go longer, the spotlight will dim and our sound person will initiate a not-so-slow mic fade.
You will want to make that speech count because it's the only one we will allow, even if you're talented and fortunate enough to receive more than one statuette. Come to the stage? Yes! Attempt to wax poetic twice? Nope!
We will be webcasting the event, this year, allowing your friends and families at home to celebrate the moments with you. We'll be streaming both the Awards ceremony and the Red Carpet interviews at www.emmysf.tv
Congratulations, again, on being part of our biggest, most glamorous event of the year.
We wish you the best of luck and happiest of evenings.
We look forward to seeing you!