By Kevin Wing
Senior Correspondent, Off Camera
Change is inevitable. We experience change throughout our lives. The one constant that never changes, and never wavers, is the passage of time.
With that in mind, I always do my best to make the most of time. Because, frankly, I don't want to regret not making the most of what time does provide, which are opportunities.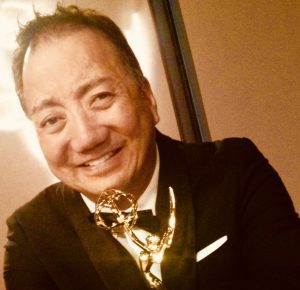 For the last seven years, I've had the wonderful opportunity to serve as your editor-in-chief of "Off Camera". I've loved every minute of working on our monthly newsletter, joining our regular contributors and the rest of our Chapter's Board of Governors in bringing you news and features that represent you.
This newsletter continues a tradition that first began back in 1961 with the very first issue. That tradition has been to tell your stories, to give you a spotlight designed to shine on your accomplishments, whether it's an Emmy® Award or a job promotion. We've always tried our best to represent you. And, we will continue to do so.
I'm leaving my work as editor of "Off Camera". It's been fun and rewarding for me, but I've been told that it's time for a change, time for a new direction. So, it's time to go. Sort of. Being a member of this Chapter and serving on its Board of Governors is very important to me, as is "Off Camera". My life's work is being a storyteller. As senior correspondent now for "Off Camera", I'll continue to share your stories and continue to write "Gold & Silver Circle Profiles", a series we began in 2007.
I'll write an occasional feature story, of course. And, beginning this summer, you can catch my feature stories on the website for The Media Museum of Northern California.
I'm grateful for your support during my seven years as "Off Camera" editor. I certainly want to thank past and present Chapter Board of Governors for their contributions, and a thank you to former President and former KGO-TV ABC7 colleague, Lynn Friedman, who got me started on my "Off Camera" journey back in the summer of 2007 when she asked me to write a "Where are they now?" feature about my friend and former KTVU Channel 2 colleague, Gary Kauf. From that, "Gold & Silver Circle Profiles" began, and the rest is history.
I've had some tremendous support from friends and colleagues, like Don Knapp, and my Board of Governors colleagues, San Francisco Vice President Don Sanchez, Fresno Vice President Richard Harmelink and Archive & Museum Committee Co-Chairpersons John Catchings and Linda Giannecchini.  Diane Donian Paskerian has always been there to cheer on my efforts as well, and I thank her. I also thank my former KTVU news director, the legendary Fred Zehnder. They, along with so many others, have always been helpful with their wisdom and journalistic talents.
Finally, to my childhood TV news idol, the late Fred Van Amburg. I was humbled, and honored, when I found out that Van loved reading "Off Camera". To receive an email from him a few years ago in which he told me to "keep up the great work" took my breath away. Yes, I still have that cherished email, and I always will. Thank you, Van. You were the inspiration for me to pursue television news for a career. And, on June 1, I will begin my 34th year in the business. I still love what I do. I'm blessed. And, I love being a part of this Chapter. I'll hope to see you in San Francisco on June 8 at our 2019 Northern California Area Emmy Awards Gala. I'll be on the Red Carpet doing my annual co-hosting duties, as I've been fortunate to do for our Chapter, and for you, since 2014.
I've always wanted you, our Chapter members, to be proud of your "Off Camera" newsletter.
I know you'll continue to be proud of it, too. And, so will I.