Emmy® 2018: We are only three months away from Emmy® Night in San Francisco! The 47th Northern California Area Emmy® Awards Gala is coming to San Francisco on Saturday evening, June 2! The Chapter office and everyone connected with the Emmys® are working hard to process all of the entries. For the fourth straight year, the Gala will be held at the very classy SFJAZZ Center in San Francisco. More details to come in the April and May issues of Off Camera. Mark your calendar for Emmy® night June 2 in San Francisco! And, a reminder that Emmy® nominations will be announced May 2. Good luck to you!
What's in a name? So, if you were with us for the debut of this new column, you are aware that we have been trying to come up with a catchy name for it. We've had a lot of great ideas submitted, and all of them are terrific. But, they're all such wonderful ideas, and we've been having a bit of a difficult time making the perfect choice! I've loved ideas suggesting a play on my last name. Too funny. So, we shall see. We need a little more time. We'll announce the new name with the April issue of Off Camera. Hey, if you've got any ideas before then, please drop me a line at kevin@emmysf.com. I'd love to hear from you. The author of the winning title will receive a gift card for the favorite coffee shop of his or her choice, whether it be Starbucks or Peet's! Or, if you don't like coffee and you are the winner, let me know and I'll take you out to lunch. It'll be my way of saying thank you and to show you my appreciation.
2018 Gold & Silver Circle nominations: Also, one more friendly reminder to mark down on your calendar: April 15. Well, besides it being Tax Day for all of us, that's also the deadline to submit nominations for this year's Gold & Silver Circle induction, happening this fall. If you know of someone who's worked in television within our Chapter area (Northern and central California from the Oregon border to Visalia, and including Reno, Honolulu and Guam) for 25 years or more and who has made a significant contribution to our industry, now's your opportunity to nominate them for the Silver Circle. Or, want to nominate someone who has been in the business for 50 years or more? You can nominate them, too, for the Gold Circle. Look for all of the details about how to nominate on our "Circles" page at our Chapter website, at emmysf.tv/circles.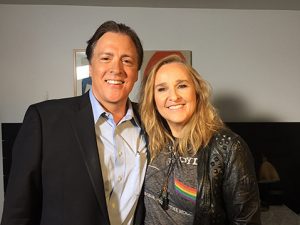 Melissa Etheridge at Rock The CASA concert in Walnut Creek: Grammy® Award-winning Melissa Etheridge will join KGO-TV ABC7's Dan Ashley at his annual Rock The CASA concert this Saturday, March 3, at the Lesher Center for the Arts in Walnut Creek! It will be a great evening of music to help children in need. The concert benefits Court Appointed Special Advocates (CASA), Friends of Camp Concord and Big Brothers Big Sisters. The non-profit charity was founded by the Emmy® Award-honored Ashley, who is also a 2015 inductee of our Chapter's Silver Circle.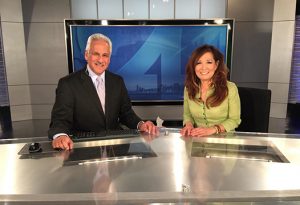 Here's to your health: Karen Owoc, a former Governor on the Board of Governors of the San Francisco/Northern California Chapter of The National Academy of Television Arts & Sciences and a former Off Camera columnist with her The Health Reporter features, appears regularly on KRON in San Francisco, providing health segments on the station's Saturday morning newscasts with anchor Marty Gonzalez. Owoc discusses a wide variety of health topics. Watch for her segments at 9:45 a.m. Saturdays. Gonzalez, by the way, is a 2010 inductee of our Chapter's Silver Circle.
Now, to our main feature this month.
Vianey Arana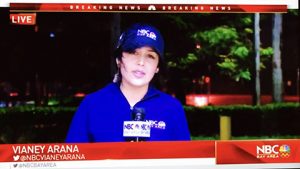 If you're in the Bay Area, you have, by now, heard of Vianey Arana. Of course, you have. Did you see her outstanding coverage from Florida of Hurricane Irma? As a weather anchor at KNTV NBC Bay Area in San Jose, it was an opportunity she could not pass up.
"I'm a weather nerd. I'm a weather geek. I had to be there," Arana jokes.
Arana is someone whose television news career is most certainly on the rise. She's only been in the business a bit less than four years, and already, she is working in the Bay Area, the eighth-largest television market in the country. Prior to the Bay Area, she also worked in Boston, another top 10 television market.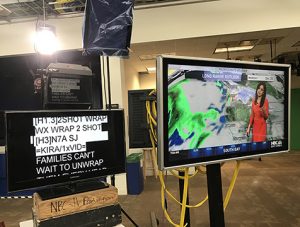 I work with Arana at NBC Bay Area. She joined the station in September 2016 to be its weekend weather anchor for Today in the Bay, the station's morning newscast. Besides weather on weekends and during the week, you can also see Arana standing in front of the traffic maps, keeping up on the morning commute for viewers when traffic anchor Mike Inouye is off for the day.
Prior to arriving in the Bay Area, Arana was a reporter, news anchor and weather anchor at KTSM, the NBC station in El Paso. She also anchored the 5 and 10 p.m. newscasts at KVEO there.
Less than four short years ago, Arana was beginning her professional career in television, at the Univision station in Boston, where she was a weather anchor and entertainment reporter. That's right, Boston!! A Top 10 market!
Hailing from Los Angeles, where her family lives, Arana took in some television experience as a reporter for various entertainment-news outlets in southern California. Beginning as an intern in Los Angeles at 22 Mundo FOX, she hosted segments on health, hair and beauty.
But first, let's go back to the beginning.
Arana was born in the lovely scenic countryside of Jalisco, Mexico, and although she came here at a very young age, her family has maintained its rich Hispanic culture and tradition. Her parents have always stressed the importance of keeping the Spanish language alive in the family. Arana is a proud graduate of Cal State University at Northridge with a Bachelor's degree in broadcast journalism.
Shortly before graduating from Northridge, Arana was offered a news apprenticeship at KABC-TV ABC7 in Los Angeles, working in one of the leading television newsrooms in that market. It was a big foot in the door for her.
In 2013, Arana became Miss California Latina; she finished as runner-up, and because her predecessor had to step down before her term was up, Arana was next in line to wear the crown! And she did so, and with much pride, too.
Growing up in Los Angeles, her hope had always been that she could remain there to work in television. After all, she'd already started working in the market with the KABC-TV opportunity as well as her on-air work with 22 Mundo FOX.
Leaving El Paso in 2016 to move to the Bay Area was a dream come true for Arana.
"I held on to the hope of returning to California," she says. "I used to crack the joke that 'San Francisco would be nice'," she said. Her friends would always laugh. Now, she's here, and they're cheering her on.
"My year and a half here has gone by so fast," Arana said.
While reporting the weather is very important to Arana, so is being connected to the region she serves.
"Where am I going to leave my own mark, as a journalist?" she said. "I always want to reach out to my community. Journalism gives me that opportunity. This is my passion. And now, I can connect with viewers not just by being on TV, but being online and on social media."
Being a weather forecaster is something Arana takes very seriously. While working at NBC Bay Area, Arana is also in school, studying to become a meteorologist through the University of Mississippi, which has a meteorology program.
See? This is definitely serious business for Arana.
She was very interested in reporting from Florida during the wrath of Hurricane Irma last fall.
"When I was asked to go to Florida to do hurricane coverage, you would think that I would be nervous, but I was excited," she said. "It must be the weather geek in me. I'd never done hurricane coverage before. I've done snowstorm coverage, but never hurricane coverage. My next thought was, 'Wow, they're really giving me an opportunity. I'm the new kid.'"
Arana says the experience of working on the Hurricane Irma coverage was simply amazing.
"Doing the hurricane coverage was a highlight for me," Arana said. "It had to do with being out there in the elements. The experience was something else, just being there, and doing stories on the communities that were being affected, and watching how the communities stuck together to survive that hurricane. Their stories needed to be told."
During one of the six days of reporting from Florida, she and photographer Mykie Vang were doing a live shot when a tornado touched down not far from where they were standing. The station reached them to tell them to take shelter. The two ended up hunkering down in a nearby parking garage.
"That was very scary," she said. "The tornado was about three blocks away from that parking garage. You don't fool around with tornadoes. You don't fool around with Mother Nature."
During her Hurricane Irma coverage from Florida, Arana was not only reporting on NBC Bay Area, but for three other television stations, too, including sister station, Telemundo 48.
"I never would've guessed that I'd be here in the Bay Area after just three years in the business," Arana said.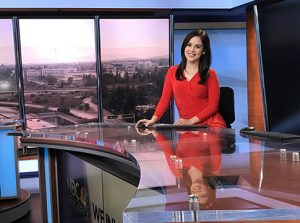 Arana works hard at NBC Bay Area. Hard work is in her blood. Her parents are hard-working, so it's only natural that her work ethic perfectly matches theirs.
"Before my career got started, I worked in a ton of jobs," she said. "I've always enjoyed working. I always paid for my own bills, my own car insurance, everything." She worked through college as a waitress (she would scrape gum from underneath restaurant tables, too). She also worked at Six Flags Magic Mountain in Santa Clarita, as a greeter.
"I would be at the entrance to the park, greeting everyone and taking their pictures," Arana said.
Fast forward back to today, and Arana's hard-work ethic persists as a dedicated team player at NBC Bay Area. The former Miss California Latina for 2013 is very well-liked at the San Jose station, and Arana always welcomes everyone with a warm smile and, when she's working on Today in the Bay, a cheery "good morning".
"I love what I do," Arana says. "This is where I belong."