By Kevin Wing
Senior Contributing Writer, Off Camera
Chapter Governor, San Francisco

Richard "Dick" Robertson, who made an indelible mark as president and administrator of the San Francisco/Northern California Chapter of The National Academy of Television Arts & Sciences and whose many decades of involvement in the northern California television industry were recognized with induction honors into the Chapter's Silver Circle and Gold Circle, has died.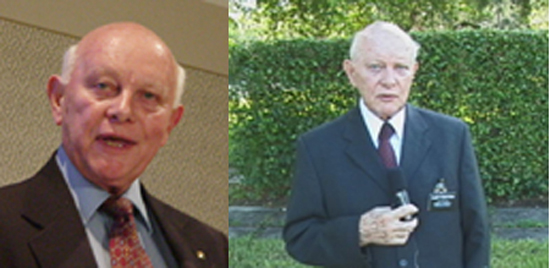 Robertson was 93 when he passed away Feb. 1 following a long illness, Lanora Robertson, his wife, said.
Serving as Chapter president from 1969 to 1971, Robertson became its administrator in 1989, a job he held until 1996. Two years later, the Board of Governors honored him with a Governors' Citation, the Chapter's second-highest honor, for his dedication and service to the Chapter.
His television career took him to KTVU in Oakland in the late 1950s, to KRON in San Francisco from 1959 to 1977, and finally, to KQED from 1979 to 1982. Robertson then launched his public relations company, Mother Lode Communications.
He was inducted into the Silver Circle in 1988 to commemorate his more than 25 years in the northern California television industry. His more than half a century of commitment to the industry here came in 2005 with his induction into the Gold Circle.
While he spent most of his life in the Bay Area and northern California, Robertson grew up in Salt Lake City. Attending the University of Utah, he eventually left college to enter the service.
"I signed up for the Naval Air Corps," Robertson told Off Camera in 2015. "I worked in the engineering department. I was stationed for three years in Hawaii, on Ford Island. That's where (World War II) started for the United States, on Dec. 7, 1941."
After three years in the service, Robertson used the G.I. Bill to return to the University of Utah. He attended the university's journalism school, earning the first Master's degree to any journalism student at the university. He later worked in the university's public relations office.
In 1950, television, which was burgeoning but still in its infancy, came calling. Robertson joined KSL in Salt Lake City in 1950, working for both the television and radio station.
Robertson stayed six years. Then, in 1956, he left for New York to become the advertising manager for a publication called Television Age. While in New York, Robertson missed working in the television business.
"Anytime I went to a TV station, I felt I should be on the other side of the desk," Robertson said, in 2015. Then, he knew some people in the Bay Area who were trying to get a new television station launched. That was 1958, and the station was KTVU, in Oakland. One thing led to another, and Robertson found himself relocating to the Bay Area to become one of the station's first employees. He was KTVU's first promotions manager.
But, while Robertson was one of the new station's first employees, his tenure there would be short-lived. In 1959, he went to work for KRON in San Francisco as the station's merchandising manager.
"They made me a deal I couldn't pass up," Robertson says of KRON management. "We used to put in-store displays in store, and the station got write-ups in all sorts of places."
Eventually, KRON's upper managers — Harold See, president of Chronicle Broadcasting, which owned KRON at the time, and Al Constant, the station's general manager — took notice. They asked Robertson to take over the station's promotions department.
It was a job that Robertson loved. He remained at KRON until 1977, when he decided to retire from the station.
Robertson returned to Bay Area television in 1979 when he became director of corporate communications at KQED. He retired from the station three years later to launch Mother Lode Communications.
Robertson is survived by his wife, Lanora, for whom he was married to twice. Their first marriage ended in the late 1970s. Later, Robertson met his second wife, Rose. The couple married in 1981. While Dick served as Chapter administrator, Rose served the Chapter as editor of Off Camera. She passed away in 2003. Dick and Lanora, both finding themselves single again by that time, decided to re-marry in 2004.