By Toby Momtaz
Education Committee Chair
---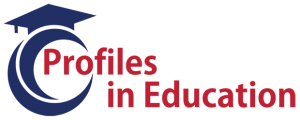 Profiles in Education is an effort to introduce media program educators in our region's high schools and colleges, as well as to recognize their achievement in offering career pathways in broadcast journalism, production and content creation to the future generation.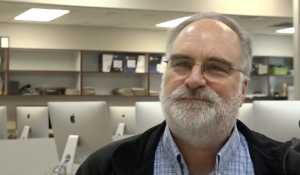 Meet Brad Clark, who has taught high school students for 28 years. Clark earned his B.A. degree in art with a minor in film studies at California State University, Sacramento, and later added a teaching credential and graduate degrees in education (curriculum and instruction) and anthropology (cultural).
The first ten years of Clark's career were spent teaching incarcerated juveniles, where he created a computer lab space where those students were exposed to fine and graphic art and early computer animation software. Clark left teaching for a period of five years where he developed instructional videos for the state. It was 18 years ago when Clark joined the faculty of Franklin High School in Elk Grove, California, which was then a new school opening up its classes to seniors.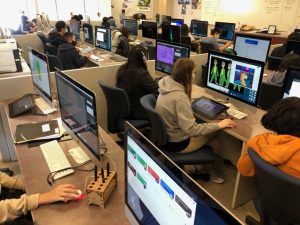 The school has a Mac Media Lab, with an adjoining studio space and a separate TV studio. Originally hired to teach video production, a decade ago Clark added animation. That program proved so popular that it makes up the majority of his teaching load. Clark currently teaches an intermediate video production class and three levels of animation.
Clark helped to found Northern California Media Educators (NCME), and served as president for several terms. The goal of NCME is to connect media teachers so they can share curriculum and other ideas and recognize outstanding student work.
Clark also volunteers as the coordinator of the Access Sacramento High School PSA Project, which connects students with governmental clients who have information they want shared with the public. Because Clark feels competitions increase student motivation on assignments, he aligned most of his work to contests. Clark's students have won more awards than any other school in Sacramento County. Since 2014, these awards include five NATAS Awards of Excellence and six Awards of Merit.



Franklin High School has a very diverse student body. The total minority enrollment is 83%, and 35% of students are economically disadvantaged. Any interested freshman can join a half dozen career technical education pathways, including animation or media production. In the intermediate media class, students create a PSA, a news package, a documentary for the C-SPAN StudentCam contest, a short fiction film and a music video. They also can earn college credit from Cosumnes River College.
Introductory animation students learn the principles of animation using Toon Boom Harmony. In the second half of the year they learn the basics of 3D modeling and animation using Autodesk Maya. Students are exposed to careers in television and film animation, VFX and game design.
Watch the extended cut of Caged Bird, winner in 2017 NATAS National Student Production Award in Animation/Graphics/Special Effects category below.


Intermediate Animation students spend half the year individually working through the production process to create a 30 second PSA. They then learn story development and pitch their short film idea. The class votes on the strongest ideas and moves those into production in small groups.
In Advanced Animation, students take an entire year to develop a short film. Students have the option of doing this as an individual project or in a group. Students can work in either 2D or 3D.
Watch Stuck, winner in 2019 NATAS Award of Excellence in Short Form Fiction category below.


Franklin High School has a number of graduates who have gone on to careers in media production including work at Pixar and at popular gaming companies. Students work in local television, network series, film and corporate communications. Some notable students include:
Mike Diva (Mike Dahlquist) catapulted his VFX heavy YouTube work to his current position as the shorts director at Saturday Night Live (NBC). Diva also co-directed the feature film The Unauthorized Bash Brothers Experience' (Netflix) and was the director of Halo Top: Eat The Ice Cream', which was named one of AdWeeks Top Ten Ad's of 2017. The music video "Panini" that he directed for Lil Nas X has over 330 million views.
Rachel Woodburn was accepted into the Directors Guild of America trainee program that led her to working as an assistant director on such shows as S.W.A.T. (CBS), Station 19 (ABC), and Insecure (HBO).
Megan Stacey is a director of photography whose work includes Britney vs Spears (Netflix), Tina (HBOMax), and Lucky Dog (CBS).
Mason White is an assignment editor at ABC10 in Sacramento.
Devon Davis is the video content manager with the Sacramento Kings.
Watch how Franklin High School is making the next generation of filmmakers, here.

---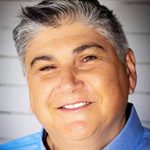 Toby Momtaz is a Producer at PBS KVIE in Sacramento, California
Monthly Profiles in Education from our region
NATAS welcomes contributions to the Profiles in Education from all chapter areas.
To be included, please contact Toby Momtaz at toby@emmysf.tv.