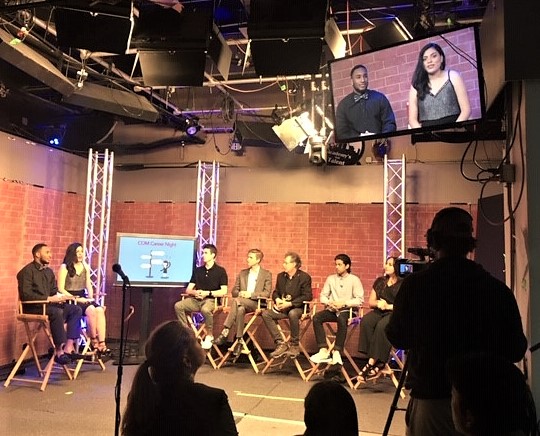 Our Chapter favors students with awards for quality high school video work and scholarships for college students for their excellence in video production. NATAS further supports students by meeting and speaking with them on their local campuses.
On the evening of April 16, San Francisco/Northern California Chapter President Steve Shlisky appeared on a panel at the Academy of Art University's New Montgomery Campus studios to talk about industry careers. The lively hour-long presentation included introductions of panelists, direct questions by the hosts, and nearly a dozen questions from the studio audience. After the presentation, the panelists mingled with audience members and met with longtime NATAS member and AAU Director of The School of Communications & Media Technologies, Jan Yanehiro.
Shlisky says that it was an honor to be asked to participate. "I really like meeting these future media professionals and assist them to navigate through the industry." Shlisky adds that "the Academy of Art is extremely well-equipped with actual broadcasting industry teachers and up-to-date tools like this studio to create professional-looking productions."
The questions from show hosts Dante Williams and Maria Meza ranged from finding internships, applying and interviewing for jobs and landing the first and subsequent jobs in the broadcast and digital media industries.
Williams and Meza kept the live show moving along, alternating between prepared and ad-libbed questions, and facilitating audience comments. This is the first time Williams has ever facilitated a talk show. According to Yanehiro, he did a marvelous job: "Dante is so quiet in class, this is a great opportunity for him to try something like this."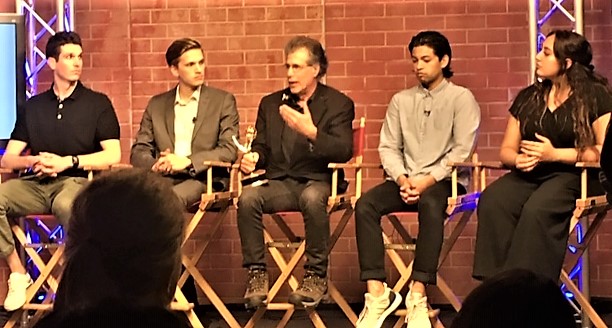 Shlisky was one of five guest speakers representing the local broadcasting industry. The other four were: Matt Cesca, Supervisor with FNTECH (a full-service live event production company); Zack Todero, Production Manager for Pac-12 Networks; Gian Abella, Internship Coordinator for NBC Sports; and Talia Thompson, Academy of Art Student and intern at NBC Sports Bay Area.
Representing NATAS, Shlisky explained the importance of peer professional organizations on careers. He explained how the comradery of peers through networking, mentorship, technical advancement and competition assist in a career trajectory.
NATAS Board member Patty Zubov attended the Career Night panel and added: "Students learned more about how NATAS can be a 'side door' to connect with industry professionals. After the presentation, we spoke one-on-one with students and some of them will have roles at this year's Emmy® Awards Gala in June!"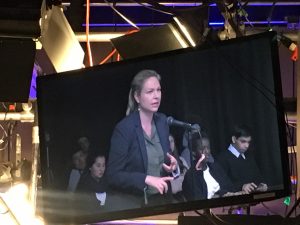 Michelle Kennedy, AAU Online Coordinator & Career Services Manager, says "We love to have industry professionals come and talk to the students so students know what employers will expect of them when they apply and work in these positions." Kennedy adds that these panels allow students to "shake off some of their nerves about meeting professionals."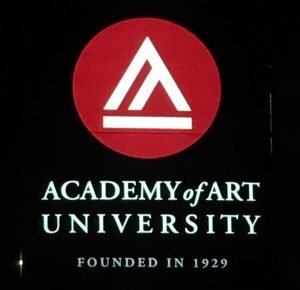 A future event planned where NATAS will work with the Academy of Art University is their "Spring Show 2019" on Thursday, May 16, at 2225 Jerold Ave., San Francisco. Call AAU for more information: (800) 544-2787.
NATAS Student membership is $15 for the year in all regions: MEMBERSHIP Page.
NATAS Student awards and scholarships info is on the STUDENT Page.