Remembering Ed Arnow
Silver Circle Class of 2001
Ed Arnow was a reporter's reporter. A journalist's journalist, if you will. He was sharp and he was intelligent, and he always took on the meaty, gritty stories. Whether it was about crime in the Bay Area or it had to do with the financial markets, Arnow was always on it.
And, rare as he was, Arnow took his career in television news through several different chapters. There haven't been many, to date, who have been so prolific with their journalistic careers. But, Arnow's career lasted for decades. He had staying power. Quite simply, he loved what he did.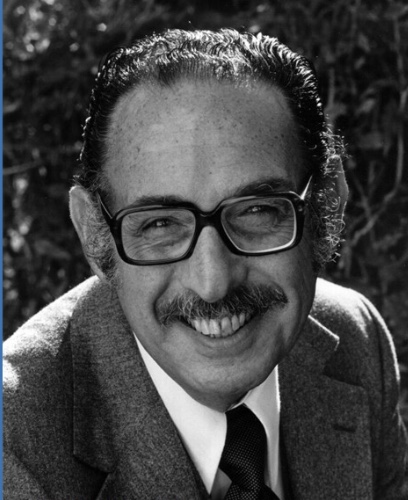 Arnow passed away last month at the age of 95 (read his obituary in this edition). He was living in Discovery Bay at the time of his death. We honor Arnow this month with a posthumous Gold & Silver Circle Profiles piece, showcasing his life and his career here in the San Francisco Bay area.
Arnow was inducted into the Silver Circle of the San Francisco/Northern California Chapter of The National Academy of Television Arts & Sciences in 2001.
His career began in the 1950s, when he was a reporter for KNBC radio in San Francisco. Then, in 1955, Arnow became NBC's first network television correspondent for northern California. He remained in that role for the network for 10 years, when, in 1965, the teaching bug bit and Arnow joined the faculty at the University of California, Berkeley, where he taught radio and television reporting classes during the week. During the weekend, he was reporting for KGO-TV in San Francisco.
In 1970, Arnow switched gears when he joined the staff of KPIX, serving as a reporter there for 13 years. During his tenure there, he was honored with two Emmy® awards for his work — the first was for documentary reporting on the subject of illegal immigrants in California, and the second was for his reporting of the Managua earthquake.
Arnow also received accolades for his reporting from the San Francisco Press Club.
After his tenure at KPIX ended, Arnow went to work for KRON-TV as a business and financial news specialist. In 1985, he became the West Coast correspondent for the syndicated Wall Street Journal Reports television program.
He returned to KGO-TV in 1988, working for the next two years as a writer and producer.
In addition to being inducted into the Silver Circle, Arnow was, for many years, a member of the Broadcast Legends.
Ed Arnow will be missed by our Bay Area television industry. May it be safe to say that there won't ever be another reporter quite like him. He was one of a kind.
Kevin Wing has been authoring Gold & Silver Circle Profiles since the summer of 2007. A 2013 Silver Circle inductee, the two-time Emmy® Award-honored journalist is currently with KNTV NBC Bay Area.