By Joyce Mitchell
National Trustee & Vice President, Sacramento
The name is well recognized. His reputation is stellar. And his career lives on. KGO-TV ABC 7 Technology and Business Reporter David Louie celebrates 50-years working at the San Francisco station by creating a scholarship for young journalists. The funds will be distributed through the Radio Television Digital News Foundation (RTDNF). Ironically, Louie was the first Radio Television News Directors Association (RTNDA) scholarship recipient – ever. And now, he'll forever be giving back.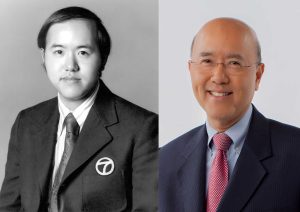 Louie was a student at Northwestern's Medill School of Journalism back when RTNDA was initially setting-up a scholarship program. Louie was selected. Again, he was the first – ever awarded.
Now, celebrating 50-years at San Francisco station KGO, Louie is returning the gift ten-fold, providing an ongoing annual $2,000 RTDNF scholarship to a full-time student attending Northwestern. Louie has a history of giving back to the industry. As well as pounding the pavement for KGO covering stories, Louie has volunteered to help better the television industry.
He's been an active and vital member of RTNDA/RTDNA and donated decades of time to the Television Academy. He served as regional Awards Chair for 10-years and as a Governor and National Trustee. He also served as National Chairman.
After graduating from Northwestern, Louie joined KGO TV, taking a brief break in 1977 to become Assistant News Director of ABC-Owned and Operated KXYZ-TV in Detroit, becoming the first Asian-American in station management.  He returned to KGO two-years later.
"News has been in my blood since I wrote for my high school newspaper," said Louie. "On second thought, maybe it was the ink that rubbed off on my hands that hooked me when I was a newspaper delivery boy."
Louie has been honored with several Emmy® Awards for his television reporting. The TV Academy also has presented Louie with the prestigious Governors' Award, the highest honor a chapter can bestow.  In addition, he's been inducted into the Gold Circle – honoring 50+ years of commitment and work in broadcasting and the Silver Circle, recognizing 25+ years in the industry. He's also been a recipient of the Governors' Service Medallion.
Advocating on behalf of cultural diversity, Louie served as past national president of the Asian American Journalists Association. His scholarship designates preference to students of Asian American descent.
 Always stepping-up, Louie served as National Chair of The National Academy of Television Arts & Sciences. He's a humble man but Louie has experienced a career to boast about. "Along the way, I've been on stage at Radio City Music Hall (without the Rockettes) for the Daytime Emmy® Awards when I was national chairman of The National Academy of Television Arts & Sciences," said Louie. "I've been inducted into two halls of fame (high school and college journalism school), and I've received two lifetime achievement awards."
As much as he works and volunteers his time, Louie has another serious passion. He's a foodie! He's often found in the kitchen experimenting with recipes and new dishes or out and about in search of great meals. He's a man of refined taste!
A big thanks to David Louie for his commitment to the television industry and future broadcast journalists.