By Joyce Mitchell
National Trustee & Vice President, Sacramento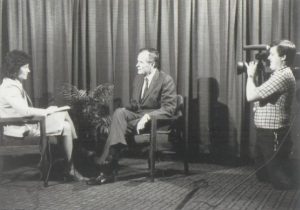 So devastating – that the Sacramento television community is stunned – and almost silent about the untimely death of former KCRA Photographer Ron Middlekauff. At the age of 60, Middlekauff died of natural causes April 11, 2022. He worked at Sacramento NBC Affiliate Channel 3 for 30 years.
During his time there, Middlekauff covered news, politics, entertainment and frequently went airborne as a photographer with Livecopter 3. He developed an early passion for the television business after being on the KOVR 13 Cap'n Delta Sacramento morning cartoon show when he was in elementary school.
"I remember sitting in that Arden Way studio, under the hot lights and the brightly colored sets, the big TV cameras and taking it all in," wrote Middlekauff on his website. "It fascinated me. So much so, it sort of gave me a passion to want to go into the TV biz."
Middlekauff said that the dye had been cast. TV was going to be his future. Then came high school and in 1978, he got an internship at KCRA. Middlekauff said he was hooked.
He evolved into a persistent regular at the television station, taking odd jobs and volunteering on the night shift to help out however he could. And it paid off. He was mentored into becoming a photographer. And a damn good one.
"Ron had started at the station as a teen-aged delivery person, then worked his way into the newsroom" said former KCRA Political Correspondent Steve Swatt. "He eventually became one of the station's most innovative photographers. For several years, Ron and I made up KCRA's political team."
Swatt and Middlekauff went everywhere together, from the California State Capitol to Washington DC, covering political conventions to Presidential elections. "He never missed a shot," said Swatt. "He was more than a photographer; he was a great field producer, as well."
As a kind of an innocent kid starting out in a fast-paced newsroom environment, Middlekauff learned how to hold his own. He was mischievously played with by old-timers – but always in a good-hearted way.
Swatt recalls a week long satellite trip back in 1988, delving into different national issues before the June primary election. It started in Southern California and ended up in the Bay Area. Reports were shot, edited, and delivered live on-air. Afterwards, Middlekauff and Swatt would jump into the news car  bound for the next destination. One night in Palmdale, dinner was a late night all-you-can-eat rib joint.
"Ron loved barbecued ribs," said Swatt. Middlekauff had leftover ribs that he put in the trunk. Fast forward four days to an all-day shoot with no lunch or food. Setting up for a live shot, Middlekauff remembered the leftover ribs in the Styrofoam box.
"Before we knew it, he had pulled out a green, unrefrigerated, mold-covered rib – convinced it wouldn't hurt him," said Swatt. "Luckily, at the last moment, we talked him out of what might have become a dinner for the ages."
A light story, mixed with sadness as friends and former co-workers remember Middlekauff. People are grieving because Middlekauff had heart and soul. That big heart went on full display for the world to see when he rescued Rodeo – the 4-year-old Border Collie while flying and covering a massive storm with Livecopter 3. The dog had been stranded for hours on the roof of a house during 1997 levee breaks and flooding.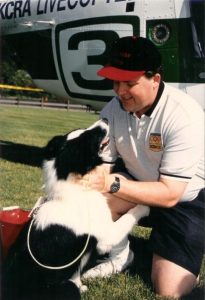 It was dawn and the helicopter was hovering over Olivehurst. The crew spotted Rodeo perched on top of the home, flood waters quickly rising. To Middlekauff and Chopper Pilot Michael Kidd, it became clear the dog was going to drown.
The two decided to attempt a rescue. Kidd maneuvered the helicopter while Middlekauff – with one foot on the skids and one foot on the roof of the house – grabbed the quivering pup by his collar. He managed to pull Rodeo into the helicopter before yelling "liftoff!" The dramatic story went national.
Middlekauff remained humble about the rescue of Rodeo – and all of his work. Of most importance, he felt blessed to have had a career that fulfilled him for decades. It brought smiles and yes – some tears. But he always stood proud of his work.
"Ron had several loves in his life; he loved anything space exploration related; he loved movies and television; he loved shooting video from the helicopter and developed unprecedented skills in covering news from above," said former Livecopter 3 Pilot Dann Shively. "But most of all, his love for his family was always his priority."
Middlekauff is survived by his son Hunter, numerous other family members – and a television community grieving together. The man, the photographer, the kind spirit embodied in Ron Middlekauff is deeply missed.