By Kevin Wing
Senior Correspondent, Off Camera
Chapter Governor, San Francisco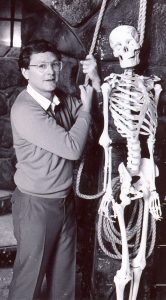 If there is any appropriate time of year to check in with John Stanley, it is now. After all, this is the time of year for Halloween ghosts and goblins, right? And, if you have lived in the Bay Area for the better part of the last 50 years, you've undoubtedly heard of Creature Features, the long-running late-night cult favorite that aired on KTVU Channel 2 for nearly two decades between the early 1970s and the mid '80s.
Stanley hosted the show – which aired science fiction and horror movies late into Friday and Saturday nights — from 1979 to 1984, succeeding Bob Wilkins, the show's original host who practically hand-picked him to take over hosting duties of the show upon his retirement.
And, as far as checking in with Stanley around Halloween, visiting with him right now is actually very timely. Not only has it been exactly 40 years since Stanley first graced Bay Area TV screens as the second host of Creature Features, something very special is happening to him Nov. 1. That is the day he is being inducted into the 2019 Alumni Hall of Fame for San Francisco State University at a dinner ceremony at the Ritz-Carlton San Francisco. The Hall of Fame list is long and illustrious. People from every industry, every walk of life. In Bay Area television, Stanley joins the likes of Fred Van Amburg, Dave McElhatton, Ken Bastida and Dennis O'Donnell, to name a few of so very many. Stanley graduated from the school in 1962 with a Bachelor of Arts degree in Literature. Soon after, he would go on to become an entertainment critic for the San Francisco Chronicle, and a newspaper career that would last nearly three decades from the 1960s to the early '90s.
"I'm so truly honored by this," Stanley said recently over lunch at a restaurant not far from his home on the San Mateo County peninsula, where he lives minutes away from the Pacific Ocean. In fact, on the day of the interview for this story, Stanley, now 79, was looking quite dapper. He had just finished a photo session with a university photographer for the Alumni Hall of Fame induction.
Stanley's journalism and television career have certainly been colorful. He's also a noted publisher, having written 18 books since he started his own publishing company in 1981. His books include six editions of the long-running "Creature Features Movie Guide", an A-to-Z encyclopedia reviewing the genre's horror, fantasy and science fiction flicks through the decades. His others include 1977's "Nightmare in Blood", "Joe Bob's Drive-In Theater" from 1987 and "John Stanley Meets Jack the Ripper and 25 Other Deadly Encounters" from 2011.
"I've been having a lot of fun through the years," Stanley said. During his long tenure as an entertainment critic for the Chronicle, along with his five years as Creature Features host, Stanley has interviewed literally hundreds of celebrities and movie stars. The list, quite frankly, is dauntingly and impressively long. It goes on and on.
While Stanley was working steadily for the Chronicle, he was making quite a name for himself there as entertainment critic. He was already friends with Wilkins, who had been hosting Creature Features for KTVU since 1971. Wilkins, in the mid-1970s, had become so popular on Channel 2 that the station asked him to be its weatherman on its flagship 10 p.m. newscast. Wilkins did that for a year or two before deciding he wanted to host only the late-night Creature Features show. He was also traveling back and forth between Oakland and Sacramento's KTXL Channel 40, where he also hosted a late-night show much like Creature Features.
By the late 1970s, Wilkins wanted to ease his workload. Wanting to leave Creature Features, he suggested to Stanley to audition for the show. The rest is history, and in 1979, Stanley took the reins, serving as the late night ambassador for Channel 2's foray of late-night monster flicks and horror movies.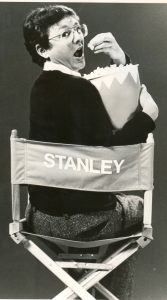 The Creature Features set at KTVU looked much like a dungeon of sorts. Of course, it did. How could it not, with coffins and cobwebs and everything you can imagine in set design to make it look scary and frightening at 11:30 p.m. on a Friday or Saturday. While the show was known for its horror-like persona and midnight-movie madness, it was also known for its guests, Stanley said. The guest list ranged from celebrities and movie stars to local weirdos who built robots in their garage or knitted a sweater big enough to fit King Kong, to stars like Dracula's Christopher Lee and the casts of Star Trek and Star Wars.
"It was on Christmas Eve, I got a phone call from the publicity department of Channel 2 to tell me that I had been picked to replace Bob because he was going to leave the station," Stanley said. "It was a shock to me, because that had never been my dream to be a horror host.
"I guess because of my contacts through the San Francisco Chronicle, where I was an entertainment writer, they felt that I was kind of an expert on horror films and the science fiction genre," Stanley said.
Under Stanley, Creature Features became goofier and more literate at the same time. He interviewed literary heavyweights such as Ray Bradbury and Psycho author Robert Bloch, while the "mini-movies" he produced for the show had him getting strangled by mummies, demented scarecrows, and even Chuck Norris. Stanley may have had authorial aspirations, but he wasn't above taking pratfalls.
The show was an opportunity for Stanley to share his love of movies, especially from the science fiction and horror genres.
Though the show has been gone for 35 years, it lives on in Stanley and all of his books.