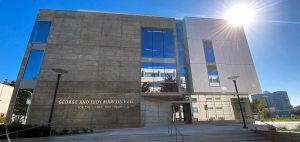 San Francisco State University (SFSU) opens the new George and Judy Marcus Hall for the Liberal and Creative Arts, named after alumni and lifelong major donors George Marcus (B.A., '65) and Judy Marcus (B.A., '62). This state-of-the-art facility, which officially opened last month with a dedication ceremony, is the first new academic building to be built on the SFSU campus in 25 years, and the first to be named after university graduates. The building reflects the university's burgeoning programs in the Liberal and Creative Arts and the Marcuses' tremendous investment in ensuring their programmatic excellence.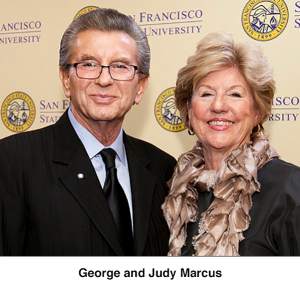 The George and Judy Marcus Hall for the Liberal and Creative Arts or "Marcus Hall" is a state-of-the-art academic facility designed for innovative communication, collaboration and engagement. The 75,000 square foot building located on Tapia Drive and Font Boulevard on the San Francisco State University main campus, is the new home of the College of Liberal & Creative Arts' Broadcast and Electronic Communications Arts (BECA) department and will prepare future generations to lead and evolve the media landscape, enabling them to use their technical and theoretical skills as a form of personal and community empowerment. The building also houses the college's dean's office, related support services, and several classrooms.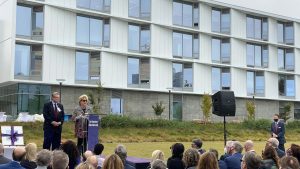 SFSU also received a major grant from The Herbst Foundation in support of Marcus Hall. The generous donation, from a well-respected foundation that has funded many high-profile cultural and educational institutions in San Francisco, is an important milestone of community support and recognition of the University and the college. As the portal to the campus and community, The Herbst Foundation Entrance Hall is a bright, welcoming space that informs visitors of the building's activities.
Designed by the renowned architecture firm Mark Cavagnero Associates, Marcus Hall has already been recognized with a 2021 American Institute of Architects, San Francisco (AIASF) Citation Award.
Read more about Marcus Hall here.