Presenters Announced, Janice Gin Named Mistress of Ceremonies
Students Receive Collegiate Scholarships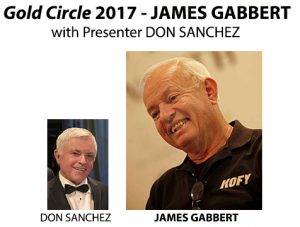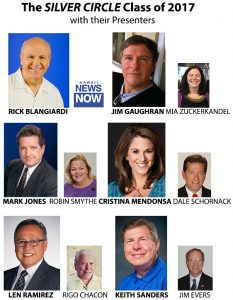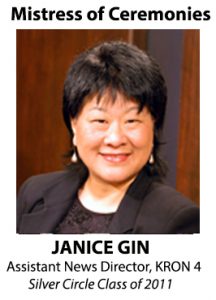 This unique event answers the Emmy® Gala's summer sparkle with an autumn ambiance all it's own. The Gold & Silver Circle Induction Luncheon has been called a chapter class reunion, a trip down memory lane, or sometimes even a roast. Awards Chair Wayne Freedman (SC '02) called it "our chapter's Broadcasting Hall of Fame."
Whether you attend for the people onstage, the inside jokes, the backstories, or just to see old friends, buy your tickets now!
KRON 4 Assistant News Director Janice Gin (SC '11) will serve as Mistress of Ceremonies.
James Gabbert is a 1990 Silver Circle inductee who made an indelible mark on the Bay Area television industry for more than a half century, most notably as the one-time owner of KOFY-TV, will be inducted into the Gold Circle. He will be presented by Don Sanchez, retired KGO ABC 7 Anchor/Reporter.
Gabbert will be joined by six television journalists and broadcasters who will be inducted into the Silver Circle:
Rick Blangiardi, President & General Manager, KGMB/KHNL, Hawaii News Now
Jim Gaughran, Producer/Documentarian, KNTV NBC Bay Area, presented by producer Mia Zuckerkandal.
Mark Jones, Video Journalist, Multimedia Video Productions, former KRON 4 reporter, presented by Robin Smythe, retired VP/GM, News 13, Florida.
Cristina Mendosa, former KXTV News 10 Anchor, presented by her Co-anchor at KXTV Dale Schornack. 
Len Ramirez, KPIX Reporter, presented by Rigo Chacon, former KGO ABC 7 South Bay Reporter, (SC'97).
Keith Sanders, San Jose State University Media Producer and NATAS Past President, presented by Jim Evers, former GM, KICU 36.
BIOs and more information on the CIRCLES page.
The Gold & Silver Circle are honor societies that recognize those who have been actively engaged in television for at least 25 or 50 years (at least half of that time in this NATAS chapter area), distinguished themselves in their careers and have made significant contribution to the TV industry and to the community. Including today's inductees, there are 258 members of the Gold & Silver Circles combined.
This year's class will be officially recognized on Saturday, October 14th at a new location for NATAS, the Park Central Hotel in San Francisco.

GOLD & SILVER CIRCLE INDUCTION LUNCHEON SATURDAY, OCTOBER 14, 2017

50 Third Street (at Market), San Francisco

11:00 AM – No Host Reception
12:00 Noon – Luncheon
1:00 pm – Induction Ceremony
TICKETS!
NATAS Members & Guests $95.  $90 if purchased by Friday, October 6, 2017
Individual Tickets $100.   $95 if purchased by Friday, October 6, 2017
Entree:  Salmon or Vegetarian
– Please submit full names and menu choices for each person attending. –
Tickets will be held at the door
CLICK HERE TO PURCHASE TICKETS
GRATEFUL TO OUR SPONSORS:
     
COLLEGIATE SCHOLARSHIPS WILL BE PRESENTED TO THIS YEAR'S RECIPIENTS AT THE GOLD & SILVER CIRCLE LUNCHEON!

$2,000 Peter Marion Memorial Production Scholarship
VALENTIN ALMANZA,California State University Sacramento
$2,000 Shelly Fay Memorial Videography Scholarship
DANIEL GUARDADO, San Francisco State University
$2,000 Nancy Besst Memorial Graduate Scholarship
PALOMA MARTINEZ, Stanford University
$3,000 Jerry Jensen Memorial Graduate Oveerall Excellence
JULIA VASSEY, University of California Berkeley
$3,000 Steve Davis Memorial Under-Graduate Overall Excellence
COURTNEY WAGNER, California State University Sacramento
CLICK HERE TO PURCHASE TICKETS