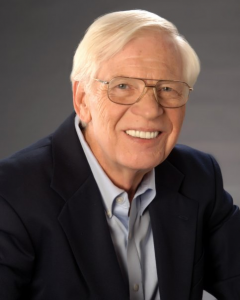 Ed Dudkowski passed away Tuesday, September 26th. He was known for inventing the PixBox live video editing system, and was also an artist, a friend, and a loving father and grandfather. His passions included fly fishing, video technology, singing with friends, and his spiritual community. Forever an optimist, he died fighting cancer, a battle that he had won twice before.
There will be a memorial service to celebrate Ed's life and memory on Saturday, November 25th at 2pm at the Corte Madera Community Center. 498 Tamalpias Dr., Corte Madera, CA. All are welcome.
As the inventor of the PixBox live video editing system, he was recognized a pioneer, innovator and acclaimed visionary of commercial and public television. His 40 plus years of experience include multiple video disciplines: video system design, development and engineering, non-fiction programming, research and development, broadcast journalism, conceptualization, producing, writing, directing, camerawork, editing, production management, and packaging for the content creation market.
When Ed was 7 years old, he went to the Slater Library in Jewett City, Connecticut on his 2nd grade class field trip to learn how to use the library.  His attention was captured by a book: Television and How It Works. He began to learn about studios, cameras, lights, microphones, coaxial cable, monitors, transmitters and receivers.
During that time he modeled a television studio in the basement of his family home.
The young Dudkowski continued on and became a self-taught electronics experimenter, Heathkit builder, science fair winner and amateur radio operator from fifth grade through high school. During several hurricanes in his hometown of Griswold, Connecticut, he volunteered as a Civil Defense Radio operator. Later, during college years, he worked vacation relief announcer and disc jockey on the local AM radio station, WICH.
Ed was honored with "Overall Broadcast Student" awards at the University of Oklahoma, San Bernardino Valley College, and San Francisco State University ,where he majored in Broadcast Communications Arts. While in college, Ed, and 6 other students built and operated a multiple-camera broadcast remote truck, designed around RCA black and white TK-11 image Orthicon cameras and an Ampex 2" video tape recorder.
Upon graduation, Dudkowski began a career as a TV news writer, producer, and assignment editor for the NBC, CBS and Fox affiliates in the San Francisco Bay Area with productions that ranged from the "Summer of Love" in 1967 to the resignation of Richard Nixon in 1973. During this period Ed provided ABC News with a "mini-cam" broadcast quality camera to create the first stake out coverage of the Patty Hearst kidnapping story.  In 1972, he was the first in the US to create a "mini-cam" broadcast quality instant press release production system,  which he used for the California Presidential Primary Campaign. The New York Times lauded Ed and his team as having "created a major political weapon."
As a director of network and broadcast television programs, commercials and public service announcements, Ed has directed luminaries as diverse as Mickey Rooney, Jack Lemon, Arnold Palmer, Julia Child, Tommy Smothers, Eddie Albert, Leslie Nielson, Peter Norton, Bill Blass, Paul Anka, Nancy Fleming, Jim Lange and former California Governor Gray Davis.  In addition, Ed developed and multi-camera directed a new "How-To" program pilot and 26-week series, which was enthusiastically accepted by more than 225 PBS affiliates nationwide.
Ed was instrumental in the early development of video tape editing (2" to 1", 3/4 " to 1".)  He conducted extensive research into "time base correction" from Amtec and Colortec on Ampex 2 machines, through early analog and digital TBS's to Frame Store Synchronizers.
In his late 20's, in March 1974, he and partner digital cinema pioneer Harry Mathias developed the first "mini-cam" film style-video production system in the US … what we now refer to as "Videography." Shooting in locations from Alaska and Hawaii and the lower 48, he pioneered early portable "ENG" shooting and production.
Between 1975 and 1992, Mr. Dudkowski and his then partner Marijane Lynch owned and operated a Northern California-based broadcast quality video production and post-production facility which had one of the first "Interformat" microprocessor video editing suites in the US.  
His editing suite attracted such clients as Safeway Stores Corporation, Valu-Rite Pharmacies, Orchard Supply Hardware, Apple Computer, Intel Corporation, 3M Company, Lifetime Cable, ScienceBased Health, Chronicle Videocassettes, Sunset Books, Harper and Row, Lockheed Missiles and Space, among others.
Ed's production company was also commissioned exclusively by IBM Corporation National Educational Marketing to create two, 8 1⁄2 hour videocassette training program series.  These series allowed IBM to teach educators how to utilize the personal computer at the time the PC was introduced.
He also pioneered early home video "how-to" programming while winning numerous national awards, including Video Review Magazine's ViERA Award for the "Best How-To Video" of 1983.
Needing a tool to reduce production time and expense, Ed Dudkowski conceived and invented the PixBox™ (US Patent #7006154 – 2/28/05) which is "A Portable System for Live Television Signal Editing" and PixTally™ (US Patent #6816,205) "A System and Method for Camera Selection Tallying for Multiple Camera Video Production."
The PixBox™ was prominently featured in what has been called "the reference book of choice' for video production: Herbert Zettl's Television Production Handbook 8th and 9th editions and Dr. Zettl's Video Basics 4th and 5th editions, published by Thompson Wadsworth, a leader in college textbook publications.
Memorial service – Saturday, November 25th at 2pm – the Corte Madera Community Center. 498 Tamalpias Dr., Corte Madera, CA.