By Keith Sanders
Chapter Education Chair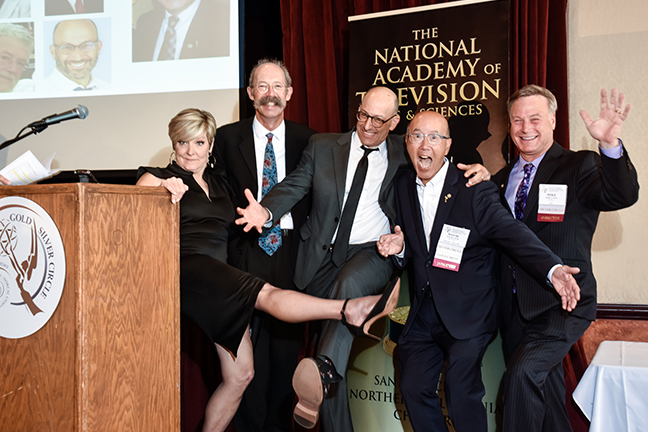 The National Academy of Television Arts & Sciences is an organization that promotes excellence in television, but we're known for more than just the Emmy® Awards.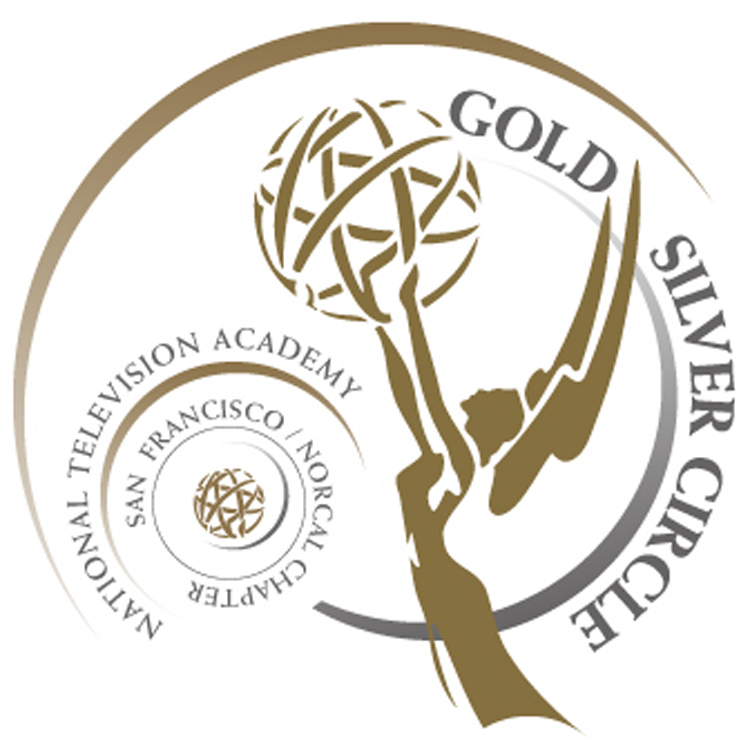 The Gold & Silver Circle Induction Luncheon is a case in point.
This annual event recognizes broadcast professionals who have made a significant contribution to their local television markets and distinguished themselves within the industry and community.
The SF/NorCal Chapter's 2019 Gold & Silver Circle Induction Luncheon was dedicated to the memory of Linda Giannecchini (SC '97, Past President, Governor's Service Medallion, Governor's Award, National Trustee, National NATAS Co-Chair) who recently passed away. She was one of the luminaries at NATAS and mentor to all, both in our chapter and nationally.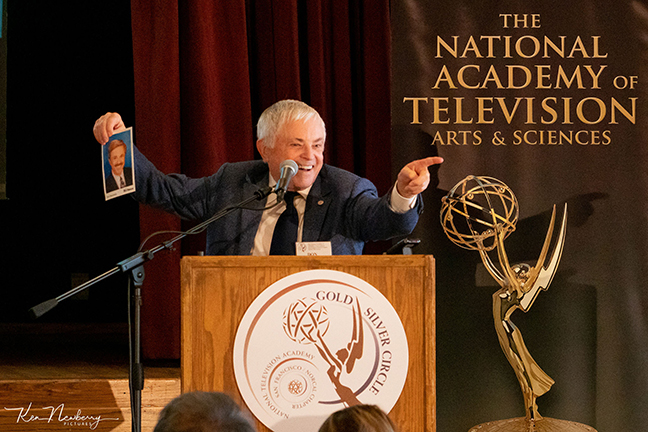 This year's Gold & Silver Circle Induction was held on Saturday, September 28 at the Basque Cultural Center in South San Francisco. Retired ABC 7 Anchor and Reporter Don Sanchez was a brilliant Master of Ceremonies. He's currently chapter Vice President, San Francisco, and our San Francisco Cinema Club Chair (SC '00).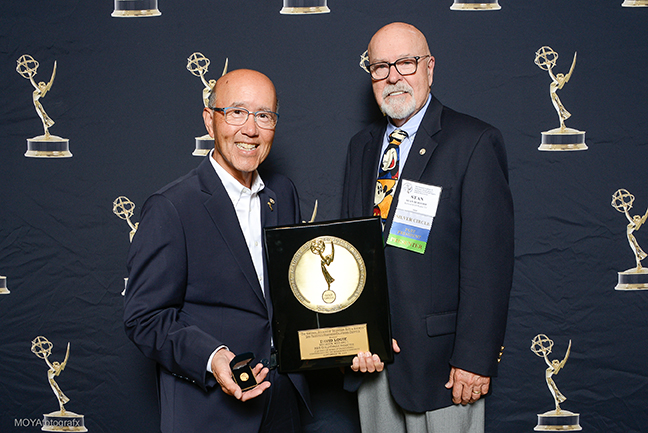 Retired KGO Radio & KGO TV Personality Stan Burford (SC '00), introduced KGO ABC 7 reporter David Louie (SC '95), as he was inducted into the Gold Circle, the honor for individuals who have been actively engaged in television broadcasting for 50 years or more (with at least half of those years in the chapter region).
Over a span of 45 years at ABC7 News, David Louie has covered some of the biggest stories in the Bay Area and Northern California, including earthquakes, floods, the kidnap of heiress Patty Hearst, the disappearance of an entire bus of school children in Chowchilla, and the outbreak of SARS and toxic shock syndrome.
In 1976, Louie was elected to the Board of Governors of the San Francisco/Northern California Chapter of NATAS, serving as local awards chair, national Trustee and a member of the national Awards Committee.  In 1990, David became a national NATAS officer, elected first as Vice Chairman and then Chairman of the Board, the first minority to hold that post.
David received the Governors' Service Medallion in 1985, inducted into the Silver Circle 1995, and received the Governors' Award in 2015.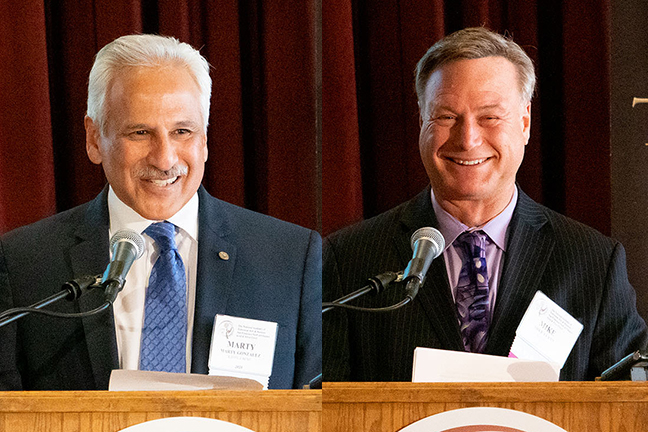 KRON 4 Anchor and SFSU Professor Marty Gonzales (SC '13), introduced Mike Luery, a Political and Investigative Reporter/Producer from KCRA, Sacramento. Mike was the first person inducted into the Silver Circle class of 2019 – an honor for those actively engaged in television broadcasting for 25 years or more.
For more than two decades, Mike Luery has called KCRA 3 home. From 1984 – 2000 he was KCRA's Call 3/consumer reporter and was recognized by the Society of Professional Journalists for exposing abuses in California's funeral industry. He returned to KCRA 3 in 2012, focusing on politics and coverage of the State Capitol. Prior to rejoining KCRA 3, Luery worked at CBS 13 in Sacramento. Before that he served for three years as Capitol Bureau Chief for NBC Bay Area, KNTV 11, covering the "Governator", Arnold Schwarzenegger.
Luery's television news career began in 1980, when he worked as a reporter for WPTV 5 in West Palm Beach, Florida, earning UPI awards for his investigative reports. He later worked at KMOL-TV (now WOAI News 4) in San Antonio, Texas.
A sports blogger, Luery is the author of the Baseball Between Us: 16 Years, 32 Ballparks, 43,000 Miles, A Road Map to a Winning Father-Son Relationship, published in 2012.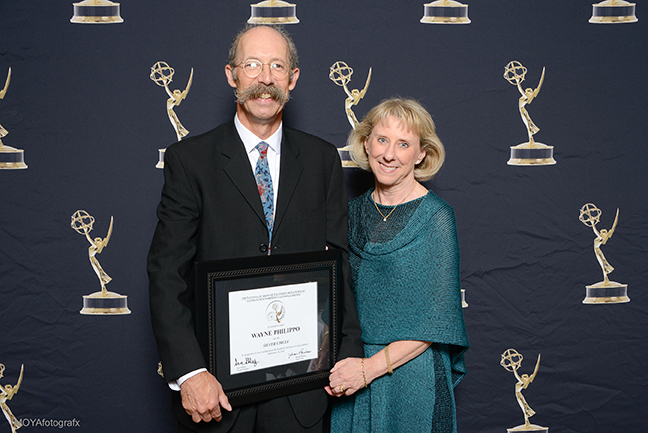 Former KRON 4 Director Corban Hogaboom introduced the next Silver Circle inductee Wayne Philippo, retired Director at KPIX 5.
For nearly 22 years, Wayne directed daily live newscasts and sports shows at CBS station KPIX in San Francisco. Starting at the station in 1998 after being hired by John Catchings, himself a 2002 Silver Circle inductee, Philippo's first assignment was to Produce the "only-in-San Francisco" Bay to Breakers race for 4 straight years.  Before KPIX, he was a director at WSVN (Fox) in Miami, Florida for four years. Earlier, he had previous director/producer stints at WSOC (ABC), in Charlotte, North Carolina for six-years and also worked as a technical director/director for three-years at CNN Headline News in Atlanta, Georgia.
Philippo is a graduate of Boston College and has a Master of Science degree from Boston University. With his institutional knowledge, he's enthusiastically mentored next generation broadcasting professionals. He's served as a NATAS Governor and from 2003 until 2017 and directed the annual Emmy® Awards shows. Wayne received the Governors' Service Medallion in 2018.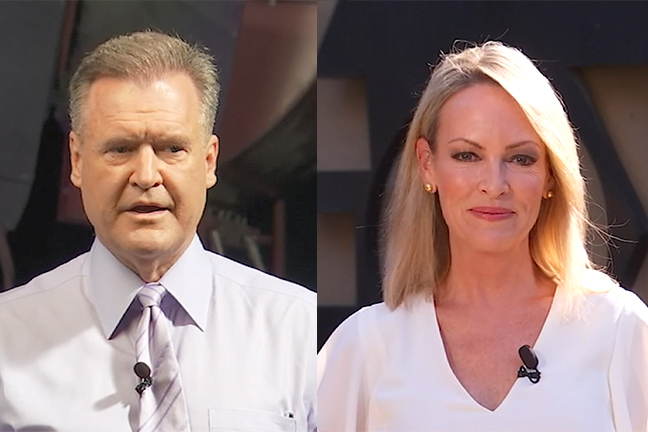 KTVU Fox 2 Anchor Frank Somerville introduced Silver Circle Inductee Julie Haener, Anchor at KTVU Fox 2, who accepted via video.
Julie launched her career in 1990 in Yakima, Washington, putting in 12-hour days as a reporter, anchor, producer, editor, writer and photographer. She then moved on to Fresno station KJEO-TV as weeknight anchor and health reporter. Next came a job at KIRO in Seattle where she anchored in the mornings.
In 1997, she was hired by Bay Area station KTVU. Haener started at the station as a freelance reporter and was soon promoted to weekend anchor in 1998 and in 2000 joined Dennis Richmond on the newly launched KTVU Channel Two News at 6. By 2006, she was named co-anchor of The Ten O'clock News, eventually expanding her anchoring duties to include the News at 5.  During her time at KTVU, Haener has been recognized with seven Emmy® Awards, including one in 2004 for Best On-Camera News Anchor. That same year, American Women in Radio and Television named her Best TV On-Air Reporter.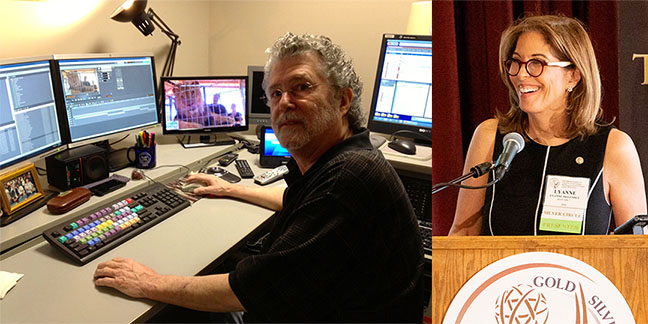 KGO ABC 7 Reporter Lyanne Melendez (SC '16) introduced Silver Circle Inductee James Sudweeks, retired digital editor at KGO ABC 7.
James "Suds" Sudweeks joined KGO as a film editor in 1978 and never left until this year.  During his 41 years at the station, he has worked in a variety of positions including field and sound technician, tape librarian, and transmission engineer.  However, the bulk of his work at KGO was as an editor.
Throughout the years, Sudweeks smoothly adapted from one generation of technology to the next, from the early days of film processing and splicing to the more recent non-linear, digital age of today.  Sudweeks began his career in the early 1960's at KMPH in Fresno before moving to KTVU in 1964. Then, it was on to KGO in 1967.  Though recently retired, Sudweeks remains active in his union and is an executive board member representing KGO for NABCT/CWA, Local 51 in San Francisco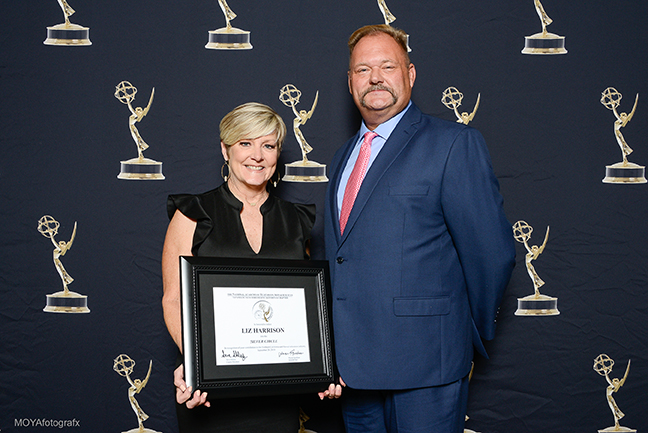 KFSN Photographer and NATAS Fresno Vice President Richard Harmelink introduced Silver Circle Inductee Liz Harrison, Anchor at KFSN ABC 30, Fresno.  Liz is co-anchor of ABC30's Action News Midday and Action News Live at 4 newscasts in Fresno. She is also an Emmy®-winning reporter specializing in faith-based and community related stories.
She began her broadcasting career at ABC30 in 1982. Over the years she has anchored just about every newscast at the station, and has done everything from consumer to medical reporting. She and Richard Harmelink won an Emmy® Award in May 2010 for excellence in reporting for a story on how our military trains for war in Iraq and Afghanistan. Through her stories, Liz enjoys giving a "voice" to those who don't ordinarily have one.
She attended the College of William and Mary in Williamsburg, Virginia and graduated from the University of Florida with a degree in Broadcasting. Her formative years were spent in Baltimore, Maryland and Brussels, Belgium. It was living overseas that gave Liz an appreciation for people of different creeds and cultures.
Liz enjoys speaking to various clubs and groups about her career in television, but also her experiences as a breast cancer survivor and the dangers of drug addiction. She's been involved with several organizations over the years including the local domestic violence shelter, The Fresno Rescue Mission, Mighty Moms Foundation and the Art of Life Cancer Foundation.
Liz is married with five grown children and two grandsons.  When she doesn't have her "nose in the news" Liz enjoys cooking, reading, and biking… the motorized and the pedal-powered kind!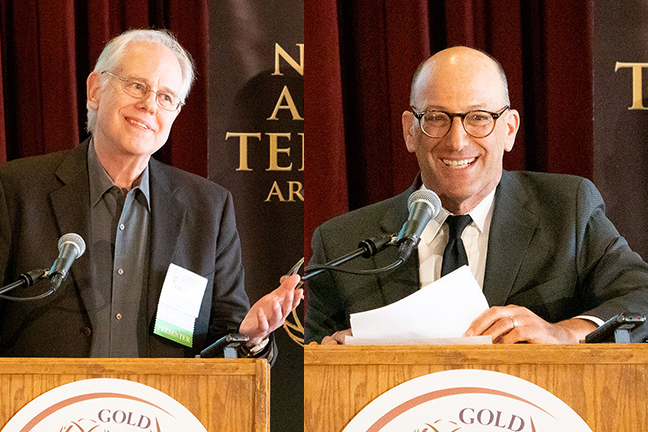 Retired KPIX5/KRON 4 Producer/Photographer Craig Franklin (SC '08) introduced Silver Circle Inductee Mike Sugarman, WCBS Radio Multi-Media Journalist (formerly from KPIX 5).
Mike is a veteran reporter and is often described as funny, witty and a great storyteller. Starting at KCBS radio in 1984 and transitioning to KPIX-TV ten years later, Sugerman was hailed by The San Francisco Chronicle as the Bay Area's "Everyman Broadcaster." Much of his reporting consists of slice-of-life features, however, Surgarman was named "Citizen-of-the-Year" in 2002 by the San Francisco Department of Public Health for exposing the city's underfunded and overcrowded emergency room system.
Love of family took him to New York in 2017 to be near his kids and first grandchild. Currently a multimedia journalist at WCBS radio, he won his tenth Edward R. Murrow Award for a video about a lady who saved a hat factory from going out of business. Sugerman is a member of the Bay Area Radio Hall of Fame and recipient of 17 Emmy® Awards.
College Scholarship Winners in Attendance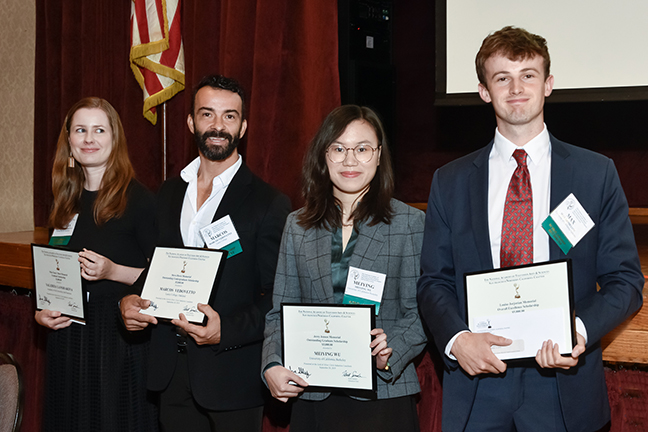 (L to R)  Scholarship Recipients: Lanshakova,  Vedovetto,  Wu,   Brimelow
The induction luncheon also looks to the future by providing career preparedness for college students in the form of scholarships.
Chapter Education Chair Keith Sanders (SC '17) presented four NATAS scholarships totaling $13,000 at the luncheon. Scholarships are funded through donations to the TV Academy Fund, Inc., the chapter's 501(c)(3) foundation.
Max Brimelow, University of California Berkeley Graduate School of Journalism received the $5,000 Louise Jorjorian Memorial Overall Excellence Scholarship. Max has produced a variety of projects including a comedy series.  His ultimate goal as a video journalist is to work as a producer and on-camera correspondent.
Meiying Wu, University of California Berkeley Graduate School of Journalism received the $3,000 Jerry Jensen Memorial Outstanding Graduate Scholarship. Meiying has experienced working at the TV stations CGTN America and KOMU 8 News, an NBC-affiliate in Columbia.  She wants to perfect the art of giving voice to others while respecting their human dignity.
Marcos Vedovetto, Laney College Oakland, was awarded the $3,000 Steve Davis Memorial Outstanding Undergraduate Scholarship. – Marcos became a professional dancer in Brazil which led him to an interest in media. His goal is to become a Filmmaker / Videographer / Photographer working on documentaries, short films or dance videos.
Valeriia Lanshakova, Academy of Art University, received the $2,000 "Miss Nancy" Besst Memorial Graduate Scholarship.  Valeriia moved to the U.S, from a small West-Siberian town in Russia. Her background was in writing but she now plans to create colorful, artistic video profiles which are still deep and human.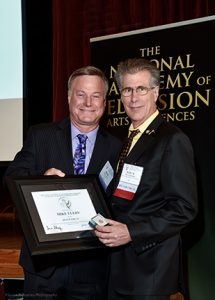 "What a wonderful party we throw every fall," remarked Chapter President Steve Shlisky (SC '14). "It is always a pleasure to see the new inductees and to re-see those already inducted. And we do it in front of all these talented scholarship recipients. A perfect convergence of veterans and novices."
Nomination applications for the 2020 Gold & Silver Circle Inductions can be found on the CIRCLES page, and more information on Scholarships is on the STUDENTS page.
VIEW & PURCHASE PHOTOS FROM LUNCHEON
Program – Ken Newberry – 48 Images
Backdrop – Mike Moya – 149 Images
Rover 1 – Susan Bradley – 62 Images
Download a photo for $6 each.
Discounts for more, enter coupon code at checkout:
Order 2 or more images and save 10% – USE CODE NATAS10
Order 3 or more images and save 20% – USE CODE NATAS20
Order 4 or more images and save 30% – USE CODE NATAS30
"Coupon Code" is at the bottom right under Summary on check out screen
.
INDUCTEE VIDEOS AVAILABLE FOR VIEWING NEXT WEEK.

CIRCLES Page