Aguirre, Bastida, Fukami, Lambert, Owen, Sotiropulos to Receive Honors Oct. 20
By Kevin Wing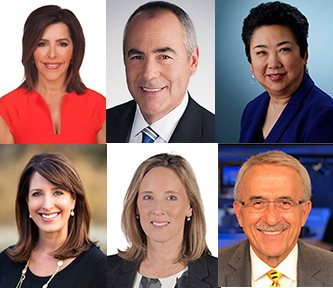 Editor, Off Camera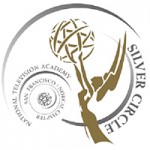 Six Northern California television industry veterans are preparing to be inducted into the Silver Circle Class of 2018 by the San Francisco/Northern California Chapter of The National Academy of Television Arts & Sciences.
The honorees are Jessica Aguirre, news anchor, KNTV NBC Bay Area; Ken Bastida, news anchor, KPIX 5; Dianne Fukami, president/co-founder, Bridge Media; Edie Lambert, news anchor/reporter, KCRA 3; Stacy Owen, president/general manager, KNTV NBC Bay Area/KSTS Telemundo 48; and Kopi Sotiropulos, morning anchor and meteorologist, KMPH 26.
The six will be inducted Oct. 20 at the 2018 Gold & Silver Circle Luncheon Induction, to be held at the Marriott Park Central in San Francisco.
The Silver Circle is an honor society that recognize those who have been actively engaged in television for at least 25 years (at least half of that time in this NATAS chapter area), distinguished themselves in their careers and have made significant contributions to the TV industry and to the community. Including today's inductees, there are 264 members of the Gold & Silver Circles combined. The Gold Circle honors individuals who have been actively engaged in television for at least 50 years.
This year's Gold Circle honoree will be announced in the October issue of Off Camera.
The Marriott Park Central is located at 50 Third St. (at Market Street), San Francisco.

11:00 AM – No Host Reception
Noon – Luncheon
1:00 pm – Induction Ceremony
Lunch Tickets
NATAS Members: $100  (purchase by 10/10, discounted price $90)
Guests: $110 (purchase by 10/10, , discounted price $100)
CLICK HERE TO PURCHASE TICKETS
JESSICA AGUIRRE – Anchor, KNTV NBC Bay Area

Journalist, Jessica Aguirre has been the evening anchor at NBC Bay Area News for the last 20 years. She began her career at Univision, while attending the University of Miami. Before arriving in the Bay Area in 1998, she anchored and reported in Los Angeles and Miami, earning Emmy® awards for her series on the struggles of migrant children and for her investigative work on child molesters. Her journey to Cuba, chronicling the struggles of boat people fleeing the island, won an Associated Press award.  During her tenure at NBC Bay Area, Aguirre has received Emmy® awards for her series on an East Bay transgender teen's efforts to preserve her fertility before undergoing sex reassignment surgery and for live coverage of the "Ghost Ship" warehouse fire in Oakland. Aguirre has covered Hurricane Andrew, the Oklahoma City bombing, race riots in Miami, the 10-year anniversary of 9/11, and the summer Olympic Games in Rio. More recently, Aguirre received recognition for field anchoring from the Sonoma and Napa firestorms. As the daughter of immigrant parents, she is deeply involved in regional organizations that promote literacy and help stem the Latino achievement gap. Class Action, her honored education series, took a deep look at the issues facing California educators and public schools. Her investigative reporting into the aftermath of the Napa earthquake and the impact on local schools led to school safety legislation. Aguirre's commitment has her routinely on the lecture circuit in the Bay Area discussing education and advocating for better, safer communities.
KEN BASTIDA – Anchor/Reporter, KPIX 5

San Francisco native Ken Bastida was bitten by the broadcast bug during high school. This led him to earn a B.A. in Broadcast Communications from San Francisco State University, where he was inducted into the University's Alumni Hall of Fame in 2007. During his college years, Bastida interned at KFRC Radio, followed by on-air radio jobs at KGO, KMEL, K101 and KCBS. In 1990, Bastida was awarded a Peabody award for his contributions to KCBS Radio during the 1989 Loma Prieta earthquake. For four seasons, he hosted HGTV's Landscape Smart, before joining KPIX in 1990. As an anchor/reporter, Bastida has been recognized with Emmy® Awards/nominations and for excellence by the Associated Press, RTNDA, and the Peninsula Press Club. His reporting assignments have included journeys to the Middle East covering the Intifada and the building of Israel's separation border in East Jerusalem and the West Bank. In 1988, he covered Hurricane Iniki, and traveled to the Mojave Desert when it was designated a National Park Preserve. Bastida has proven to be a steady presence during major news events, anchoring live coverage on September 11, San Bruno gas explosion, Oakland Ghost Ship fire, the San Francisco Giants' World Series parades and Super Bowl 50.
DIANNE FUKAMI – President/Co-Founder, Bridge Media

Prior to co-founding Bridge Media in 1991, Dianne Fukami began her career at KPIX in 1977 following her graduation with a B.A. in Journalism from U.C. Berkeley. By 1983, she was Assistant News Director at the station, largely responsible for contract negotiations, marketing and promotion strategy, budgeting and personnel decisions. During her career at KPIX in addition to thousands of newscasts, she produced election coverage, political debates, special events, local sports team celebratory parades, and wall-to-wall coverage of the 1989 Loma Prieta earthquake. At Bridge Media, Fukami became a prolific documentarian of the Japanese American experience. Her most recent work is a co-production with the Mineta Legacy Project on the life of Norman Mineta. Fukami has been recognized with Associated Press, RTNDA and Emmy® awards. A former NATAS Governor, Fukami received the chapter's Service Medallion in 1991 and was a founding chapter member of the regional Asian American Journalists Association. She has been named the Distinguished Woman Warrior by the Pacific Asian American Women Bay Area Coalition for Outstanding Media Service, selected by Japan Ministry of Foreign Affairs for a Japanese American Leadership Delegation; and invited to the 2015 Worldwide Assembly of Women in Tokyo. She teaches video storytelling at Academy of Art University where her students produce a half-hour weekly TV show.
EDIE LAMBERT – Anchor/Reporter, KCRA 3


Edie Lambert anchors the 5, 6:30 and 11 PM newscasts on KCRA 3. Prior to anchoring, Lambert covered hundreds of stories in the Sacramento region as a general assignment reporter. Highlights of her career include an interview with President Barack Obama, part of which aired on NBC Nightly News; and covering the Scott Peterson trial for KCRA and MSNBC's The Abrams Report. Lambert started in television in 1990 working in Santa Barbara at KEYT where she stayed five years. While in college studying political science at the University of California, Santa Barbara, Lambert landed her first paid job in journalism as an anchor and reporter for KTMS-FM, a news/talk format radio station. Growing up, Lambert lived around the world, traveling with her marine biologist parents. She lived in Japan, Bermuda, Hawaii, Sweden, and France. Her background set her up as a community activist involved in a variety of social causes including breast cancer research and awareness, lung health, and domestic violence. Her work has been recognized with an Emmy® Award, numerous nominations and Associated Press citations. Lambert serves on the board of directors of the Sacramento Press Club, co-chairing the scholarship program and mentoring the next generation of journalists. Her favorite volunteer project is reading to local children to promote literacy.
STACY OWEN – President/General Manager, KNTV NBC Bay Area / KSTS Telemundo 48

As President & General Manager of NBC Bay Area / KNTV and Telemundo 48 Area de la Bahia / KSTS, the NBC and Telemundo-owned stations, Stacy Owen brings more than 25 years of experience in broadcast news to her role, including extensive experience in newsroom management and multimedia marketing. Owen became President and General Manager of both stations in September 2017 after serving as the Assistant News Director for NBC 4 Southern California / KNBC for five years.  Currently, Owen also oversees the stations' operations including news, sales, marketing and promotions, technology, digital and community affairs. She joined NBCUniversal after serving as WLWT News 5's News Director for three years. During that time, her efforts elevated the Cincinnati station's newscasts to the #1 or #2 positions in all time periods.  Prior to WLWT, Owen revamped ABC affiliate, KXTV News10 in Sacramento into a digital-first Multimedia Information Center; where the station won all demos in the 11 PM time period for the first time in 50 years and was recognized with an Emmy® award for Best Newscast in Northern California. She also worked as KRON San Francisco's News Director for three years where she managed the transition from NBC affiliate to an independent television station.  Owen graduated with Honors from University of California, Berkeley and currently serves on the board of the Silicon Valley Leadership Council.
KOPI SOTIROPULOS – Morning Anchor/Meterologist, KMPH 26

Born in Greece and raised in Fresno, Kopi Sotiropulos eventually traveled to San Francisco in the late '60s to major in broadcasting at San Francisco State University. After graduation, Sotiropulos found employment in 1971 at KMPH 26 in Visalia, first as a commercial copywriter and later as a producer, photographer, editor and talent in commercials and promos. He also hosted Dialing for Dollars. After six years, Sotiropulos moved to Hollywood, spending 10 years as an actor working on many popular programs; including, The Incredible Hulk, Three's Company, Mickey Spillane, Perfect Strangers, Highway to Heaven, General Hospital, Days of Our Lives, and Beverly Hills Cop 2. Moving back with his family to Fresno in 1987, Sotiropulos worked with Company 3 Productions directing and producing commercials. He returned to KMPH in 1990 to be the weatherman for Fox 26 Ten O'clock News. In 2003, KMPH created Great Day, the weekday five-hour morning show Sotiropulos co-hosts with Kim Stephens. He also shoots the daily segments: 10-Day Forecast, Great Day Faces and 7th Inning Stretch for Great Day. To everyone in the San Joaquin Valley, especially the children, Sotiropulos is "Mr. Fresno." He gives school presentations; is MC for numerous community events; recognized with several "Best of Fresno" awards, the Muscular Dystrophy Society's Dinner of Champions; and this past June with the Governors' Citation from NATAS.